Dual Master Degree in Information Management and Community Planning (CPIM)
Learn to leverage data and information technology to create smart cities and communities that improve lives
MASTER OF INFORMATION MANAGEMENT & MASTER OF COMMUNITY PLANNING @ THE UMD ISCHOOL
#19 in USA
UMD as a Public Research Institution
#7 IN USA
UMD as a University for Entrepreneurship
#8 IN USA
UMD iSchool as an Information Studies College
1st in the USA
As the 1st MIM Degree in the USA, We Continue to Lead in Innovation
The Information Management and Community Planning (CPIM) dual-degree program is designed to train future professionals with the expertise to create "smart cities" that make use of data and information technology to improve the lives of community residents. Jointly run by the UMD College of Information Studies (iSchool) and the UMD School of Architecture, Planning and Preservation, the program allows students to graduate with both a Master of Information Management (MIM) and a Master of Community Planning (MCP).
Smart cities enabled by new data sources and increased resident engagement pose new challenges for both information science and urban planning. To realize the promise of smart cities to improve the quality of life for residents requires changes in the information infrastructure, the social infrastructure, and the physical infrastructure. As planning has become more data-intensive, decentralized, and democratized, planners must become more information-savvy and information scientists must become more conversant in urban planning.
The dual master's degree program enables graduate students interested in community planning and information management to complete these complementary degrees in 60 credits over as few as 3 academic years. This innovative curriculum blends theory, practical skills, and hands-on learning with industry professionals, preparing our graduates to apply their skills directly and immediately in their careers. Our students work on projects with top industry partners and have opportunities for hands-on learning at the world-renowned UMD research centers and labs.
EXPLORE
Would you like to learn more and connect with our program team?
Request More Info
STUDENT SERVICES
---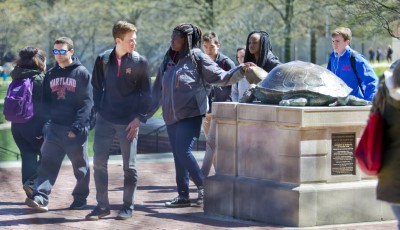 The UMD iSchool, with a history of activism and a continued mission to support social good, is a supportive and diverse community of 150 faculty and staff members and 2500+ students. Our students come to us from 63 countries with 30% from underrepresented groups and 45% female.
The Information Management and Community Planning (CPIM) dual degree is a STEM OPT certified program.
CPIM courses are offered as a combination of in-person and online. However, if there are social distancing restrictions, all courses will be offered in appropriate spaces or online.