Doctor of Philosophy in Information Studies (PhD)
Tackle the hardest information and technology problems of today and tomorrow
DOCTOR OF PHILOSOPHY IN INFORMATION STUDIES @ THE UMD INFO College
#3 in USA
UMD as a Public University
#7 IN USA
UMD as a University for Entrepreneurship
#4 IN USA
UMD INFO Among Information Studies Colleges
Top Research Labs
World-renowned Research Centers & Labs
The Doctor of Philosophy in Information Studies (PhD) program prepares students to address the hardest social and technical problems of today and tomorrow. Working side-by-side with world-renowned faculty and at internationally recognized research centers and labs, students conduct research on pressing information issues, which often entwine social and technical innovation. We draw on core values of information studies, including justice, inclusion, and access, and use these principles to facilitate the discovery of new knowledge.
Students also master research methodology/design, interdisciplinary theory, knowledge of previous research in their area, the ability to synthesize and apply this knowledge, and how to create and disseminate original research.
With a multidisciplinary faculty focusing on diverse information science research areas such as online communities, information systems, information policy, human-computer interaction, and digital cultural heritage, the UMD INFO College cultivates doctoral students from a wide range of backgrounds. Today's hardest social and technical problems have information at their core. We're seeking PhD students who have hard, unanswered questions about information problems. Explore our Expertise Areas.
We guarantee funding for all admitted full-time students. We also welcome self-funded part-time students working in areas that complement their doctoral research.
---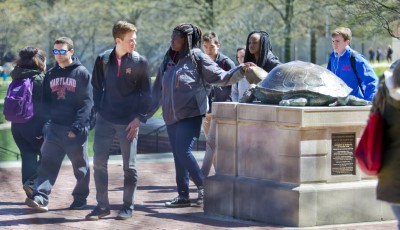 The UMD INFO College, with a history of activism and a continued mission to support social good, is a supportive and diverse community of 150 faculty and staff members and 2500+ students. Our students come to us from 63 countries with 30% from underrepresented groups and 45% female.
The Doctor of Philosophy in Information Studies (PhD) is a STEM OPT certified program.
UMD INFO courses and research opportunities are offered as a combination of in-person and online. However, if there are social distancing restrictions, all courses will be offered in appropriate spaces or online.