INFO College Research Groups
At the University of Maryland College of Information Studies (INFO College), faculty, staff, and students are exploring how people access and use information. From developing smart city technology to creating new archival methods, we seek to improve the individual experience as well as to foster connected communities. Through our research centers, labs and interest groups, we enable discovery, creativity, problem-solving, and fun while tackling real-world challenges and developing impactful solutions. All students are invited to participate in hands-on research and learning with our centers, labs and interest groups. Most groups also host public events bringing together thought leaders of the discipline. Click below to browse.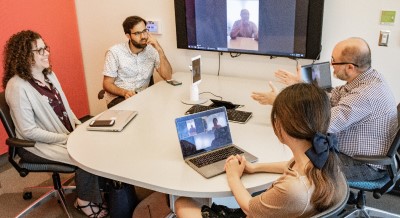 The Center for Archival Futures develops and disseminates human-centered approaches to creating the systems, processes, and institutions which enable the use of and care for digital objects and data over time. We take a holistic view of archives and digital curation—transcending disciplines and organizational contexts.
The CLIP Laboratory at the University of Maryland is engaged in designing algorithms and methods that allow computers to effectively and efficiently perform human language-related tasks.
The Human-Computer Interaction Lab has a long, rich history of transforming the experience people have with new technologies.
The Social Data Science Center (SoDA) — a Center established by the College of Information Studies and the Joint Program in Survey Methodology (JPSM) within the College of Behavioral and Social Sciences — is an inter‐disciplinary academic and research center.
The Trace Research & Development Center has been a pioneer in the field of technology and disability, known for high-impact research and development.
The OTTRS Interest Group aims to advance research and collaboration on the study of teams relevant to technology and information—e.g., teams and AI, technology to support different types of teams, collaborative learning, and ethics of teams and technology.
The Search Mastery Interest Group is committed to leadership in the advancement of search literacy as a high-priority component of a information literacy education.
The STC Interest Group examines and evolves current ideas around sociotechnical cybersecurity, including organizational, economic, social, legal, educational, psychological, and other human aspects of cybersecurity.