Contact the iSchool

Office Addresses
Mailing Address & Advising Offices - Hornbake Building
University of Maryland
College of Information Studies
4130 Campus Drive
Hornbake Library, Rm. 0201
College Park, MD 20742-4345
(301) 405-2033
Hours: Mon-Fri, 9am-4pm

Dean's Office - Patuxent Building
University of Maryland
College of Information Studies
4161 Fieldhouse Drive
Patuxent Building, Rm. 1117
College Park, MD 20742-4911
(301) 405-2033
Hours: Mon-Fri, 9am-4pm

Student Services & Program Teams
Undergraduate Programs: College Park Campus
Undergraduate Student Services & Advising
Undergraduate Programs: Shady Grove Campus
Bachelor of Science in Information Science
General Inquiries: usgInfoSci@umd.edu
Program Director: Galina Madjaroff Reitz, gmreitz@umd.edu
Program Assistant Director: Tetyana Bezbabna, tbezbabn@umd.edu
Office Location: The Universities at Shady Grove | 9636 Gudelsky Drive | Building IV, Office 4109 | Rockville, MD 20850 | (301) 738-6243
Graduate Programs
Program
General Inquiries
Program Director
Asst. Program Director
Program Coordinator

HCIM

hcim@umd.edu

Vedat Diker,

vdiker@umd.edu

Alex Leitch,

aleitch1@umd.edu

Tatyana Yevgrafova, tyevgraf@umd.edu

MIM & CPIM

mimprogram@umd.edu

Katy Lawley,

katyn@umd.edu

Caro Williams-Pierce,

carowp@umd.edu

Emilia Azar,

eazar@umd.edu

CIRPS

cirps@umd.edu

Katy Lawley,

katyn@umd.edu

Caro Williams-Pierce,

carowp@umd.edu

Emilia Azar,

eazar@umd.edu

GEM

gem-mps@umd.edu

Jesse Klein,

jrklein@umd.edu

Emilia Azar,

eazar@umd.edu

Data Journalism

datajournalism@umd.edu

Jesse Klein,

jrklein@umd.edu

Emilia Azar,

eazar@umd.edu

MLIS, HILS

mlisprogram@umd.edu

Ursula Gorham,

ugorham@umd.edu

Ryan O'Grady,

rogrady1@umd.edu

Joseph Sherren,

jsherren@umd.edu

DCIP

ischooldcip@umd.edu

Ursula Gorham,

ugorham@umd.edu

Ryan O'Grady,

rogrady1@umd.edu

Joseph Sherren,

jsherren@umd.edu

PHD Info Studies

ischoolphd@umd.edu

Eun Kyoung Choe,

choe@umd.edu

Joel Chan, joelchan@umd.edu

Emily Dacquisto,

emilyd@umd.edu
Graduate Student Services & Advising
Advising HCIM, MIM, CPIM, CIRPS, GEM, Data Journalism: Dustin Smith, dsmith49@umd.edu, schedule an appointment
Advising MLIS, HILS, DCIP: Neil Dhingra, ndhingra@umd.edu, schedule an appointment
Advising PhD: Jeff Waters, jwaters4@umd.edu, email for appointment
Graduate Student Services Offices: University of Maryland | College of Information Studies | 4130 Campus Drive | Hornbake Library, Ground Floor | College Park, MD 20742-4345 | (301) 405-4915
Administrative Contacts
Deans, Research, Academics, Comms, Develoment, IT, Facilities, Events, Finance, HR, EDI
Organizational Chart
Transportation
Transportation, Directions, Campus Map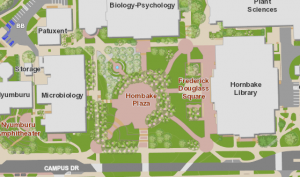 The offices and classrooms located in "Hornbake South" are located in the south wing of the Hornbake Library Building. The south wing can be accessed through the door labeled "South" to the right of the main Hornbake Library entrance (with the columns) on the courtyard. The south wing can also be accessed through the ground floor of the Library.
The closest public parking for both the Hornbake and Patuxent Buildings is located on the top floor of the Regents Parking Garage. This is paid parking. Please visit the UMD Department of Transportation website for information about driving directions, public transportation, parking, and maps.
College Listservs
Subscribe to Stay Up to Date
Subscribe to the Community Discussion Email Listserv
Join the 2000+ members of the information science community on our "Community Discussion Email Listserv" to learn about and share jobs, news, and events in the field. (Select "subscribe" on the right-hand side, enter your email information and hit the subscribe button. This is also where you can unsubscribe.)
Subscribe to Discussions
Subscribe to the Quarterly "Info Insider" Research e-Newsletter
Join the 15K subscribers who receive our college's quarterly email newsletter with highlights of our recent research in areas of information science spanning libraries and archives to AI and human-computer interaction. To sign up, email ischoolcomm@umd.edu.
For college faculty and staff, a list of internal listservs and reflectors can be found on the college's intranet.