Examining how health and fitness data tracking tools can help athletes learn about data literacy, inspire STEM pursuits, and simultaneously train for their next game.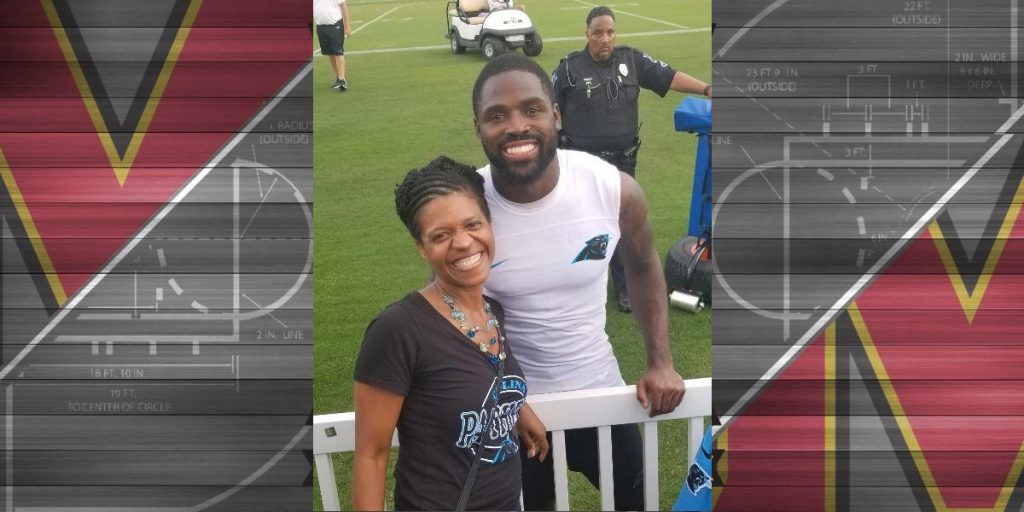 Photo of Dr. Tamara Clegg and UMD alumnus Torey Smith, former wide receiver for the North Carolina Panthers
the_post_thumbnail_caption(); ?>
Whether you are a professional athlete on the field or a fan cheering from the couch, sports play an integral role in economic growth, one's personal development, and serve as a means to alleviate stress. In recent years, the world of sports data analytics is rapidly growing. Researchers are beginning to study how athletes of all levels, from casual runners to professional basketball players, to learn more about how these athletes interact with their personal data as it relates to their physical and mental health, diet, and overall understanding of and ability to interpret that data to achieve their desired goals. But what if their data tracking tools could be used to help athletes, especially underrepresented athletes, learn about data literacy practices and inspire them to pursue STEM fields while simultaneously training for their next game?
Many underrepresented groups from youth to collegiate athletics, especially among Black males, face tensions when it comes to their development of an athletic identity and an academic identity, which are often seen in contention with one another. By honing in on data literacy practices already taking place from a relatable sports context, such as tracking average run times or repetitions completed during weight training, student-athletes can begin to connect their sports play with data literacy practices and overall academic success.
Dr. Tamara Clegg, Associate Professor with co-appointments at the University of Maryland College of Information Studies (UMD iSchool) and College of Education, and Dr. Daniel Greene, Assistant Professor at the iSchool, are leading the "Data Everyday" project, an initiative working with athletes and coaching staff from two Division I universities to understand their sports experiences, their experiences with data analysis in the context of the sport they engage with, and the data that is readily accessible to the athletes. Additionally, Clegg and Greene are collaborating with Dr. Erianne Weight, Associate Professor of Exercise and Sport Science at the University of North Carolina, Chapel Hill.
The end goal for the project is to design systems from a Division I context to help make the student-athlete's data more transparent allowing them to strategically leverage their data as a way to learn more about data literacy practices while enhancing their sports play and keeping in mind nuances around the athlete and coaching staff relationship.
A big part of what the athletes do in regards to their training is compare their data with other athletes and compare their data to themselves over time. "We saw ways that athletes were taking up those practices themselves, but sometimes they'd need help interpreting that data, especially if they were feeling nervous before an upcoming game," said Clegg on how understanding the athlete and coach dynamic will be critical in developing these new systems.
From the team's findings, coaches rely heavily on face-to face interactions for trusting the data provided by athletes. Having the ability to leverage things such sensors and other tools that help automate some of those data practices can make it easier for coaches to trust that the data is accurate and can be efficiently communicated remotely, especially in consideration of the COVID-19 pandemic still prevalent.
"Often times coaches would have to sit with them and say 'you're looking at your stats from today and how they measure up with your personal best, but what you're not seeing is that if you look at your average score over the whole season and compare that with the average score of last season, you're on the rise,'" Clegg says on influencing more agency between the athlete and their data. "If we think about these tools for not only performance, but tools for learning, then the agency is kind of built into it. I think making a lot of the things transparent to athletes that are not readily transparent to them now is going to be important."
Athletes become amateur data scientists in the course of their sports play, and Clegg and Greene hope to help them formalize that expertise. African-Americans in particular are over-represented in college athletics but under-represented in growing, high-income fields like data science. Student-athletes can struggle to pick up those skills in college for a variety of reasons. Their strict schedules can prevent them from participating in certain labs, faculty office hours, or highly-structured curricula. Their sports play might encourage them to separate their athletic and academic identities, despite the skills in statistics or physics they're developing on the field, making them feel like they wouldn't fit in certain technical fields.
"When you look at the makeup of the most high-revenue sports teams, they're made up of minority students, so that's a place where you have a lot of your learners who are underrepresented in STEM," said Clegg. "So if we can reach them there and have more connections between their academics and athletics, we can broaden their consideration of the fields they're going into."
Clegg, in addition to the "Data Everyday" project, is working with UMD faculty from the College of Education on "Mathletics," a program particularly focused on engaging African American and Latinx youth in an effort to deepen their STEM knowledge and introduce them to STEM fields. Clegg and her team are primarily working with middle school students from Prince George's County schools and the city of Baltimore, Maryland to teach practical skills, such as how to collect data and perform statistical analysis of the data. Due to the nature of a virtual environment put in place due to the COVID-19 pandemic, the students engaged in independent activities, such as comparing the data gathered from videos of the NFL Combine with their own after completing the exercises, such as the 40-yard dash and broad jumps, on their own.
By coupling the findings from Mathletics with the work Clegg and her team are completing with the Data Everyday project, they will be able to leverage their discoveries to develop data analytic systems for use not only in a Division I context, but throughout a student-athletes academic journey to introduce data literacy practices earlier.
The "Data Everyday" project received Honorable Mention at the CHI 2020, the premier international conference for human-computer interaction.