Master of Professional Studies in Data Journalism
Develop a deep understanding of how to tap into troves of data and communicate meaningful findings
MASTER OF PROFESSIONAL STUDIES IN DATA JOURNALISM WITH THE COLLEGE OF INFORMATION STUDIES & MERRILL COLLEGE OF JOURNALISM
#19 in USA
UMD as a Public Research Institution
#8 IN USA
UMD INFO College as an Information Studies College
Top 10
Merrill College has been ranked a top-10 journalism school by multiple services
17 Pulitzer Prizes and Peabody Awards
Won or directed by current faculty and staff
The University of Maryland College of Information Studies (INFO College) and Philip Merrill College of Journalism (Merrill College) have partnered to offer a "from-anywhere" Data Journalism master's degree. The two UMD colleges have combined the best of Merrill's journalism training and the INFO College's data-management techniques to produce a curriculum to train the next generation of data journalists. Journalists, information professionals, and data reporters who want to take their skills to the next level will all find a home in this program.
Students will receive real-world experience learning from industry professionals, studying under world renowned faculty, and completing a final capstone project working with an industry partner such as the Capital News Service, the Howard Center for Investigative Journalism, or one of the INFO College's many partner organizations.
Courses will be offered both online and in-person, with it being possible to complete the degree from anywhere. Students can complete the degree entirely virtually, in person, or via a combination of the two.

EXPLORE
Would you like to learn more and connect with our program team?
Request More Info
STUDENT SERVICES
---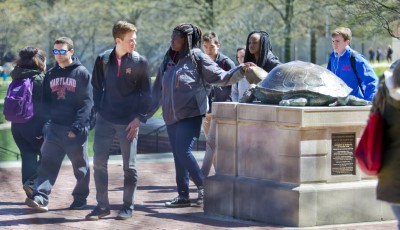 The UMD iSchool, with a history of activism and a continued mission to support social good, is a supportive and diverse community of 100 faculty and staff members and 2100+ students. Our students come to us from 52 countries with 31% from underrepresented groups and 42% female.
Courses are offered as a combination of in-person and online. However, if there are social distancing restrictions, all courses will be offered in appropriate spaces or online.