BS in Information Science + Master of Information Management
Combined Bachelor's/Master's programs allow select undergraduate students to complete an undergraduate and graduate degree within five years (four years for the undergraduate program and one year for the graduate degree.) This is accomplished by allowing students to enroll in graduate-level courses beginning in their junior year. These courses fulfill requirements for both programs.
Admission to these programs is restricted to UMD INFO college BS in Information Science (College Park) undergraduate students with 45 or fewer credits. Interested students apply in the Fall semester of their sophomore year. Students selected for entry into this program complete Mandatory Advising in the Spring semester of their sophomore year with an undergraduate and graduate advisor to draft an academic plan that accounts for both program requirements and the undergraduate/graduate credit overlap.
If you have any questions, please contact the INFO Undergraduate Student Services Office at ugadvising.ischool@umd.edu.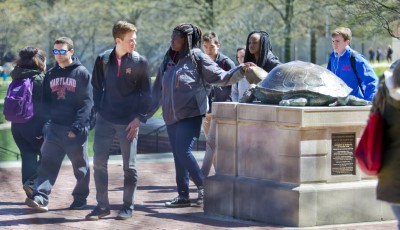 Diversity, Culture & Student Life
Located minutes from DC, we are a bustling and diverse college with 2200+ students from 52 countries (35% from underrepresented groups, 42% female). Students can choose from hundreds of student organizations, service opportunities, and social activities.