Faculty and researchers are pioneering methods to increase youth interest in STEM, from co-design with youth to partnering with libraries to develop services.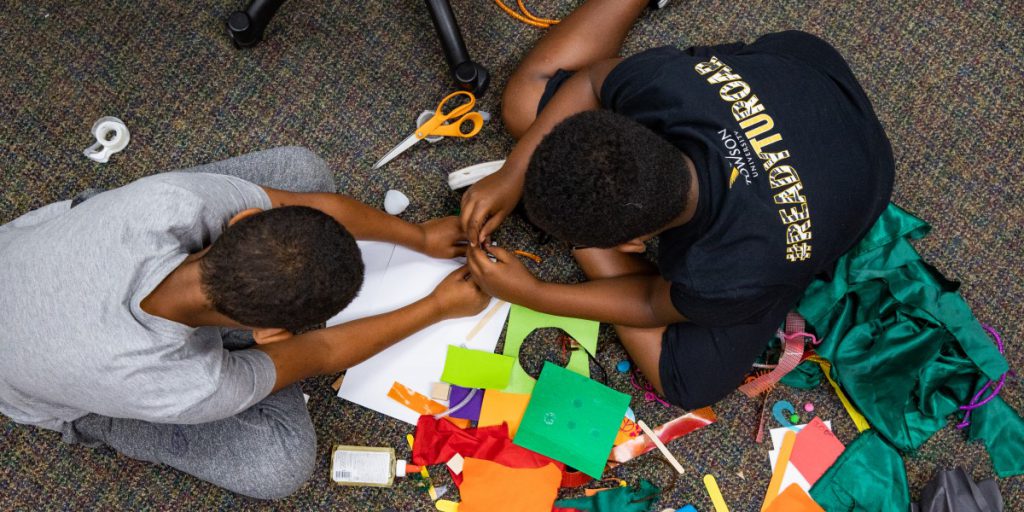 the_post_thumbnail_caption(); ?>
The decreasing interest of youth in STEM fields and careers is not a new concern in the U.S., but is becoming more dire with today's pandemic pushing our world to be increasingly digital and technologically driven. Faculty and researchers at the University of Maryland College of Information Studies (UMD iSchool) are pioneering methods to increase youth interest in STEM areas, from co-design with youth to partnering with libraries to develop services and resources.
In 1998, Dr. Allison Druin, Professor Emerita at the iSchool and current Associate Provost for Research and Strategic Partnerships at the Pratt Institute, established the KidsTeam, a group of youth and adult researchers to collaborate and design technologies for adolescents. At the time, KidsTeam was the first intergenerational Cooperative Inquiry design team. Similar design teams began to proliferate beyond Maryland shortly after to include research institutions like the University of Baltimore and the University of Washington, and industry organizations such as Pearson Learning.
Twice a week throughout the academic year, the members of KidsTeam work together at the UMD Human-Computer Interaction Lab (HCIL) to co-design technologies that support children's learning and play, and help to enhance an understanding of intergenerational design techniques to co-design technologies that are more relevant to children's interests and needs. Dr. Beth Bonsignore, Director of KidsTeam, has focused her research on the design of technology-mediated social experiences that promote new media literacies, arts-integrated science learning, and participatory cultures for youth.
KidsTeam is one of the ground-breaking initiatives housed at the iSchool's Youth eXperience (YX) Lab. Founded in 2018, the YX Lab aims to create learning experiences that empower underserved youth to participate and contribute more actively in their communities, and promote their interest in STEM-related fields.
Dr. Mega Subramaniam, Associate Professor in the iSchool and Co-Director of the YX Lab, is currently the co-investigator for the YX Lab's Safe Data Safe Families Project with Dr. Jessica Vitak. The project, in collaboration with public library staff, aims to better understand data-privacy hurdles faced by low-income and marginalized families. The Safe Data Safe Families research team is working to develop a suite of resources that will be used by library staff to inform their practices in helping families in sensitive online transactions and to facilitate digital privacy and security skills education for these families.
Subramaniam has received the Young Adult Library Services Association's (YALSA) 2020 Outstanding Achievement Award for her research focusing on enhancing the role of school and public libraries in fostering the mastery of digital literacies essential to STEM learning and interest among underserved, underrepresented, and disadvantaged adolescents and young adults. She was also elected to the Association for Library and Information Science Education (ALISE) Board as Director for External Relations. ALISE is the global voice of library and information science education leading innovative and high-quality research, teaching, and service for educators and scholars in these fields.
Along with Dr. Subramaniam, Dr. Tamara Clegg is a Co-Director of the YX Lab. She is currently studying how college athletes can develop data literacy skills as they train and play their sport in partnership with Dr. Dan Greene, Assistant Professor in the iSchool and Dr. Erianne Weight an Associate Professor in Sports Science at the University of North Carolina. The project aims to promote  the STEM interests and knowledge development of African American and Latinx youth, an underrepresented and underserved group in STEM, immersing them in the rapidly growing world of sports data analytics, building their knowledge of statistical concepts and the data science process. Dr. Clegg has spent much of her career developing technologies, such as social media apps, to help underrepresented populations advance STEM skills in life-relevant ways.
She has also conducted extensive work into establishing new research agendas and teams focused on creating community-based learning experiences with and around technologies. She equips students with research techniques applicable inside and outside of the classroom and creates opportunities for Graduate students to directly work with youth.
The iSchool offers a Youth Experience (YX) specialization through its Master of Science in Library and Information Science (MLIS) program. The specialization enables students to design and implement policies, programs, and technology to support a young person's learning, development, and everyday lives. The YX specialization prepares leaders, educators, and change agents to deeply understand the dynamic contexts of youth.
To learn more about the YX Specialization at the UMD iSchool, visit the MLIS Curriculum & Specialization website.