The students worked to create solutions to cybersecurity, IT, and other tech challenges while exploring career opportunities in information science.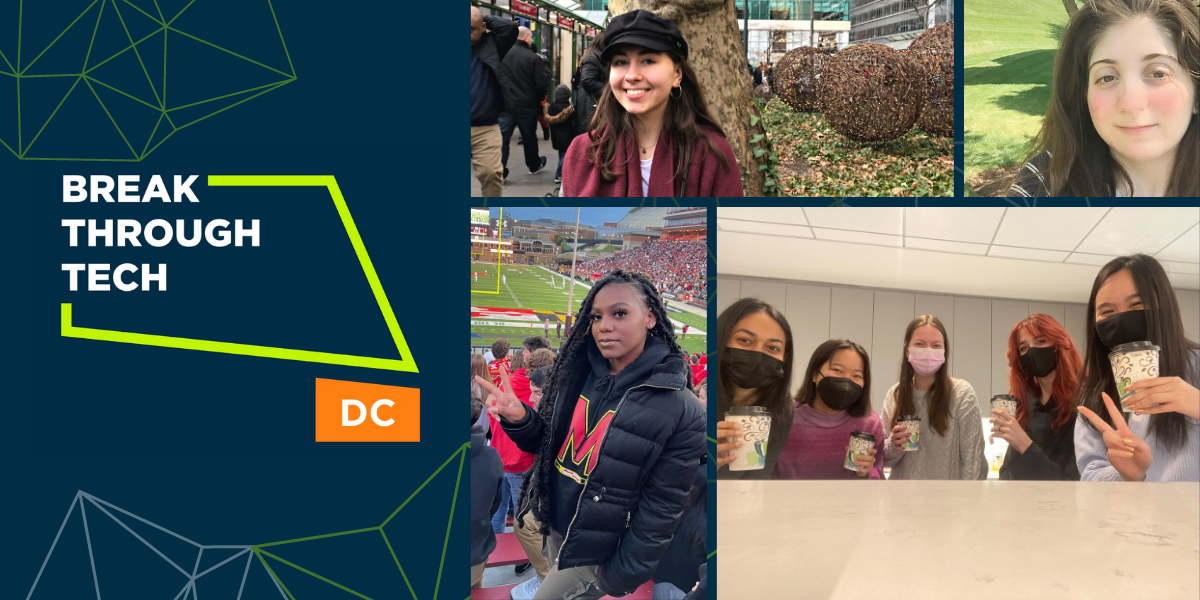 the_post_thumbnail_caption(); ?>
Seven iSchool undergraduates joined a cohort of 58 UMD students in UMD's first Sprinternship™, one of Break Through Tech DC's signature programs launched in January. This paid, three-week micro-internship helps undergraduate students gain professional experience and land their first internship while earning their degree. The Sprinterns worked with 15 host organizations to tackle real business challenges, gain resume credentials, and strengthen their professional network and connections within the tech community.
Learn more about this semester's iSchool Sprinterns and their Sprinternship experiences:

Anthony Ma, BSIS '25
Anthony was a part of the Two Six Technologies Sprintern team that built a hate speech classification model using Python, specifically the Pandas and PyTorch libraries. In addition to experience working with Python, he also gained a better understanding of natural language processing (NLP) models used in machine learning. Anthony entered the BSIS degree program to pursue his interests in the intersection between technology and other fields, such as medicine and business. Anthony plans to pursue a graduate degree before starting a career in cybersecurity or data science.
Ashlyn Mann, BSIS '24
Ashlyn collaborated with her Sprintern team at Terrapin Works – which provides digital manufacturing resources to the UMD campus and surrounding community – to conduct market research on a new Lock Out system. The goal of this system is to implement improved security measures in the makerspaces and machine shops across campus. Ashlyn applied to the BSIS program so she could learn about the intersection between computers and people and see how data affects our daily lives. She is also a member of the College Park Scholars Public Leadership program, where she serves as a peer mentor to undergraduate students.
Janet Chan, BSIS '24
Bringing her problem-solving prowess to the table, Janet and her Sprintern team interned with MyCyberExec, an IT company based in North Carolina, to translate several technical pieces of writing for non-technical audiences. Her team was responsible for the company's website, along with writing articles for their LinkedIn page. MyCyberExec brought in guest speakers every Friday during the Sprinternship to share their experience and host Q&A sessions, which Janet found to be very helpful and exciting. Janet chose to pursue the BSIS degree program because she felt the program combined her interests in technology, social sciences, humanities, and leadership. She was also particularly drawn to the data science specialization offered within the BSIS program.
John Baldeh, BSIS '24
John interned with Cloudforce, a company based in Forest Heights, Maryland, and addressed pressing workplace problems by integrating IoT and AzureCloud. After conducting market research for common work deficiencies, John and his team created an IoT Inventory Management solution called SnackTrack to improve the functionality of the office's snack inventory system. John is pursuing a degree in information science. He is also a member of Code Black UMD and the Black Student Union.
McKenna Shay, BSIS '24
McKenna had the opportunity to work with the UMD Department of Information Technology to process cybersecurity alerts and analyze UMD's network of data across more than 18,000 computers using the software tool Splunk. Her team also leveraged Tableau to create 10-plus data visualizations and presented the processed data to security professionals at UMD, who will use this data to improve security processes across campus. Through this Sprinternship, McKenna learned more about IT jobs, what responsibilities and tasks there are for different positions, and the pathways she can follow with her BSIS degree. McKenna plans to pursue graduate studies after completing the BSIS program and become more involved with research projects at the iSchool to address various social issues.
Nadiyah Williams, BSIS '23
Also working with the Two Six Technologies Sprintern team, Nadiyah created a hate speech classification model in LaBSE, a tool used to encode text from different languages, using Python Libraries. Nadiyah transferred to UMD as a Letters and Sciences student intending to pursue computer science, but she decided to declare information science after the Fall 2021 semester. As an information science major, she is hoping to learn more about social science and humanities and how they relate to tech. Nadiyah hopes to land a career in federal cybersecurity after graduation.
Sana Choudhry, BSIS '25
After pursuing the computer science track at her high school, Sana realized that she wanted to dive deeper into the applications of technology in different realms. While working with her Sprinternship host company, Terrapin Works, Sana was able to do just that by exploring some of the more technical aspects of information science. Her team was primarily responsible for performing market research and down-selecting a product that best fit the criteria her mentors at Terrapin Works needed, while gaining knowledge on agile development processes and basic API concepts. Sana became intrigued by the information science major at the iSchool for its interdisciplinary nature, which allows students to explore several applications of technology and help them discover which path they're most interested in. After graduation, Sana hopes to accept a full-time position in data analytics with a large tech or FinTech company.
The UMD iSchool is one of Break Through Tech at UMD's core partners aiming to raise the graduation rate for women across its information science and information and technology design majors.
To learn more about how you can get involved with Break Through Tech DC at UMD, follow along on Twitter and Instagram (@BrkThroughUMD) or reach out via email at breakthroughtech@umd.edu.