Clegg is an expert in youth experience and digital practices working with Nickelodeon to enhance its online learning platform, Noggin.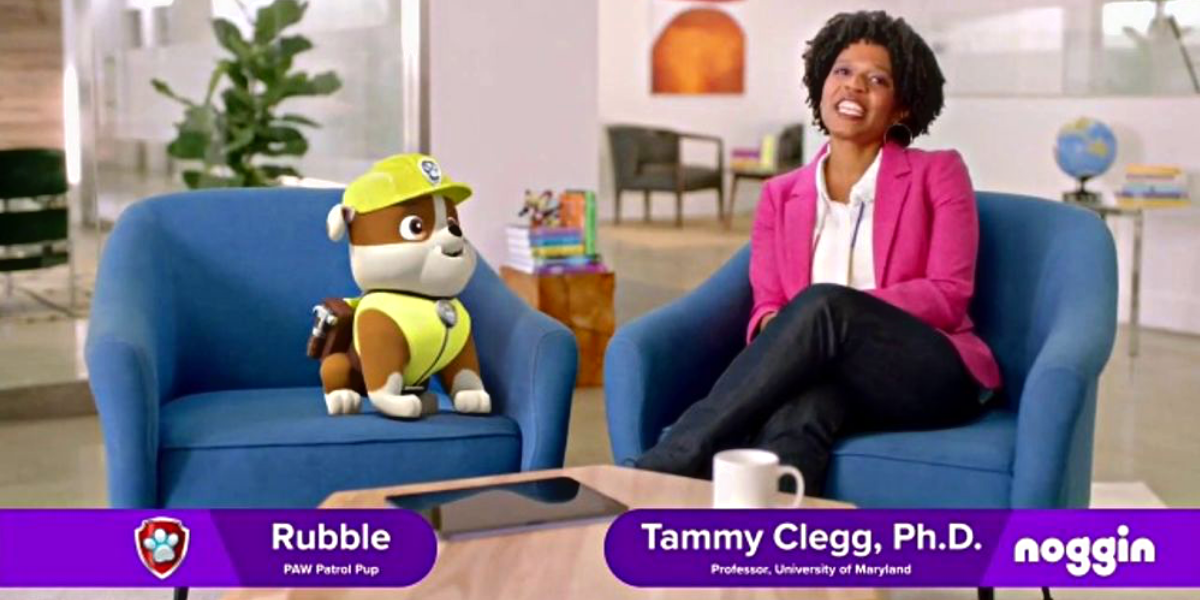 Dr. Tamara Clegg alongside Rubble from one of Nickelodeon's newest shows, PAW Patrol.
the_post_thumbnail_caption(); ?>
Dr. Tammy Clegg, an associate professor at the University of Maryland College of Information Studies (iSchool), stars in a new commercial for the learning platform, Noggin, now streaming live on Nickelodeon. The commercials feature Clegg alongside Rubble from one of Nickelodeon's newest shows, PAW Patrol. Since 2020, Clegg has been a member of Noggin's advisory board, a board made up of education, psychology, and medical researchers and practitioners, who provide consultation on the content Noggin releases.
"The research I do is all about helping youth see and do STEM in their everyday lives and leveraging new technology to facilitate and enable those connections," said Clegg on how her research aligns with Noggin's mission to teach youth foundational skills using technology.
Noggin, a joint venture between Nickelodeon and Sesame Workshop, originated as a cable television channel and interactive website, both centered around the concepts of imagination, creativity, and education. Since its launch in 1999, Noggin has expanded to include a mobile streaming app and several defunct programming blocks worldwide.
The Sesame Workshop has long been a partner of the youth researchers at the UMD iSchool and has collaborated in various capacities, including its various collaborations with UMD's KidsTeam, the first ever intergenerational cooperative inquiry design team. Not long after the original KidsTeam celebrated its first decade, more intergenerational cooperative inquiry design teams began to proliferate beyond Maryland, to include research institutions like the University of Baltimore and the University of Washington, and industry organizations such as Pearson Learning. In 2013, the "Do Not Touch" button developed with KidsTeam which can be found in the Nick mobile app won the 2013 Emmy for Outstanding Creative Achievement In Interactive Media – User Experience And Visual Design.
At the iSchool, Clegg's research is focused on the intersection of youth experience, learning, and digital practices, data privacy and sociotechnical cybersecurity, and human-computer interaction. She is in the process of launching several new projects focused on leveraging IoT devices for community environmental learning and engaging college athletes in data science. One of her recent projects is "Data Everyday," an initiative working with athletes and coaching staff from two Division I universities to understand their sports experiences, their experiences with data analysis in the context of the sport they engage with, and the data that is readily accessible to the athletes. Clegg's team recently received funding for a student to work on the Data Everyday project next academic year through the Faculty Student Research Awards.
Within the MLIS program at the iSchool, programming specific to Services for Children and Youth earned the #2 ranking in the U.S. News & World Report's 2021 LIS college rankings. The impact of libraries on communities, especially with youth and marginalized populations, has been at the heart of the UMD iSchool since its founding and continues to be reflected in its programs, including the MLIS Youth Experience (YX) specialization that enables students to design and implement policies, programs, and technology to support a young person's learning, development, and everyday lives.
Click here to learn more about the MLIS Youth Experience (YX) specialization.