Directory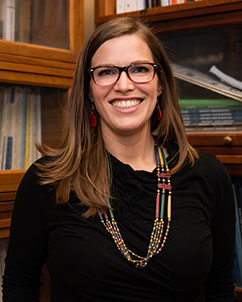 Accepting PhD Students
This faculty member is NOT currently accepting Ph.D. students
Diana E. Marsh
Assistant Professor
dmarsh@umd.edu
http://dianaemarsh.squarespace.com/
Dr. Marsh is an Assistant Professor of Archives and Digital Curation in the College of Information Studies and an affiliate faculty in the Department of Anthropology at the University of Maryland, College Park. Dr. Marsh's research asks how new technologies and decolonizing movements are changing the ways heritage institutions share information with communities and the public. Her work draws on qualitative and ethnographic methods to better understand the discovery and use of archival collections – particularly for the communities represented in them. She explores what might drive the organizational change needed to increase public and community access to collections and provide more ethical models of stewardship in colonial repositories.
Her current research focuses on discovery, use, and access for Native American and Indigenous communities, based on projects undertaken at the American Philosophical Society and the Smithsonian's National Anthropological Archives. Her recent work has appeared in The American Archivist, Archival Science, Archivaria, and Archival Outlook. Her book, From Extinct Monsters to Deep Time: Conflict, Compromise, and the Making of Smithsonian's Fossil Halls, was published in 2019 with Berghahn Books.
She completed her PhD in Anthropology (Museum Anthropology) at the University of British Columbia, an MPhil in Social Anthropology with a Museums and Heritage focus at the University of Cambridge in 2010, and a BFA in Visual Arts and Photography at the Mason Gross School of the Arts of Rutgers University in 2009.
Dr. Marsh acknowledges the Piscataway and Nacotchtank, and their Indigenous kin and neighbors, on whose traditional territories she works. She acknowledges the devastation of colonial warfare and cultural genocide that separated these nations, and all Indigenous peoples in North America, from control of their homelands. She further acknowledges the continued presence and resilience of Indigenous communities and nations today, and thanks those she works with for their good will in efforts to collaborate as she undertakes her work at the University of Maryland.
Associated Research Centers
Research & Focus Areas
Research Projects