iSchool MLIS student, Rosie Grant, shares her internship experience as a digital archivist for one of DC's oldest cemeteries.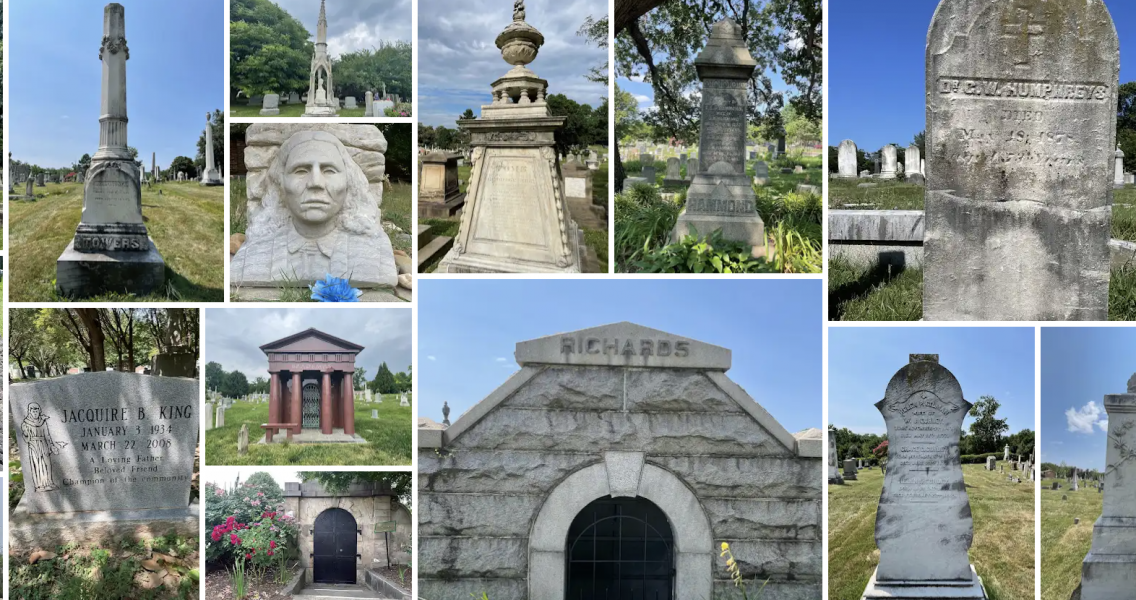 the_post_thumbnail_caption(); ?>
I never thought I'd be able to say, "I saw J. Edgar Hoover and John Philip Sousa on my way to work today." But then again I never thought I'd work a job surrounded by gravestones. But at Congressional Cemetery in Washington, DC such a sight is just a part of everyday life … and death.
This summer I interned as the digital archivist for Congressional Cemetery, one of DC's oldest cemeteries. Established in 1807, they're arguably the "liveliest" cemetery in DC. One any day you can find them hosting book clubs, movie nights, speakeasies, preservation workshops, an apiary, and (most famously) their popular dog walking program with a 2-3 year waiting list.
In my field study I was tasked with launching an exhibition page on Google Arts & Culture, featuring a number of their more famous residents and gravestones. Google Arts & Culture is an online platform of high-resolution images of cultural artifacts from cultural organizations throughout the world. It lets people tour our "collections" (graves) through galleries to explore the lives of some of the people buried here.
The platform includes advanced search capabilities and educational tools. Scroll down the page to learn about some of our famous residents including J. Edgar Hoover, Mary Fuller, and John Philip Sousa. You can also learn the details about some fascinating people in Washington, DC history including socialite Marguerite DuPont Lee and political spokesman Tyrone Gayle.
Congressional is one of the first cemeteries to join the platform and now displays 150, and growing, graves in the cemetery. You can also browse a series of exhibitions featuring tours of parts of our cemetery. Our LGBTQ tour is the first to be launched, with several others coming later this fall. In the LGBTQ exhibition, click through to learn about some of our famous residents including Walt Whitman's lover Peter Doyle, "Father of the Harlem Renaissance" Alain Locke, and gay rights activist Leonard Matlovich.
Photo courtesy of Rosie Grant
Congressional Cemetery isn't new to the digital world. Their archivist Dayle Dooley is constantly updating their Find a Grave database, a crowdsourced database owned by Ancestry.com that allows the public to search for stones and records. They have a popular Instagram, Google Street View, and 360 virtual tour.
While I was sad when my field study with them ended, I'll forever be a cemetery lover from the experience. I even launched a cemetery TikTok during the experience (part of another class assignment) that features stories from Congressional and other DC cemeteries.
Rosie Grant