iSchool Lecturer, Dr. Eric Hung, discusses the many histories and absence of Asian Americans in American popular music.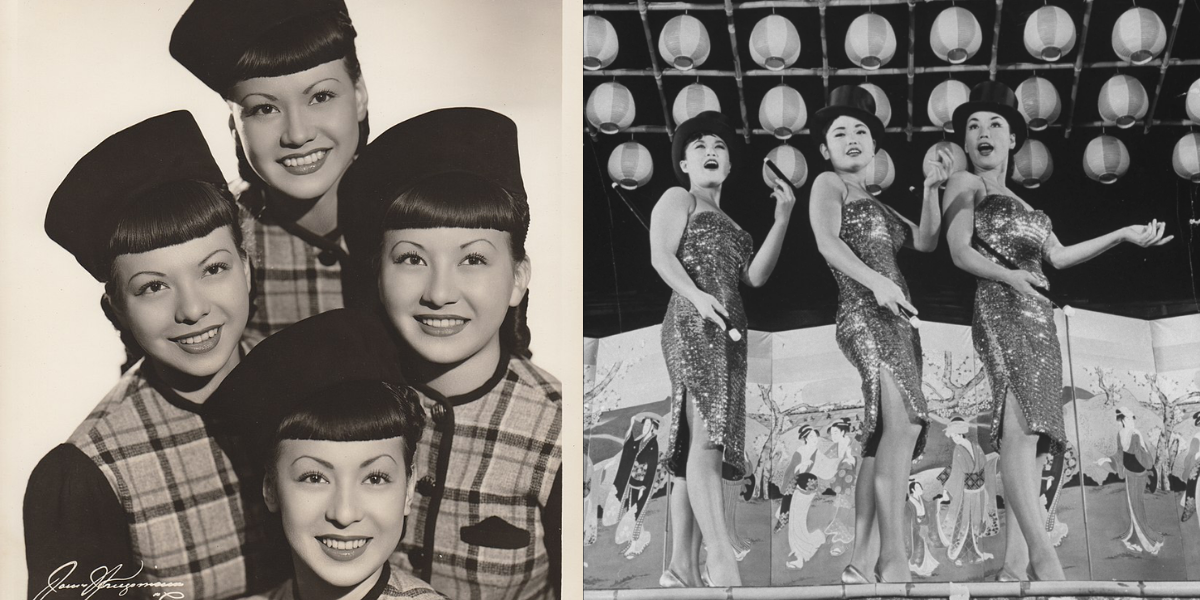 The four Kim Loo Sisters in hats. Photo by James Kriegsmann, Circa 1939 (Left) The Kim Sisters. Robert W. Kelley / The LIFE Picture Collection/Getty Images file (Right)
the_post_thumbnail_caption(); ?>
What would happen if Asian Americans were a part of the standard narrative of American popular music?
The American Musicological Society (AMS) and Rock and Roll Hall of Fame Lecture Series hosts Eric Hung and Leslie Li to examine two early Asian American girl groups — the Kim Loo Sisters and the Kim Sisters — and demonstrate how they navigated the American racial hierarchy, helped to fight stereotypes of Asians in the U.S., and disseminated and resisted changing U.S. foreign policies. 
There has long been cultural interchange beyond the White-Black binary in American popular music. Asian Americans have been a present and integral force in the early history of American popular music, from vaudeville, jazz, reggae, and many other styles. However, much of the popularity of Asian American music grew from stereotypes propagated in the mainstream with hundreds of music covers and art illustrating the dehumanization of Asian Americans and perpetuating the idea that Asian Americans could never be fully assimilated into American culture.
"We hope you that you will agree that talking about artists such as the Kim Loo Sisters and the Kim Sisters is an important endeavor that can help Asian Americans gain a fuller sense of belonging, and lead to a more complex and accurate history of American popular music and more generally the history of the United States," said Hung. 
Dr. Eric Hung is an adjunct lecturer at the College of Information Studies and Executive Director of the Music of Asian American Research Center. His research on Asian American music, music and archives, music and trauma, community engagement, and public musicology has been published in leading journals, edited books, and encyclopedias.
"Recovering Early Asian American Voices In American Popular Music: Two Girl Groups" was produced as part of the AMS / Rock and Roll Hall of Fame Lecture Series. The series brings scholarly work to a broader audience, showcasing the musicological work of the top scholars in the field and providing a public forum that brings music research to a broader audience. 
You can watch the full lecture on the Rock & Roll Hall of Fame YouTube channel. 
May is Asian American and Pacific Islander (AAPI) Heritage Month. We pay tribute to generations of Asian and Pacific Islanders who have enriched America's history and are instrumental in its future success. Learn more about how the iSchool is honoring national heritage months here.