Dr. Ana Ndumu, Dr. Mega Subramaniam, and PhD Student Shandra Morhouse receive awards for their research work in library and information science.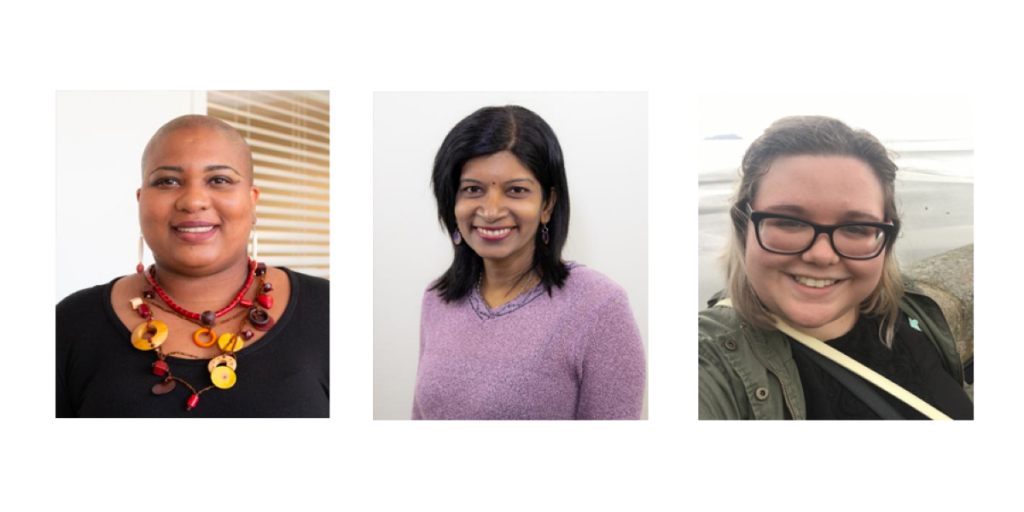 the_post_thumbnail_caption(); ?>
The Association for Library and Information Science Education (ALISE) has announced the recipients of their prestigious annual awards, which included three University of Maryland College of Information Studies (UMD iSchool) recipients.
Assistant Professor Ana Ndumu, along with project team members Michele Villagran of San Jose State University and the Reforma Education Committee, is the recipient of the ALISE Community conn@ct Mini-Grants award for their project "Integrating Immigrants Into the LIS Workforce: A Pilot, Collaborative Project." The ALISE Community conn@CT began as a space at the 2015 ALISE Conference and centennial celebration for ALISE members to connect with social justice organizations and each other to create and innovate solutions to advance their mission. A competitive mini-­grant program was designed to advance the ALISE Community conn@CT initiative. The Community conn@ct Mini-Grant is awarded annually to a project of significance that addresses library and information needs of a social justice organization through collaborative community engagement.
Associate Professor Mega Subramaniam and PhD Student Shandra Morehouse, along with co-authors Natalie Pang of the National University of Singapore and S. Nisa Asgarali-Hoffman of College of Information Studies at UMD under Associate Professor Mega Subramaniam, received the ALISE/Bohdan S. Wynar Research Paper Competition award for their paper "Positioning vulnerability in youth digital information practices scholarship: What are we missing or exhausting?" and its ability to stimulate library and information science research communication and conversation. The paper reports a study that interrogated how empirical studies have conceptualized at-risk or vulnerable youth digital information practices. The study contributes a landscape view of key focal interests in studying the vulnerable, paying special attention to where these studies are conducted and also the disciplinary origins of these researchers. This work highlights areas that are overstudied and understudied, paving the way forward for future research agendas involving at-risk or vulnerable populations. The ALISE review committee shared, "The significance of the problem the paper articulates and the methodological rigor it applied in addressing it proved especially compelling to the committee."