MLIS student shares her experience at the Library of Congress processing the materials of the late opera singer, Jessye Norman.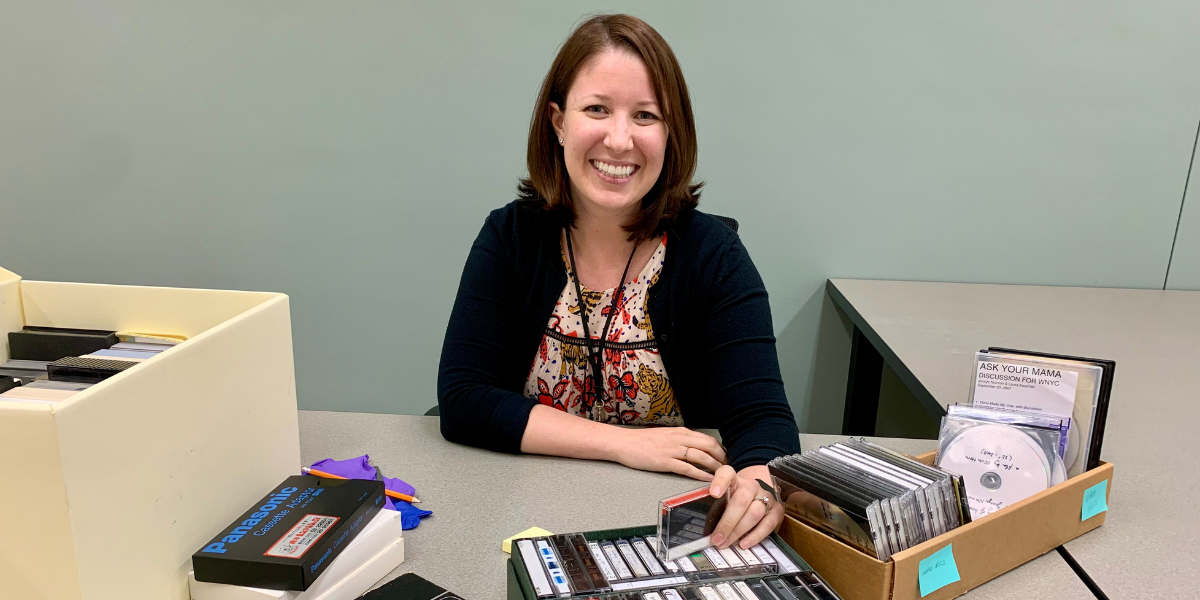 the_post_thumbnail_caption(); ?>
At the end of May, I ventured back into the world several times a week to the Library of Congress (LoC) for my field study in the LoC's Music Division. While working as part of a team in the Acquisitions and Processing section, my primary responsibilities involved processing the materials of la ]]>
<![CDATA[ te opera star, Jessye Norman. Ms. Norman's collection, consisting of immense amounts of correspondence, concert programs, audio-visual recordings, and printed music, as well as iconography and ephemera, were donated to the LoC shortly before her passing in 2019. With my background in performing arts and a Ph.D. in musicology, I found this experience to be a perfect marriage of my musical knowledge and new library and archives training. In fact, I've loved this work so much I decided to continue interning after the end of my field study "officially" ended in August, and am continuing to the end of the MLIS in December.
Working with the processing team, I began by sorting the audio-visual materials and creating descriptions so they can be preserved and digitized on-demand to provide access for researchers. Ms. Norman's collection was both representative and surprising, containing many recordings of her most-performed works, like Strauss's Vier letzte Lieder (Last Four Songs), but also unlikely collaborations, such as her work with famed choreographer, Bill T. Jones, as well as special projects, like her Christmas specials produced in her native Georgia. Through this work, I was able to come into contact with a variety of cassettes, discs, and videotapes from the 1980s through the early aughts, and creating metadata for these items really helped to put coursework into practical application. I found myself frequently drawing upon my musical background when items had scant amounts of information, like a short title for a longer opera, to which I could supply the composer, librettist, and complete title. I also wrote the scope and contents note for Ms. Norman's collection in the LoC's search engine to provide researchers with easily accessible information on the materials.
After finishing with the AV series, I moved on to Ms. Norman's vast collection of printed music. For a performer, the printed music in the collection represents not only the works she created, but the works that she performed. Ms. Norman's annotations of hundreds of songs, opera scores, and sets of traditional spirituals provide a record of works performed and her approach to both vocal performance and dramatic interpretation. The collection revealed duplicate scores that are marked differently for different performances, which will undoubtedly be of interest for generations of singers. Ms. Norman also wrote remarks to the audience to be read between songs at recitals, often in the language of the country she was performing in. Additionally, the printed music includes groups of songs prepared together for her special recording projects.
All of this processing and rehousing of materials was largely completed to improve their accessibility for researchers and the public. To help boost interest in advance of the collection being open for research, I wrote a guest blog post for the Music Division's In the Muse, documenting Ms. Norman's production of Duke Ellington's sacred music. I also began to engage with the materials by using Tableau, a visual analytics platform, to map the geographical reach of her voice. I presented this research at the Mid-Atlantic Regional Archives Conference in Gettysburg, PA in October. I'm looking forward to presenting the highlights of Ms. Norman's collection alongside my colleague, Dr. Stephanie Akau, at Howard University this February, as Ms. Norman was herself a Howard alum.
Connecting people with resources that engage them with history and culture has been at the heart of my work as a music historian, and moving into the world of libraries and archives has meant I'm able to do that for a much wider audience. The work I've engaged in at the Library of Congress with the Jessye Norman papers has deepened my understanding of what that looks like in practice, sharpened a lot of skills, and brought me into contact with some truly interesting materials.