Creating first-person, virtual reality experiences to enhance empathy and address growing issues in the caretaking industry.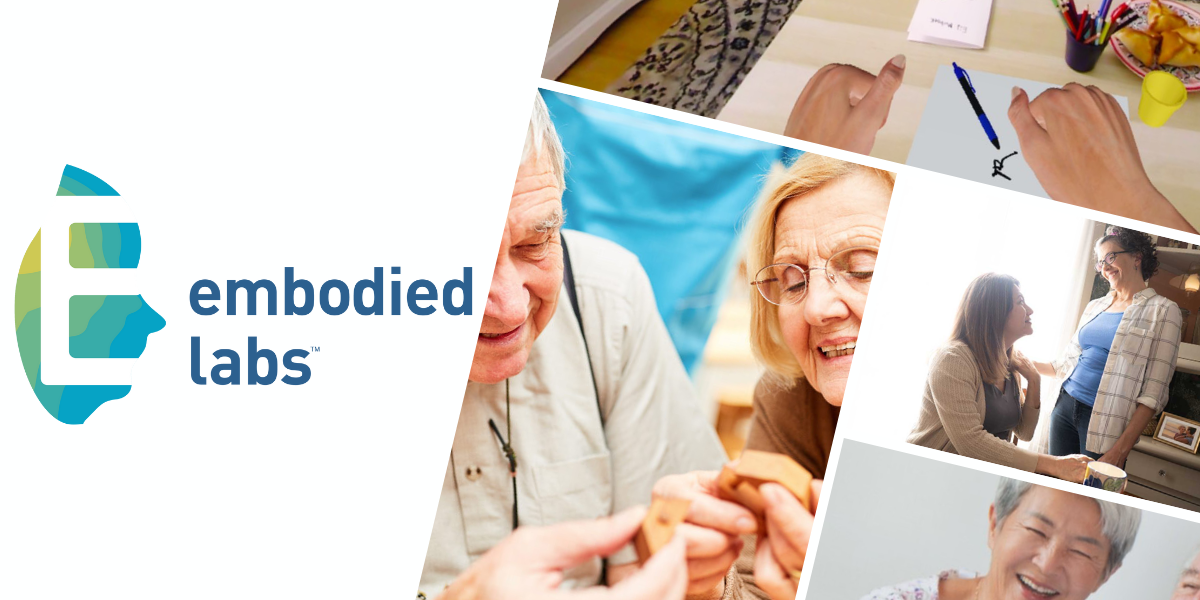 the_post_thumbnail_caption(); ?>
Caretaker shortages and burnout have plagued the aging care services industry for decades, and has become particularly noticeable as a result of the COVID-19 pandemic. According to the United Disabilities Services Foundation, research shows that the number of people over age 65 is expected to double between 2000 and 2030, illustrating the dire need for more caregivers. At the same time, the national caregiver deficit is projected to reach 151,000 by 2030 and 355,000 by 2040. The USDS attributes these non-medical and home health nursing shortages to low pay, little growth potential, poor working conditions, and an overall lack of respect due to inherent stereotypes. 
Erin Washington, co-founder of Embodied Labs and alumna of the University of Maryland, fell into the home care partner role for her mother, who had early onset Alzheimer's Disease despite having no family history of this disease. While the experience was taxing, Erin and her sister learned a great deal about dementia, aging, and the severe staffing shortages that continue to be an issue nationwide. 
In 2016, Erin and her sister, Carrie Shaw, who possesses a degree in biomedical visualization, co-founded Embodied Labs, an immersive training platform that uses virtual reality technology to embody the perspectives and conditions of others. The initial intent of the company was to provide an early Edtech product to be used anywhere from high school health science classrooms to medical schools, but had to quickly evolve to market its services to broader audiences outside of academia.
"We needed to broaden our ability to attract lots of different customers like aging services in general, corporations who serve older adults in some way or sell products to older adults, so we ended up developing different versions of our training that are geared toward these different types of end users," Erin said. 
Embodied Labs offers over 20 interactive, first-person immersive experiences through two modalities – Fully Immersive VR Headset and Web-Immersive via Web Browser. During the company's launch in 2016, the Oculus VR headset was initially released to the public market. As this began paving the way for more advanced VR technology, Embodied Labs began to integrate more assessments into its modules themselves rather than more traditional pre- and post-assessment. This also sparked the need to create a web-based alternative to the VR experiences, which would be ideal during the COVID-19 pandemic. 
The "Wayfinders" Program geared towards family care partners was developed during the pandemic in late 2021 as a web based client. This six-week program combined immersive experiences with discussion sessions that offered a kind of support group atmosphere. This program's development was headed by Carrie Cusker, a registered nurse, who assisted Embodied Labs with getting this into the hands of family care partners and providing that effective first-person experience. 
"There are literally hundreds of programs out there for family care partners training that vary in content type, and the things that you find online are mostly going to be very text based. What is really lacking is that authentic, first-person experience," Erin remarked. 
Another unique aspect of Embodied Labs library of training is its focus on the more positive aspects of aging and caretaking. While the training doesn't minimize the challenges and frustrations, it gives participants a much broader spectrum of perspectives to enhance empathic learning. One example of this put into practice is the "Beatriz Lab," Embodied Labs' second most used module. This module takes participants, who embody the character "Beatrice," through her journey through Alzheimer's disease using a VR headset that simulates vision and hearing loss – some lesser recognized effects of this disease. In one of the last scenes of the module, Beatrice is enjoying family time during a Christmas party despite her reduced hearing and vision. 
Over the next several months, Erin and the team at Embodied Labs plan to continue advancing its Wayfinders Program and growing its cohort of partnerships, particularly with public libraries to get the company's labs and modules in the hands of library patrons seeking aging care training. 
Erin graduated from the University of Maryland with a Master's degree in Library and Information Science in 2009. Her background includes over a decade working in higher education, emerging technologies, instructional design, adult learning pedagogy, and information science — all of which continue to influence the work she does for Embodied Labs as an e-learning and instructional design consultant.
The UMD College of Information Studies' fully ALA-accredited, and 4th nationally ranked, Master of Library and Information Science (MLIS) program offers specializations in Diversity & Inclusion, School Libraries, and Youth Experience.
Learn more at ischool.umd.edu.