Bailey's research will focus on the intersection of diversity and legal informatics.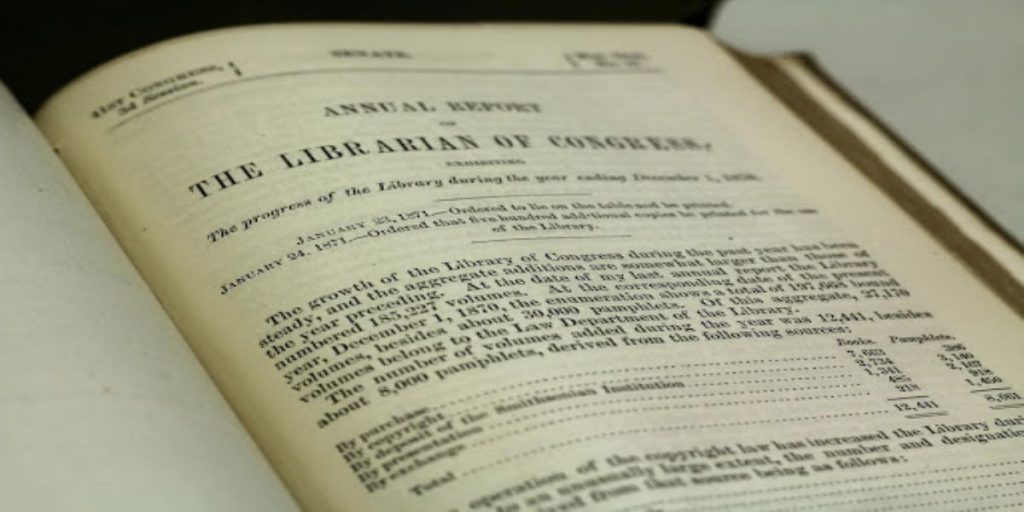 Annual Report of the Librarian of Congress, Serial Set vol. 1442. Photo by Geraldine Dávila González.
the_post_thumbnail_caption(); ?>
My name is Bailey DeSimone, and I'm delighted to begin my MLIS this fall. I was especially interested in a program that actively celebrates diversity and addresses the social and economic issues affecting access to information. The University of Maryland's College of Information Studies offers courses specific to diversity and inclusion as well as legal informatics, and the intersection of the two is my intended focus of research.
I have always been fascinated by systems of governance and how the law intersects with communities across language, culture, and background. My aim is to create new, accessible pathways to legal information. I am hopeful to work with my colleagues in the iSchool in exploring methods of engaging users in digital literacy of legal resources, while overcoming the challenges discovered along the way.
Since 2019, I have been a Metadata Technician with the Law Library of Congress's Digital Resources Division. I am responsible for managing the information generated during the pre-digitization of the United States Congressional Serial Set. When I am in the office, my work is a balance of evaluating historical legislative documents, preparing them for digitization, and creating workflow and metadata documentation. For all guides and reports, I ensure that they are 508 compliant. Along the way, I developed working knowledge of coding languages through carpentry courses, including General Refine Expression Language (GREL), Python, Server Query Language (SQL), and Visual Basic. Microsoft Access, OpenRefine, and Tableau are several of the programs I have explored in order to best organize my data. Data science is absolutely a creative outlet, and I am enjoying the opportunity to work with my team members to communicate the value of our digital collections through data visualization.
I also publish a monthly series, From the Serial Set, on the Law Library's blog, where I highlight my most interesting findings. My favorites so far have been discovering Congressional correspondence on diplomatic dress, and highlighting a report related to the Lavender Scare and the legal history of LGBTQ+ rights. Every day at the Law Library is a new learning experience, and I'm excited to continue sharing that fulfillment.
This summer, I have had the opportunity to collaborate across Library divisions while teleworking. The Library's Digital Strategy Team hosts webinars and discussion sessions to introduce new approaches to digital literacy, and LC Labs shares updates on their projects, including the Innovator in Residence program. Through these sessions, I met folks across the Library and learned from their unique experiences, goals, and words of advice. I better understood how my daily work with digital initiatives can improve the digital literacy of federal cultural institutions long-term, and hope to incorporate that objective into every one of my projects.
After completing a course in Story Map training, I have had the fortune of working with our remote metadata interns this summer to assist them in creating datasets for Story Maps based on their legal research and narratives, complete with interactive ArcGIS maps. These Story Maps provide terrific introductions to our digital collections, and the software includes a built-in accessibility checker that ensures that text and images optimize the learning experience for all, regardless of device used to access the information. I am looking forward to publishing and sharing these Story Maps as a part of the Library's growing Story Map collection and garnering new interest in legal history.
Additionally, I served as the team lead of an internal Library group committed to discovering digital educational opportunities for staff members across divisions to expand their skillsets. Despite the challenges of transitioning to remote work, the opportunities to maintain and create positive working relationships has been incredibly rewarding, and we have successfully identified multiple approaches for staff to comfortably integrate digital learning opportunities into their daily schedules.
While I am studying at the iSchool, I hope to discuss and research the many questions that have arisen as I have learned about digital literacy and accessibility through my work at the Law Library. I am excited to continue asking questions and collaborating with my colleagues to create the answers.