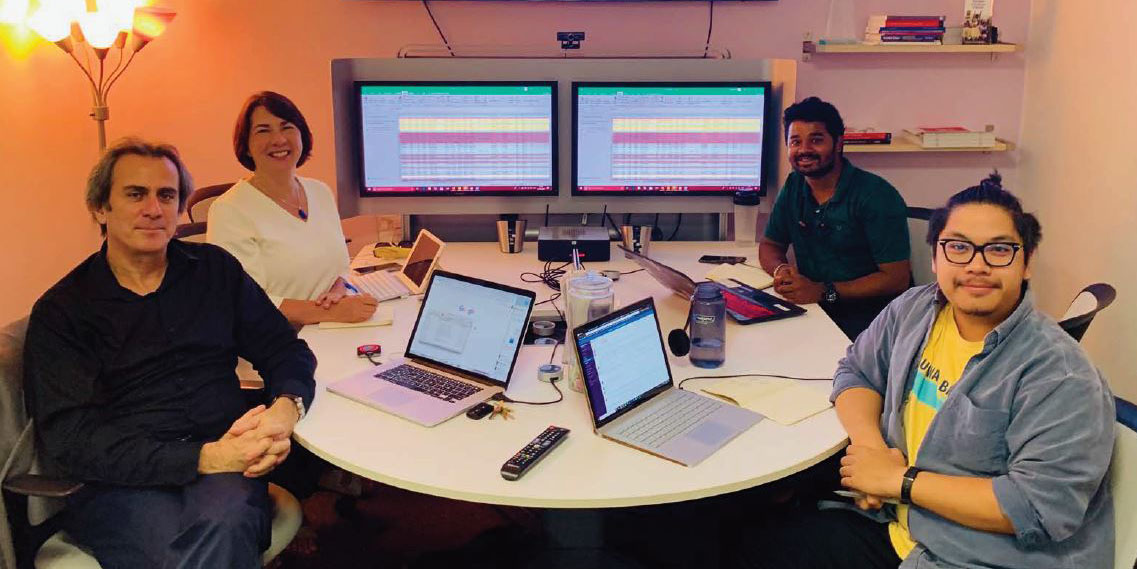 Dr. Richard Marciano, Genevieve Kocienda (MLIS student), Kanishka Jain (MIM student)​, James Santos (HILS student)
the_post_thumbnail_caption(); ?>
What better way to modernize curriculum than to partner with students in its development? Dr. Richard Marciano, the director of the University of Maryland College of Information Studies (iSchool) Digital Curation and Innovation Center (DCIC), is doing just that.
Dr. Marciano, renowned in the digital curation field, is passionate about providing experiential learning opportunities for students. In this project, Dr. Marciano partnered with 20 iSchool and Department of Computer Science students, ranging from undergraduate to doctoral, to look at how a standard MLS/MLIS curriculum should be updated to reflect digital curation practices of today and tomorrow, particularly around computational thinking (CT).
Excerpt from the team's paper: "The use of emergent technologies have profoundly altered the nature of archives, by disrupting how information is created, recorded, captured, encoded, curated, shared, made available and used" (E. Goudarouli, 2019). These changes are affecting libraries and archives of all sizes. This is apparent in the decision of the National Archives and Records Administration (NARA) to stop accepting paper-based records at the end of 2022 (Fedscoop, 2019). Similarly, The Library of Congress has just launched a $1M Mellon-funded project called "Computing Cultural Heritage in the Cloud (CCHC)" (Mellon, 2019), the goal of which is to experiment with digital collections as Big Data… Preparing MLIS students for this changing landscape is essential. While courses in archival methods typically cover records appraisal, arrangement, description, preservation, and access, there is a new digital curation imperative. 
The team looked at computational treatments of World War II Japanese American Incarceration Camp Records to identify the primary CT practices used. These primary practices can then help to inform which CT topics a cutting-edge archival education should cover. Some of the CT practices identified include: creating and manipulating data graphs and queries, analyzing and visualizing data, using computational models to formulate graph questions and find/test solutions, creating computational abstractions, and testing graph hypotheses.
The team's findings are outlined in their draft paper, Reframing Digital Curation Practices through a Computational Thinking Framework.
---
More about the DCIC:
The DCIC is a research center that sponsors interdisciplinary projects that explore the integration of archival research data and technology to generate new forms of analysis for historical research engagement. We provide undergraduate, graduate and doctoral students the opportunity to work on research projects that address real archival and information management challenges faced by different organizations, including government agencies, academic institutions, and corporations.