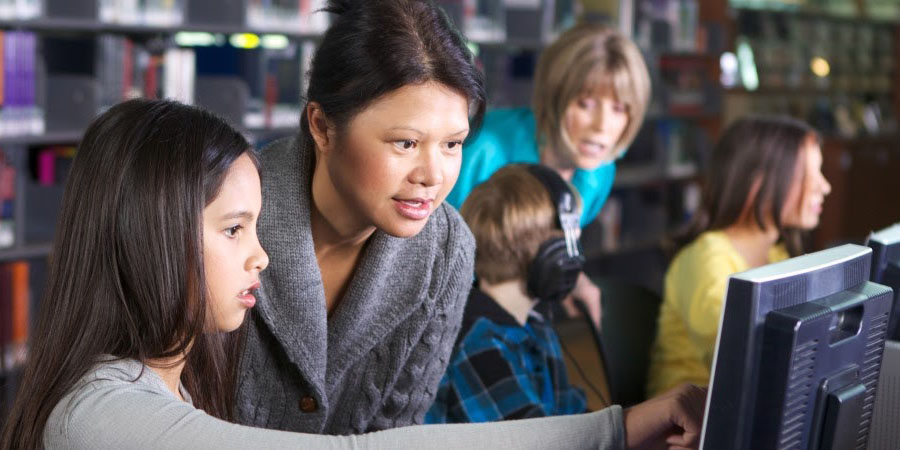 the_post_thumbnail_caption(); ?>
The Young Adult Library Services (YALS) Journal hosted an interview with Dr. Mega Subramaniam, associate professor and co-director of the Youth eXperience (YX) Lab at the University of Maryland College of Information Studies (UMD iSchool) to discuss the potential external impacts of library services on youth and teens. Subramaniam is currently conducting research on the use of school and public libraries as "effective connected learning environments" for the facilitation and development of emerging digital literacies, specifically computational thinking and umd-researchers-identify-top-data-privacy-risks-low-income-families-and-develop-preventative">privacy-related literacies, for underserved youth.
Many libraries already offer resources for youth that are tailored specifically to them, but some students are not able to take advantage of these resources due to things like transportation issues, family obligations, or living situations. Subramaniam offers insight into how academic institutions and library staff can effectively work with youth outside of the library setting to reach these youth who cannot visit the physical library space.
"In order to serve these youth, libraries must go to the places where these youth are more likely to be able to engage in the learning," says Subramaniam. "When libraries do this, the community will see the library everywhere, and not just as a brick-and-mortar building. As a result, the library will further solidify its role in the community and community members will see that the library is more than books – it is a resource not bound by place."
You can read the full interview here.
---
Subramaniam was recently presented with the 2020 Outstanding Achievement Award by the Young Adult Library Services Association (YALSA) for her dedication to challenging preconceived mindsets and approaches to library services and programs for youth and young adults. Read the full story subramaniam-awarded-2020-yalsa-outstanding-achievement-award">here.