The annual Grace Hopper Celebration brings together 30,000+ women in tech from across 115+ countries.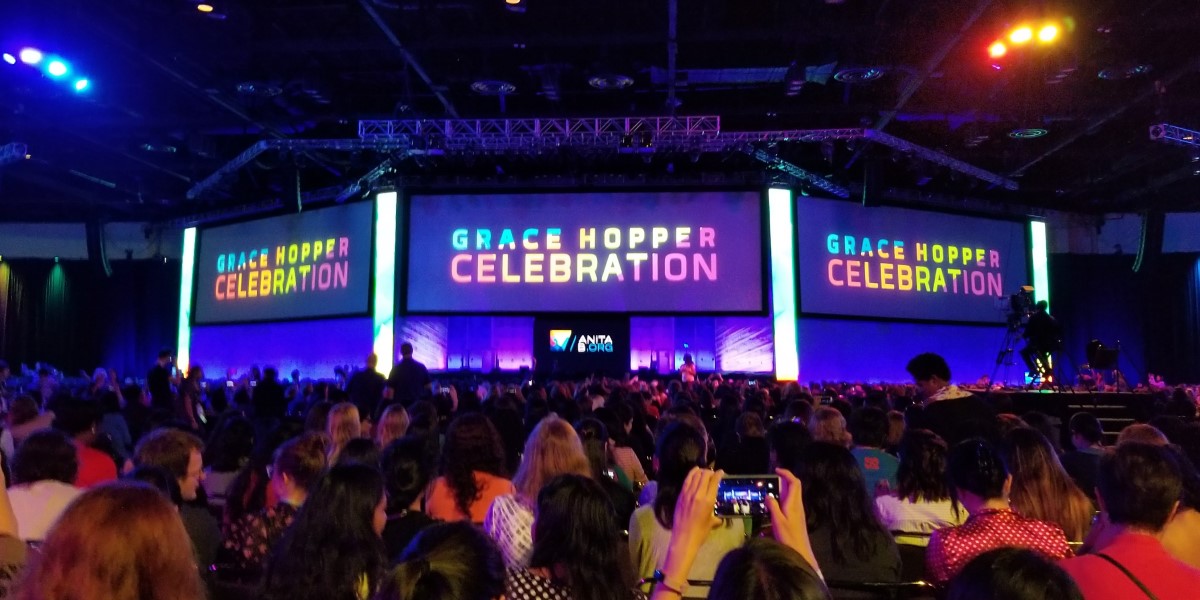 the_post_thumbnail_caption(); ?>
The Grace Hopper Celebration is an annual conference bringing together 30,000+ women in tech from across 115+ countries – celebrated virtually this year Sep. 26 – Oct. 3. The event is the world's largest gathering of women technologists. Created in in 1994 and inspired by the legacy of Admiral Grace Murray Hopper, the Grace Hopper Celebration brings the research and career interests of women in computing to the forefront.
This year, the University of Maryland College of Information Studies (UMD iSchool) sponsored 30 female students and future changemakers from across undergraduate and graduate programs to attend the conference. Here are a few of their experiences.
Oluyinka Akinola, InfoSci Student
The virtual Grace Hopper Conference was unlike any event I have attended. It was filled with women from different backgrounds with experiences ranging from a variety of disciplines. I was able to attend over 10 live session not including the keynote speakers. I attended discussions about how women with different experiences and histories must work together to create an inclusive field for each other. We must recognize the individual struggles of each person and work to build a diverse and inclusive environment where everyone is welcome. My session topics ranged from cloud computing to what it means to be an ally in technology. Outside of my session I participated several networking sessions and interviews with employers.
Shaan Chopra, HCIM Student
I visited a lot of booths by universities including UW, Cornell, CMU, and UC Berkeley. I got to learn about their programs and also got fee waivers for a few (I am looking to apply for Ph.D. positions so this was extremely valuable for me). Besides these networking sessions, I also attended the opening and closing keynotes and talks on UX Research and Design in the tech industry. My one recommendation after attending GHC in a virtual environment is to make use of all the student groups and virtual meet-ups that go around. If I was not able to attend certain sessions or wanted more information in general about sessions, I would turn to the multiple WhatsApp, FB, and Discord groups I was a part of as someone or the other was ready to help. Another thing I found extremely valuable was dropping my LinkedIn link/profile at places as that really helped me grow my network.
Alyssa Raqueno, InfoSci Student
I had the great opportunity to attend this year's virtual Grace Hopper Celebration (vGHC)! vGHC led me to meet many remarkable students and professionals within the technology field. One of my favorite events was the BRAID Reception, where I got to network with many other women from schools and companies all across the country. After that event, I was able to continue the conversation through connecting with many of them on LinkedIn. Having the opportunity to meet many inspiring individuals in the tech industry has furthered my interest in software engineering and helping to lead other people by example. Thank you so much to the iSchool at University of Maryland for allowing me to learn, grow, and enrich myself with the nation's leading ladies in technology!