Reflections on Curating the Past While Creating the Future at UMD: A fireside conversation with the Deans of INFO and Libraries.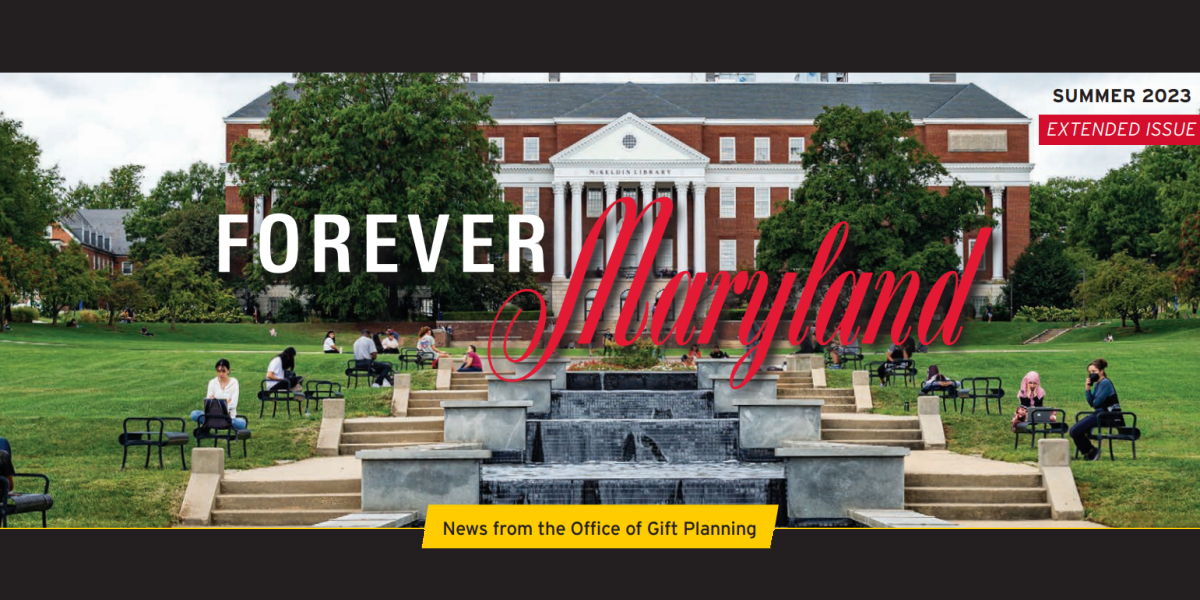 the_post_thumbnail_caption(); ?>
Deans Adriene Lim of the University Libraries and Keith Marzullo of the INFO college (iSchool) recently sat down with executive director of gift planning Patty Wang for a conversation on the vital roles of their respective organizations in the academy. Not only does this dynamic duo share a common vision for the future of information studies, but they, along with their spouses, have included UMD in their estate plans. They and fellow Founders Legacy Society donors embody the fearless Terp spirit that unites them through their investment in Maryland's future.
Read on to learn about their ambitions for this growing field, their mutual goal of excellence for UMD, and why they see UMD as a home not only for this incredible domain of practice and theory, but for their philanthropy as well.
Patty Wang: Let's start off with your thoughts on the changing roles of iSchools and libraries in public higher education, and more specifically at the University of Maryland.
Adriene Lim: In addition to connecting people with each other and with knowledge, library missions are, at their core, about the discovery, use and preservation of knowledge. For the UMD Libraries, our mission also fits into three major and unique areas of work: Academic Life, Legacy and Values.
We represent the convergence of academic and student life because we serve all students, faculty and community members. Our library values—democratization, inclusion, intellectual freedom, privacy—inform all of our programs and resources and help to advance the campus's values. And finally, legacy, because we are uniquely charged with preserving the history and scholarly output of the university itself, in addition to specializing in the history of the state of Maryland and our surrounding communities.
Through our distinctive collections, our programs and our partnerships, we enrich the cultural and intellectual life of the campus. Our unique positionality in all of these areas allows us to take on leadership opportunities as well, such as with the University's 1856 Project, so that we can better understand our past, learn from it and improve the future for our campus and the broader community.
Keith Marzullo: So you heard about libraries, and their truly selfless role in improving the academic experience and the cultural experiences of our students. But, where did librarians learn to be like that? They learned that from our college (the iSchool). Our mission, like libraries', is in the intersection of technology, information and people.
We are still a library school, but it's not all we do. In 2005, our school expanded into what's called an iSchool—an Information School. We are interested in democratizing access to information, the decision making process using that information, and protecting and assisting people from things like information overload.
We have the leading center in the United States studying digital accessibility called the Trace Center. We also do information visualization, data visualization, and we have partnerships all across campus, just like libraries. Our college shares the same values as libraries too. We're just doing it in a different sort of sector.
AL: If I could add—and you alluded to it—that the libraries share an interdisciplinary approach to tackling the challenges of the modern information landscape and helping us all be more conscious producers and users of information.
KM: Indeed. You probably have heard interdisciplinary, multidisciplinary, transdisciplinary? There's a whole theory of this, right? Multidisciplinary is like a fruit bowl. Interdisciplinarity is like a fruit salad. Transdisciplinary is like a smoothie. I like saying we are post-disciplinary. We basically say yes, this plan is important and such, but we're trying to solve problems.
AL: There is a movement in libraries and iSchools to be more multidisciplinary and comprehensive in terms of how information and knowledge are considered. During the Industrial Age, I would argue that functions and information became more siloed and people's roles became departmentalized. And now it's coming back around to a more comprehensive perspective, one that can transcend artificial boundaries. And I think iSchools and libraries are leading that charge.
PW: As we look to the future, how do you see your fields evolving in the next three to five years? And what initiatives are on the horizon that excite you?
AL: Open scholarship and open data. Libraries have not only been advocating for this for decades, but also providing the tools and support for scholars to make their research more open. And now, it's really gaining speed, especially since the White House has released a memo requiring that all publications from federally funded research be made free and available to the public. If the public pays for research, they should have access to the results of it.
KM: And the research data. We're talking about terabytes of data. How are we going to do that? How are we going to find things?
AL: Libraries have been part of that movement from the beginning—access to publications, data, and preservation, but also curation. Some people think of us in the past, organizing books a certain way using the Dewey Decimal system or the Library of Congress system. But decades ago, we moved into so much more—digital objects, archival objects, learning objects, and we made them discoverable through description. This curation makes things findable, accessible, reusable and interoperable. And now, we're exploring ways to mine information in new ways with new technology like artificial intelligence to make it even more functional. I think that is the future. The iSchool is exploring all those issues too, although we come at this from a scholar-practitioner angle more so in the libraries than the iSchool might do.
KM: Libraries are on the frontlines.
AL: And the iSchool gives us the theory and all the research that we use.
KM: And we too have faculty looking at questions related to data. Suppose you're a researcher and you want to know if anyone has collected data on, say, ocean temperatures and salinity changes in the Southeast. How do you find that data? How do you find the metadata? The collection of information is important, but there is also bias in how it's collected. Being able to reuse the billions of dollars in research that created this information is such a great social good. And libraries with data librarianship are right at the forefront of this. And we are supporting them, providing the tools and human resources.
AL: Yes. We want our librarians to graduate from iSchools, in most cases, because we need them to have the educational background, the understanding of library ethics and values, and the expertise in our domain. Context is important.
KM: So one of the new things that we're doing is exploring entrepreneurialism. Our students are hungry for it, but it's really hard, right? Almost all new businesses fail. But you learn by trial. And the new E. A. Fernandez IDEA Factory is an example of an innovative way of doing this.
We are also looking at something called a data makerspace. A makerspace is an area where you can go and build things, whether they're metal or wood or plastic or 3D printed. And then you can put in the electronics, make it into a drone, for example. But all of these innovations require information as well. That data Makerspace would be a way to help people learn how to gather, clean and analyze information, do the data science of it, including the machine learning aspects, maybe linked with large language models. That's the direction that we're going, our contribution in helping our students become information entrepreneurs.
When I started here [at UMD], back in 2016, that was the first year we launched our undergraduate program. In 2015, we had something on the order of 12 to 15 staff members, 20 or so faculty, and maybe 500 students. We're now at about 50 staff members, 80 faculty, and 2,700 students. And it's because of the growth of our undergraduate program in information science. We went from the fourth largest program behind mechanical engineering two years ago to second. Our students are quite diverse, too, with 25% Black, compared to the university, which is about 1213%. We are about 33% female, which is good for a STEM program, and we are 33% first generation, which is the highest of any STEM program.
Starting salaries are like engineering graduates, by the way, they're doing great. And job placement is just fine. We basically have a STEM major that is both diverse and attractive.
I was talking to a friend of mine explaining that what we have at the iSchool is a STEM liberal arts degree. So it's STEM, but you discover yourself. That friend of mine, who also happens to be a former dean at Michigan, said, "No, you don't have just a STEM liberal arts program, you have a STEM survival arts program." And he's right. And that's what we're doing. We are teaching students and giving them skills to be successful in this very tech- and information-oriented world.
PW: You both obviously have a strong professional commitment to the libraries, the iSchool and to Maryland. I'd like to turn now to your outlook on philanthropic giving and your planned gift to the University of Maryland. What will it support and what motivated you to take that action? And finally, why it's important for others to follow your example.
KM: So my wife and I gave a bequest gift for an endowed chair, focused on socio-technical cybersecurity, what we now call cognitive security. And if we pass away quickly enough, it'll be the first endowed chair. [Group laughter follows.] It was something my wife and I had always wanted to do. My wife got her honorary doctorate and undergraduate degree from Cal Poly San Luis Obispo. And I went to Stanford and Occidental College. We could have given to any one of those schools, but we both said that Maryland's got something really amazing here. And the iSchool is doing something amazing—the way they are combining information, technology and people towards solving real problems. So we felt that this was a place we wanted to put our money. We're just so proud of what's going on here.
AL: For me it started when I thought, if I'm going to ask others to give, shouldn't I consider giving myself? If I think that the programs, or the schools or libraries are valuable, then I'm going to do it, too. My gift is a bequest as well. It's important to show your commitment to a place where you feel privileged to be a part, which I do, in public higher education. It's a privilege that we're here. The public depends on us. So I'm going to give back. And then, Maryland specifically because I agree with Keith: I've worked at many other universities at this point. They were all good institutions. But Maryland seems to have its values in the right place, especially with its new leadership. For example, I admire President Pines' bravery in coming out against injustice and inequities in society. All of these things make me really glad that I'm in Maryland, and at the University of Maryland.
PW: Thank you both again so much for investing in Maryland's future. Let's end this with something fun, like your favorite book or quote, or maybe something we don't know about you?
AL: I love quotes. I have ever since I was a little kid. But one of my favorites is from Raya Dunayevskaya: "The first act of liberation is to demand back our own heads." I learned it as a youngster, and libraries were exactly where I did get back my own head. And I would argue that all of us, especially in a higher education context, need to get that back first. Nowadays some may call this a form of decolonization, or unlearning, amongst other things. Her quote encapsulates the importance of that for me.
And, well, some people might be surprised by this—but I'm not shy about it. I was a high school dropout. I ran away from home at 16. It was an unsafe situation. I earned my GED while I worked to support myself, and my pursuit of education has propelled me forward ever since—I went on to get my Bachelor's of Fine Arts, my Master's of Library and Information Science and finally my PhD. Sometimes when I'm sitting at "the table" of higher ed, we talk about transfer students, first-generation students, people of color and women. Well, I can now be at the table and share my experience from those viewpoints. Those experiences shape the work I do in libraries. That's what I care about—that our libraries are inclusive, accessible, and that we act on our values to promote equitable participation in our society.
KM: One of my favorite books is Robot Proof by Joseph Aoun, the president of Northeastern University. I found the book quite inspiring. And if you look at what we're trying to do in our programs, it's what he describes in his book. How do you teach students to be robot proof? Now I guess we call it ChatGPT proof. What are the skills that one needs to be able to succeed? They are things like divergent thinking, systems thinking, those kinds of skills that aren't tied to a particular discipline, but they're tied to curiosity, creativity, and perseverance. So I highly recommend the book. Joseph Aoun is also a great, great teller of this story. And it's certainly something I'm following.
My favorite quote is by President Harry Truman: "It is amazing what you can accomplish if you do not care who gets the credit." Much of leadership is giving others the chance and the help to lead.
In terms of something surprising about me. I'm a member of a band. I play ukulele and slack-key guitar. My wife and I have lots of connections with Hawaii and I speak a little Hawaiian. It's just a lot of fun. Making music with people in your community is just awesome.
PW: Thank you for your candid discussion, generosity and leadership—I really enjoyed spending this time with both of you and learned a lot.
Originally published in the UMD Office of Gift Planning "Forever Maryland" newsletter, Summer 2023 edition. This story and additional stories in this edition can be viewed here.