Read about two alumnae who are creating spaces for current and aspiring librarians and authors of color.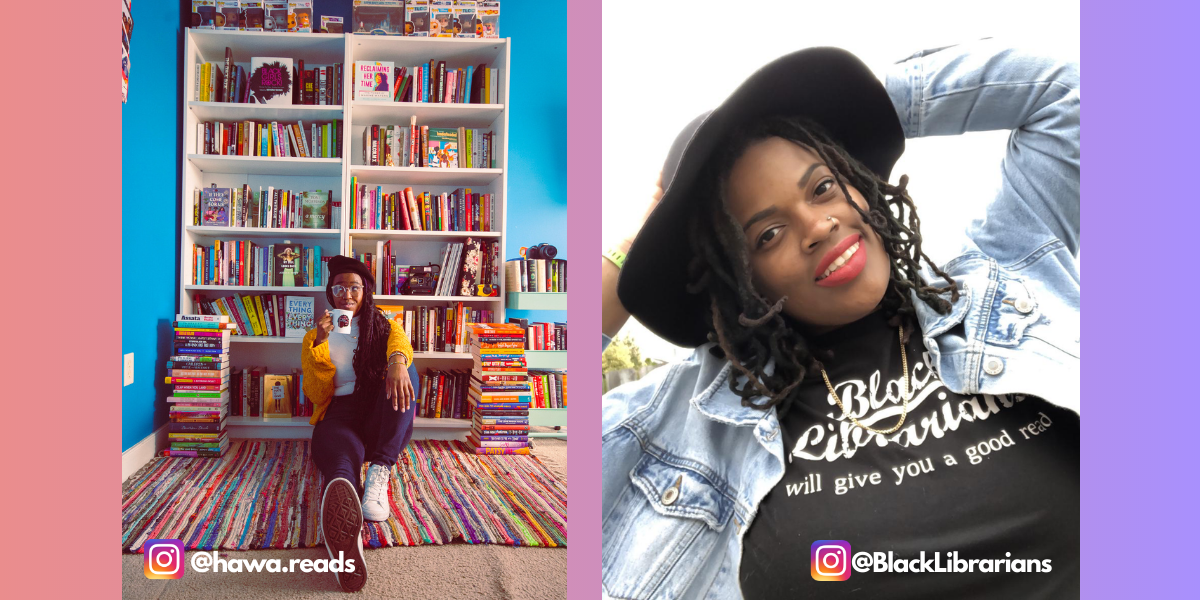 Images courtesy of Hawa Jalloh (left) and Shannon Bland (right)
the_post_thumbnail_caption(); ?>
To kick-off the first week of #WomensHistoryMonth, the UMD College of Information Studies highlights Hawa Jalloh and Shannon Bland, two alumnae of the Master's of Library and Information Science (MLIS) program who are using their social media platforms to bring Black excellence in librarianship to the forefront, and share opportunities for people of color pursuing LIS careers.
Hawa Jalloh
In 2018, Hawa created her Instagram page, "Hawa.reads" as a way to visually document her journey back into reading. Now with over 8,000 followers, which include prominent authors such as Jason Reynolds, author of Stamped and All American Boys, Hawa is using her platform to review and amplify books by, for, and about Black/African American communities. She has also used her page to share her experience pursuing a graduate degree in Library and Information Science and her work as a full-time Librarian for the Prince George's County Memorial Library (PGCMLS) system.
"People are often like, 'Do you feel like you're limiting yourself by just reading books by Black authors?'  I don't only read books by Black authors, but it's definitely my focus.  I could only read books by Black authors for the rest of my life and still not hit the surface of what all is out there, and I want other kids and other people to see that, too."
"I could only read books by Black authors for the rest of my life and still not hit the surface of what all is out there, and I want other kids and other people to see that, too." – Hawa Jalloh
Initially, Hawa sought a career in social work after graduating with her undergraduate degree from Bowie State University in 2016, but a couple years later, Hawa rediscovered her love for reading. Before taking the plunge, head-first into a brand new career, Hawa landed a part-time job as a Library Page at the PGCMLS, which would quickly transition into a full-time Library Associate role in July 2019.
"There are a lot of similarities between social work and librarianship in terms of connecting with the community and helping people like I come across from all different walks of life. I think the library is like the one place where people from anywhere can calm and just truly be themselves and will hopefully truly be themselves at least I try to create that environment here."
In late 2019, Hawa was accepted into the Master's in Library and Information Science (MLIS) program at the University of Maryland College of Information Studies to learn best practices for assisting library patrons and enhance her knowledge of public library systems. She began her first semester in January 2020 where she became particularly interested in accessibility and how it can affect daily life, in and outside of a public library setting. She also took courses focused on youth and learning, which she said has helped her when engaging with younger library-goers.
Hawa graduated with her MLIS degree in December 2021 and then was officially promoted to Librarian I in February 2022. As a Librarian I, Hawa primarily assists patrons with using the library's computers for things like job searches or accessing online resources offered by the PGCMLS.
Despite the COVID-19 pandemic disrupting library hours and a majority of programming offered at the PGCMLS, Hawa has been able to host virtual interviews with authors, including George M. Johnson, author of All Boys Aren't Blue, Michele Harper, author of her memoir The Beauty in Breaking, and Jamise Harper and Jane Mount, co-authors of Bibliophile: Diverse Spines. The libraries have also launched donation drives for community members to drop-off things like coats for the winter and period products.
Hawa also co-hosts These Books Made Me, a podcast produced by the PGCMLS where heroines from all literary genres take center stage. Each episode is dedicated to a heroine from books that helped shape our youth. A second season of the podcast is currently in production.
"One of my favorite episodes was the one we did on Roll of Thunder, Hear My Cry because that was one book that I really remembered reading as a kid because I felt like I connected with [the protagonist]," said Hawa. "Being on the podcast has definitely made me realize kids nowadays have so many more books to choose from; there are so many options where you feel like you can see yourself presented."
Shannon Bland
In 2018, Shannon created the "Black Librarians" Instagram page to spotlight Black excellence in librarianship, promote career opportunities in LIS fields, and provide a platform to highlight Black librarians and their work. Her page has since amassed over 33,000 followers and grown into in-person meetups, virtual game nights and commencements during the pandemic, Black Librarians merch, and a mentorship program.
"There's not a lot of people that look like me in this field – I think that's why the page is so well received. People love seeing people that look like them doing what they do," said Shannon. "There are a lot of Black librarians out there who never get to see another Black librarian or another Black staff member, so that is one of the things that keeps me wanting to do outreach and to show people what librarianship is."
Shannon's personal Instagram feed is curated to show all forms of Black culture and excellence, from pages highlighting Black love or Black teachers, to pages that showcase hobbies or occupations people may not think are stereotypical of Black people. After realizing a page solely dedicated to Black librarians didn't exist, and getting a push from fellow Black library staff, she created the Black Librarians page to fill that lack of representation on Instagram and in LIS fields.
"I think everybody has a certain passion for their own culture, but with me, it's like 10 times that," said Shannon on the inspiration for the Black Librarians Instagram.
While earning her Master's in Library and Information Science (MLIS) degree from the University of Maryland College of Information Studies, she was awarded an ALA Spectrum Scholarship which helped fund her travel expenses to attend the annual ALA Conference in New Orleans. There, she was able to network with leaders of the Black Caucus of the American Library Association (BCALA), an advocate for the development, promotion, and improvement of library services and resources to the nation's African American community, and provide leadership for the recruitment and professional development of African American librarians.
"There are a lot of Black librarians out there who never get to see another Black librarian or another Black staff member, so that is one of the things that keeps me wanting to do outreach and to show people what librarianship is." – Shannon Bland
After attending the Conference, Shannon became heavily involved with the BCALA which would lead to a long-lasting partnership between the BCALA and her Black Librarians page. One of the recent initiatives to come out of this partnership was virtual commencements for LIS students of color. These were established after schools canceled in-person graduation ceremonies due to the COVID-19 pandemic. ALA Executive Director, Tracie D. Hall, was one of the dynamic keynote speakers at the first virtual commencement held in 2020. An additional virtual commencement was held in 2021.
Shannon is also an advisory board member for a new BCALA project called iBlackCaucus, a virtual BCALA Chapter for students who are currently in graduate library and information science programs. A large portion of the grant funding this new initiative will go towards a mentorship program, which Shannon plans to promote on the Black Librarians page.
This new project is being kicked off, Breaking Barriers: The Future of Black Librarianship, a national forum dedicated to strengthening support for Black/African American MLIS students. The project will include a virtual day-long ideation session on March 30, 2022 which will host up to 50 LIS students, professionals, and educators to distill approaches for increasing BCALA's outreach and design resources to recruit Black/African American librarians. Shannon will be speaking at one of the sessions at the virtual symposium.
Shannon has been working with the Charles County Public Library (CCPL) system since 2013 not long after she graduated with her Bachelor of Fine Arts degree that concentrated in Visual Communication and Digital Media Art from Bowie State University. After a brief time working with adults with special needs at the Art and Drama Therapy Institute, she landed a part time job within the CCPL. She quickly fell in love with her work and the community members who frequented the library, and soon became inspired to pursue a graduate degree in library and information science.
While earning her MLIS degree at UMD, Shannon maneuvered her way through different roles within the CCPL system until she landed her current role as a Branch Manager III. One of the library's most unique initiatives Shannon oversees is My Fresh Start, a partnership with a local nonprofit to provide the unhoused community access to the library's showers and hygiene kits every Friday morning. The library is also popular for its passport application execution, ample meeting spaces, and its diverse programming for all ages.
The UMD College of Information Studies' fully ALA-accredited, and 4th nationally ranked, Master of Library and Information Science (MLIS) program offers specializations in Diversity & Inclusion, School Libraries, and Youth Experience.
Learn more at ischool.umd.edu.