Information Studies Professor's New Book Explores Special Bond Between People and Pups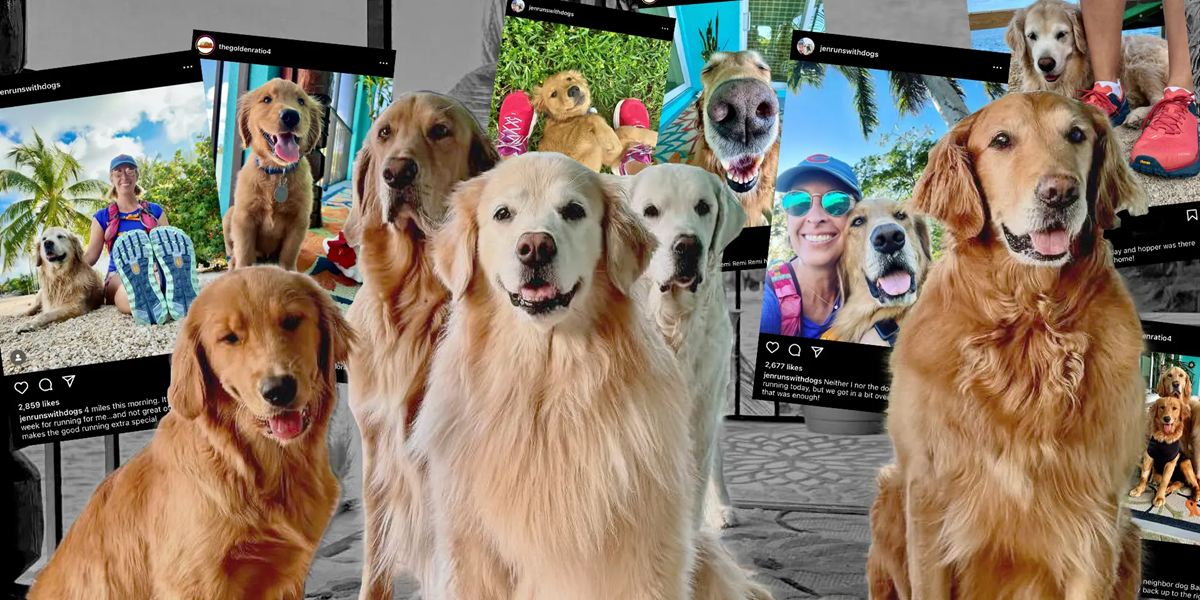 the_post_thumbnail_caption(); ?>
The black-framed text on Jennifer Golbeck's wall sums up the chaos of the University of Maryland professor's home: "Probation Pupdate: __ Days Since the Last Escape."
With six rescue golden retrievers underfoot (give or take a dog) and a yard that backs up to the clear blue water of the Florida Keys, she can hardly remember a week that Guacamole or Chief Brody didn't make a run—or more likely a swim—for it.
But the joy that her pack brings to her and her more than 1 million followers across social platforms (@GoldenRatio4) is worth the occasional kayak mission out to retrieve a splashing fluffball from the ocean.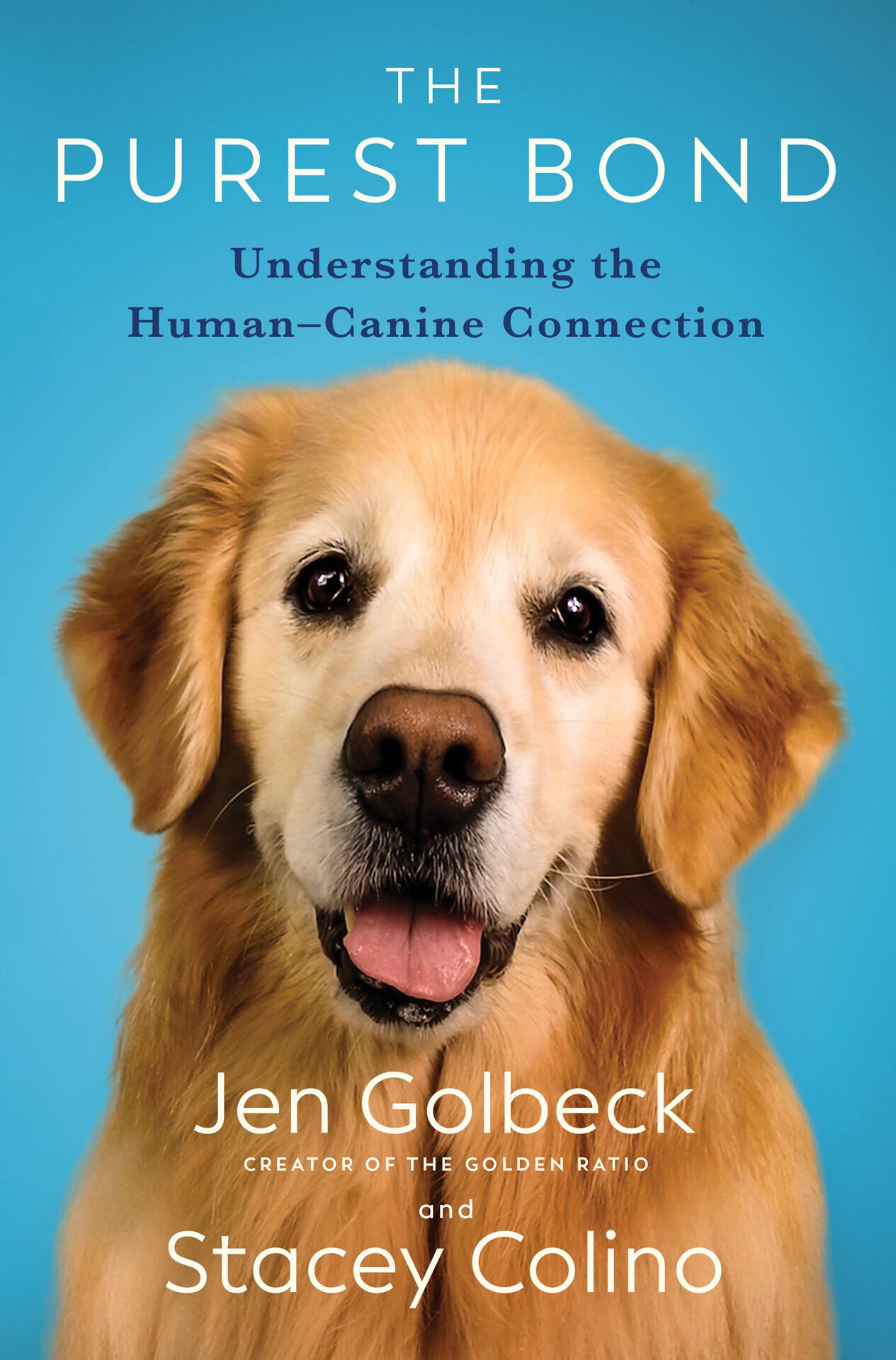 Now, the internet's dog mom has stepped outside her wheelhouse in the College of Information Studies as a nationally known expert on social media, privacy and artificial intelligence to co-author a new book out tomorrow, "The Purest Bond," published by Simon and Schuster, on the science behind the connection between people and dogs. Written with health, wellness and science writer Stacey Colino, it's a mashup of a research roundup, feel-good anecdotes a how-to guide on caring for canines over their lifespan.
"Dogs enhance our lives and connect us with each other and our communities," said Golbeck. "We form the same bonds with our dogs that parents and children form with each other."
While writing, she put out calls to her social media followers for their own anecdotes about how their relationships with dogs improved their lives. One of her favorites is about Chomp, a Brussels Griffon and pug mix, who saved his owner's life: He kept waking up his owner at night, staring into his eyes and refusing to get off his chest. After several days, the owner decided to see his doctor—and discovered that he had a "widowmaker" artery blockage requiring immediate surgery.
[
What It Takes: Wags for Wellness: Dogs Deliver Stress Relief Through Popular University Health Center Program
]
Uniquely, the book includes two chapters on end-of-life decisions and grief, based on her years of experience caring for senior and special-needs dogs. This summer, for example, Golbeck and her husband had to make the tough choice to put down their dog Hopper, who they had driven as far as Ohio and Canada for arthritis and cancer treatments before deciding there was nothing more they could do for her.
"You have normal grief, but it's disenfranchised," she said. "We don't have social rituals as a society (for pet deaths), so you don't get the same kind of social acceptance for that grief."
Golbeck (left) has never known life without a golden—her parents had one named Goldie when she was born—and says the breed, known for goofy, adventurous personalities, is a "good spiritual match" for her (not to mention their matching blond hair). As an adult, she worked her way up to four, which felt ideal. But six years ago, she and her husband got a call from a rescue organization about a 13-year-old golden retriever who'd been tied up in a backyard her whole life.
"Queso was totally deprived of affection, matted and flea-covered and so broken. Then to be able to see her blossom at our house into what a golden is supposed to be, happy and playful and romping and relaxed, that's so rewarding," she said.
Golbeck has been active on social media as both a user and a researcher since its earliest days, but it wasn't until the vitriol of the 2016 election season that she decided to start the Golden Ratio accounts (Snapchat, Instagram, Facebook, Twitter, TikTok), hoping to bring a little joy online. They took off, especially on Snapchat, where she has 620,000 subscribers and reaches a younger audience, many of whom started following her when they were in high school or college. (They're who gave her the "GR Mom" nickname.)
[
'Beyond the Field' Homecoming Address Takes on Promise—and Risks—of AI: Systems Are Subject to Same Biases, Truthfulness Challenges as Society at Large
]
The and her husband, Ingo Burghardt, who run the accounts together, have intentionally created content and comment sections that are beacons of positivity. "If you say anything mean to anybody, we block you," she said.
As her following grew, she created a Patreon for devoted followers to pay for bonus content; a nonprofit foundation to offset dogs' medical costs; and lots of swag, including calendars and dog pins. The pandemic surge in pet ownership then led to the offer to write a book—and longtime fans can even get "paw-tographed" versions.
The paw-sitivity continues in recent reviews: "Informative and fun, this is a treat," wrote Publisher's Weekly. "A charming, lucid exploration of how dogs can heal our bodies, minds, and hearts," wrote Kirkus Reviews.
The original Article written by Karen Shih and was published in Maryland Today on Nov 13, 2023.