Examining the current and future role of libraries in supporting communities.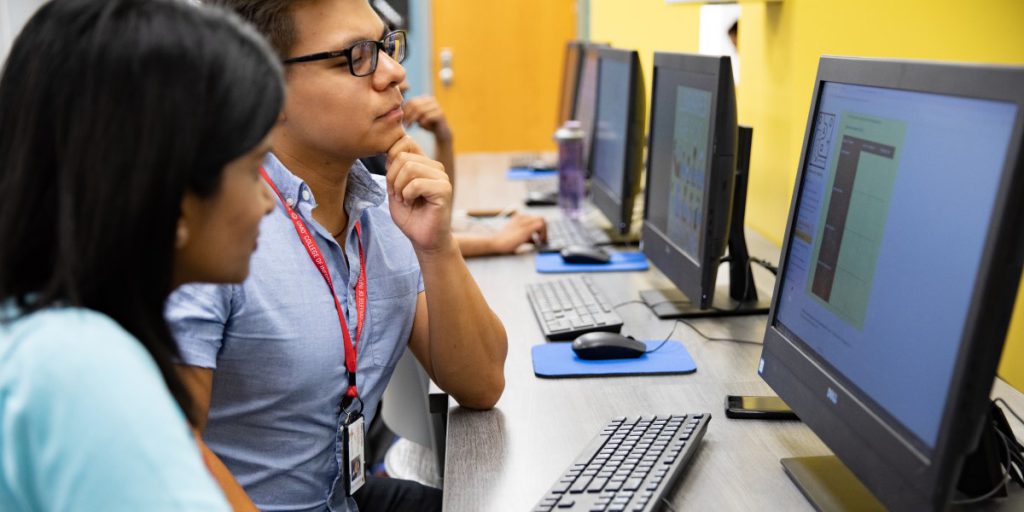 Pictured: Dr. Mega Subramaniam and Research Coordinator Luis Cortes
the_post_thumbnail_caption(); ?>
Since the initial emergence of the COVID-19 pandemic, faculty and researchers at the University of Maryland College of Information Studies (UMD iSchool) have focused significant research efforts on developing solutions and creating deeper understanding around the role and impact of information and technology during the pandemic. This research often intersects with areas of library and information science (LIS) as the faculty and researchers delve into the impacts of unequal information accessibility and how library and information institutions can help.
Dr. Beth St. Jean, associate professor at the iSchool and expert on consumer health information justice, examines why disadvantaged populations are at greater health risk from COVID-19 and how libraries can help, despite closing. Many public, academic, and K-12 school libraries are continuing to offer electronic access to their digital resources and internet services which people can use outside of the library. Numerous libraries are also collecting and publishing COVID-19 resources on their websites and in some cases actively engaging with the fallout of COVID-19, such as transforming library space into emergency youth care centers and donating their supplies of N95 masks, safety goggles, and disposable gloves to local health care providers.
St. Jean, in addition to her research in this area, has joined a team of world-class experts assembled by The Federation of American Scientists (FAS) to advise federal and state legislators on issues related to COVID-19, with St. Jean providing expertise on societal implications of COVID-19
St. Jean is also the editor of Roles and Responsibilities of Libraries in Increasing Consumer Health Literacy and Reducing Health Disparities, along with co-editors iSchool alum Dr. Gagan Jindal, iSchool Professor Dr. Paul T. Jaeger, and iSchool PhD student Yuting Liao. The book, which is scheduled to be released later this year, covers the central concepts of health information injustice, the roles of libraries and librarians in improving consumer health literacy and reducing health disparities in their communities, and how the COVID-19 pandemic is both illuminating and intensifying health disparities. St. Jean is also a co-author along with Dr. Ursula Gorham, Senior Lecturer and Director of the iSchool's Master of Library and Information Science (MLIS) program, and Assistant Research Scientist Elizabeth Bonsignore, of a new textbook on information behavior for undergraduate students enrolled in Information Science-related programs.
So what's next for libraries? How can library staff be more thoughtful about next steps to be more prepared in the event of future crises? Dr. Mega Subramaniam, Associate Professor at the iSchool, is exploring new ways in which libraries can provide much-needed services to their communities, in particular with their youth, and how they must reinvigorate the vibrant atmospheres built by the communities' engagement with library programs and events in a pandemic and post-pandemic world. Subramaniam in partnership with Linda Braun, Project Management and Consulting Coordinator for LEO – a company specializing in developing and assessing creative learning opportunities – are working with volunteers to co-produce a document containing a series of phases toward a new vision for youth librarianship. By facilitating weekly virtual Zoom sessions to listen, co-create, and crowdsource challenges, solutions, and best practices in collaboration with the public, the document will serve as a central resource for local communities and steward the national narrative on the role of public libraries in this moment of need.
Learn more about the UMD iSchool's research and work during COVID-19 by clicking the link here.