This week-long event engaged students from across the region in cybersecurity, design, and data analytics projects to tackle real-world information challenges.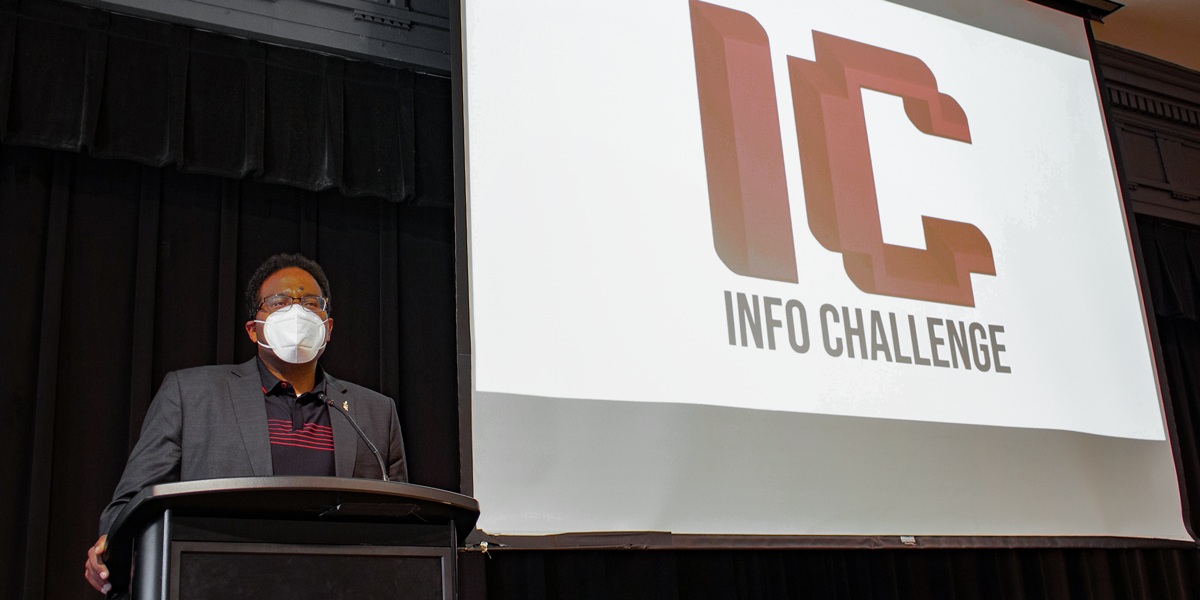 the_post_thumbnail_caption(); ?>
The College of Information Studies hosted its 5th annual UMD Info Challenge (formerly the UMD Data Challenge) from February 26-March 5, 2022. Over 160 students from the University of Maryland, Montgomery College, UMBC (University of Maryland, Baltimore County), and the U.S. Naval Academy participated in 30 different projects focused on using data analysis, design, and cybersecurity skills to tackle real-world information challenges. 
An awards ceremony was held on March 5 to recognize the student teams who displayed exceptional work during their final presentations given to a panel of judges from academia and industry. Keith Marzullo, Dean of the College of Information Studies, provided opening remarks, followed by a Welcome Address from Darryll Pines, President of the University of Maryland. The awards were presented by UMD faculty members, Dr. Doug Oard, Dr. Kathy Weaver, and Donal Heidenblad. 
"From analyzing food access and price trends among vulnerable populations, to evaluating malware detection and the security of internet and IoT devices, this year's projects were a great reflection of the College of Information Studies and the University of Maryland as a whole. If we are to move fearlessly forward as a society and tackle the grand challenges of our time, it will take the blending of technological prowess and unparalleled insight created through collaboration such as this Info Challenge." said President Pines during his Welcome Address.
You can watch the full awards ceremony here.
Congratulations to the following 2022 UMD Info Challenge awardees: 
Grand Prize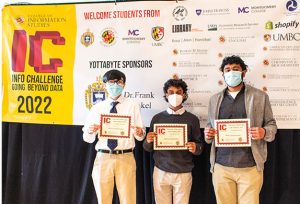 Aryan Anwar, Montgomery College (Early College Program)
Rohit Sharma, Montgomery College (Early College Program)
Matthew Nanas, Montgomery College (Early College Program)
Project: AllSky Tool
Best Team Presentation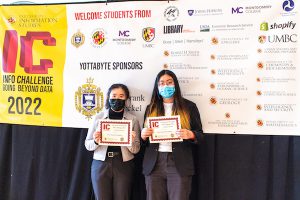 Yuanqi (Kinny) Chen, UMD
Zi Lin, UMD
Project: iSchool Career Newsletter Redesign Project
Outstanding Cybersecurity Project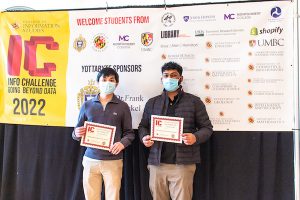 Elvin Vanathayan, UMBC
Khang Nguyen, UMBC
Project: ISCXIDS2012 Cybersecurity
Outstanding Data Analysis Project (Tie)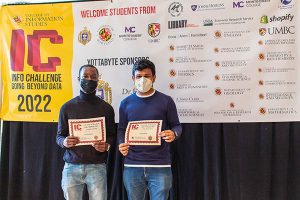 Richmond Yeboah, Montgomery College
Sumeet Ram, UMD (Not pictured)
Uzair Masih Israrahmed, UMD
Project: Creating a Safe Campus For E-Scooter Riders and Pedestrians

Liam Bailey, U.S. Naval Academy
Isaac Cho, U.S. Naval Academy
Paul Hendron, U.S. Naval Academy (Pictured above)
Antawn Weg, U.S. Naval Academy
Project: Trends with Conflicts in the U.S.
Outstanding Design Project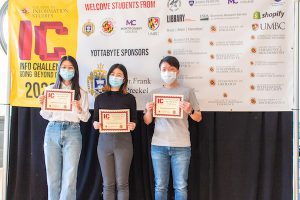 Siao-Ting Lin, UMD
Jing Wang, UMD
Jialun Yang, UMD
Project: Traffic Pattern Design Challenge
About the UMD Info Challenge:
UMD Info Challenge is a week-long event that gathers teams of students from across multiple academic institutions to work with partnering organizations to address real-world problems, provide valuable team-building experience, and network with industry professionals. This year's theme was Going Beyond Data, which included 2 new tracks, Design and Cybersecurity. Students are challenged to utilize their skills in Data Analytics, Design, and Cybersecurity to create solutions that empower communities and enhance their resilience.