"Including Disability" offers innovative approaches to eliminating systemic barriers and gives voice to disabled people.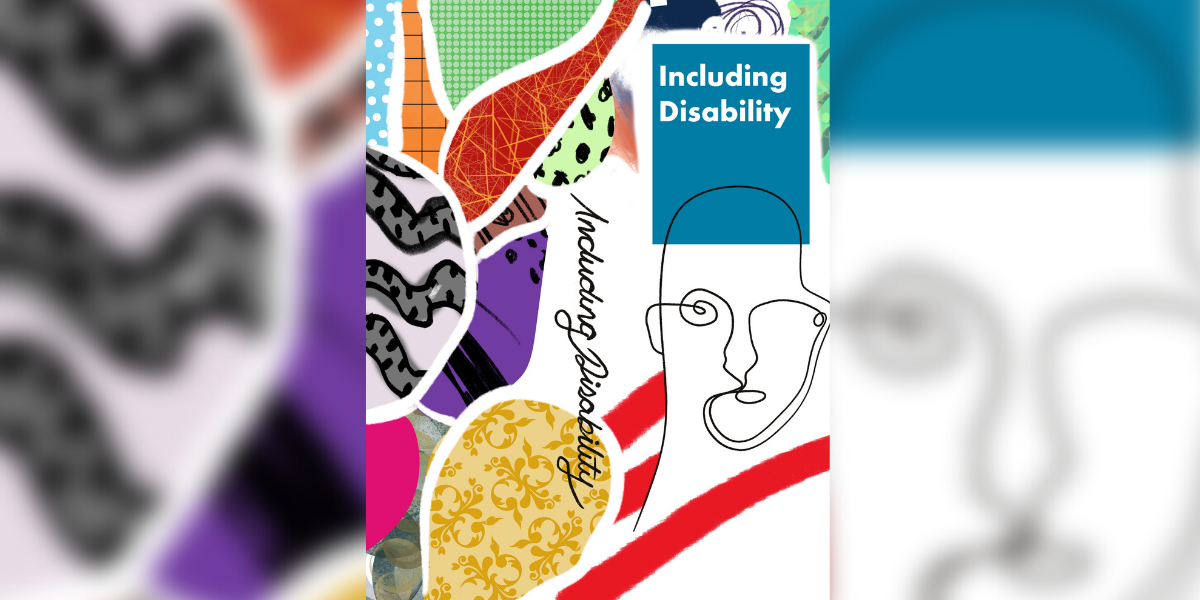 Created by Alex Pilon, Artistic Director, Including Disability
the_post_thumbnail_caption(); ?>
Including Disability is a free, open-access journal launched earlier this week by an international team, including faculty and staff from the UMD College of Information Studies, as part of a global effort to give voices to disabled people and promote equity and inclusion across several vital contexts. This new journal is an extension of the Disability Summit, a biennial conference run by many of the same people behind the Including Disability, devoted to uplifting the voices of people with multiple intersecting identities and perspectives from around the world.
The inaugural issue, launched on April 12, 2022, features expanded versions of the keynote talks by Dr. Ashley Shew (she/her), Associate Professor at Virginia Tech, and Dr. Angel Love Miles, Visiting Research Scientist, The Lurie Institute for Disability Policy, from the 2021 Disability Summit. 
"Each time we have held the Disability Summit, the key theme in the feedback is the wish for these types of conversations to be able to continue between the conferences, and we realized that creating a journal would fill that need," said Dr. Paul T. Jaeger (he/him), Executive Editor of Including Disability, Professor at the College of Information Studies, and Co-Director of the Museum Scholarship and Material Culture Program.
"The journal welcomes scholarly research, personal reflections, historical essays, policy analysis, artistic creations, educational innovations, professional best practices, and any other expressions that articulate, illuminate, and improve understandings of disability and the experiences of disabled people."
To emphasize their goals for inclusivity and equity, the Including Disability team has developed a set of reviewer guidelines and supportive processes for handling the very wide range of materials submitted. While the journal is currently on a bi-annual basis, the team plans to produce additional editions as submissions increase. Submissions can cover all topics related to disability from all disciplines and professions, including researchers, educators, students, advocates, artists, and professionals. 
Along with Professor Jaeger, the College of Information Studies Including Disability team includes Associate Editor, Ron Padrón (he/him), Director of Undergraduate Operations; Style Editor, Joseph Sherren (he/him), Lecturer and Archives Public Education Lead; and Editorial Board Member, Dr. Hernisa Kacorri (she/her), Assistant Professor. 
Additional UMD faculty and staff include Dr. Sara H. Olsen (she/her), Disability Rights Program Specialist, Doctoral Candidate, School of Public Health; and Amanda Strausser (she/her), Manager of Communications, the Graduate School. The team behind the journal also includes international people from universities, government agencies, and medical institutions, from western Canada to Germany, and possess a wide variety of disciplines and professions.
A special edition entitled "Naming Disability" will launch later this year, which will provide a space for contributors to explore and educate others about their own relationship with the naming of disability both at a personal and community level. Contributions for this special edition must be submitted by email by May 31, 2022.  
If you have suggestions, questions or want to help, the editors of Including Disability can be reached at: includingdisabilityjournal@gmail.com. You can also tag the team on Twitter at @InclDisability.