This week-long event engaged students from across the region in cybersecurity, design, and data analytics projects to tackle real-world information challenges.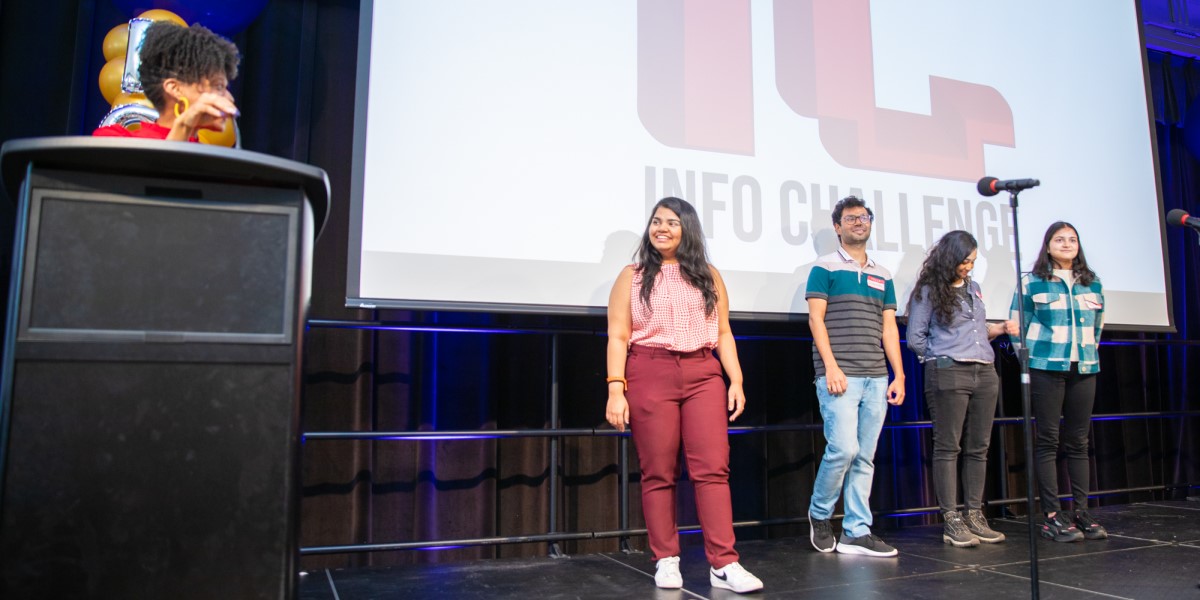 Students accept award for outstanding design project.
the_post_thumbnail_caption(); ?>
At this year's Info Challenge—the first in person since the start of the pandemic—185 students from across the state and University of Maryland (UMD) colleges competed in a week-long, experiential-learning event. Working in teams and alongside a mentor, they discovered solutions to real-world challenges for top companies, tackling data analytics, design, cybersecurity, and more.
"Unlike a lot of these competitions where it's high pressure and students feel like they have to do perfect, this is a place where if they're struggling they have someone to lift them up and support them," said Samanatha Kemper, Info Challenge Coordinator.
Formerly called Data Challenge, Info Challenge was created as an alternative to hackathons, which focus more on what can be produced rather than on analyzing data and last only a couple of days rather than a week. What makes Info Challenge so special is that students actually have the opportunity to work with real data provided by companies, such as EY, and government organizations, such as the Washington Traffic Safety Commission (WTSC) and the Minnesota Department of Human Services.
"Students don't see real data when they're going through school. We give them clean data. Seeing that real-world data, running into those real-world problems allows them to see what they can do with data analysis when they're out in the real world," said Kemper.
During the EY-sponsored Kick-off Day on February 25, participants formed fifty-four teams representing four academic institutions: University of Maryland College Park (UMD), University of Maryland Baltimore County (UMBC), U.S. Naval Academy, and Montgomery College (MC). With the help of volunteer mentors, the teams worked on their projects during the week and used communications channels like Discord to facilitate collaboration. An awards ceremony, for which UMD President Darryll Pines gave the welcome address, was held on March 4. The ceremony recognized the student teams who displayed exceptional work during their final presentations given to a panel of judges from academia and industry at the showcase event, which was sponsored by the U.S. Naval Academy.
"One of the main goals of Info Challenge is to foster connections between students and potential employers. The volunteers and sponsoring companies connect with the students in many ways, including as mentors and judges," said Kathy Weaver, Info Challenge director. "In addition, students include their Info Challenge projects in their portfolios, as it shows that students will go above and beyond what is expected of them in their courses to enhance their analysis skills. It also provides students with a real-world information project that they can talk about in interviews, sharing how the real-world information problem they focused on in IC23 has already started to help them make a contribution to the world around them."
Congratulations to the following 2023 Info Challenge award recipients:
Grand Prize
Dharini Chandrashekar and Amanpreet Kaur (UMD INFO, HCIM)
The team redesigned CoPAR, a website directory for anthropological records.
Outstanding Data Analytics Projects
Ethan Taggart (MC), Christopher Way (UMBC), Anna Lavrentieva (UMD CMNS), and Iris Yu (UMD CMNS)
The team looked at whether trauma-level hospitals are located where the most number of accidents occur in Washington State.
Gabriel Duran (UMD INFO, InfoSci), Keshav Gupta (UMD Smith), and Soham Pawaskar (UMD ENGR)
The team analyzed fatal crashes in Washington State and determined whether visitors or residents were involved.
Outstanding Design Project
Fatema Motiwala, Pooja Gajera, Pratya Nellore, and Shaunak Bhanarkar (UMD INFO, HCIM)
The team improved the design, usability, and visual appeal of Pygmalion, a data visualization tool that helps users understand the origins and meanings of words.
Outstanding Cybersecurity Project
Ivan Bajceta, Michael Huizenga, Strahinja Janjusevic, and Eric Lui (U.S. Naval Academy)
The team designed better passwords for companies so that they can't be hacked.
Best Presentation
Micah Tracy, Kaosi Unini, Rhys Winter, and Ryan Zhang (U.S. Naval Academy)
The team looked at fatal crashes in Washington and which counties were producing most accidents.