31 members of the UMD Human-Computer Interaction Lab will present their research at the prestigious CHI conference.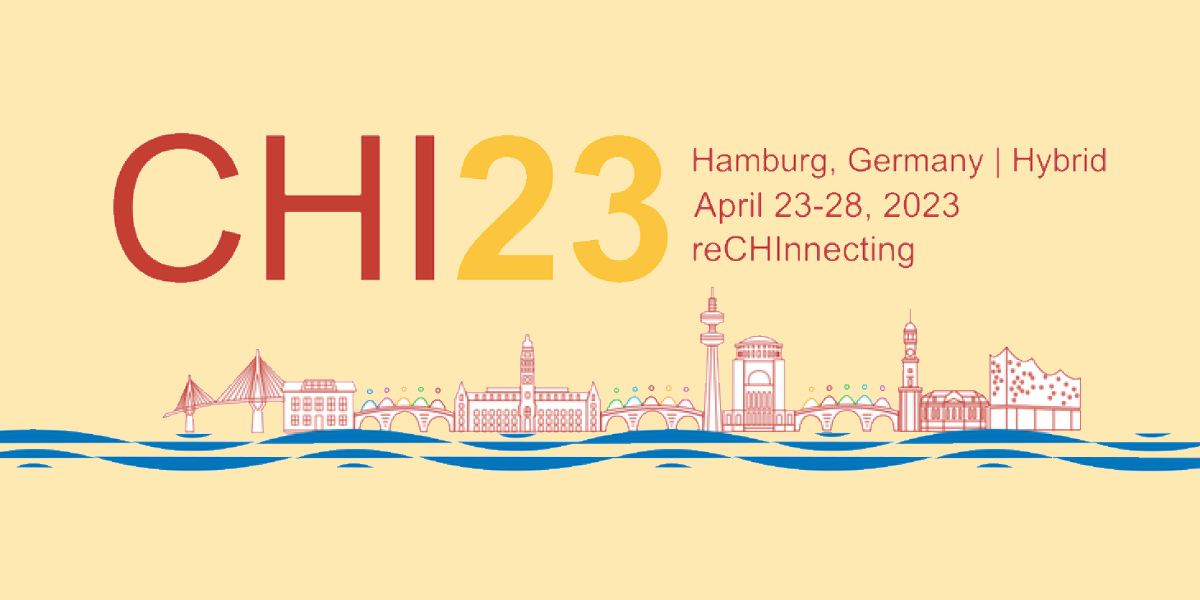 the_post_thumbnail_caption(); ?>
Thirty-one faculty, staff, and students from University of Maryland's Human-Computer Interaction Lab (HCIL) will present their research at CHI 2023 being held from April 23-April 28 in Hamburg, Germany. CHI, which stands for Conference on Human Factors in Computing Systems, brings together researchers, academics, and practitioners from around the world to present and discuss their work in HCI, the design of computing systems, and their implications for society.
Since its inception in 1982, CHI has grown to become one of the most prestigious and highly regarded conferences within the HCI community. CHI serves as a forum for the exchange of groundbreaking research, innovative designs, practical applications, and emerging trends in computing systems and user interfaces.
At this year's conference, 18 papers, three workshops, and two Special Interest Group (SIG) will feature HCIL faculty and staff. The best paper award, which is only given to 1% of all submissions, was awarded to the following:
Understanding Context to Capture when Reconstructing Meaningful Spaces for Remote Instruction and Connecting in XR (Authors: Hanuma Teja Maddali and Amanda Lazar)
Deceptive Design Patterns in Safety Technologies: A Case Study of the Citizen App (Authors: Ishita Chordia, Lena-Phuong Tran, Tala Tayebi, Emily Parrish, Sheena Erete, Jason Yip, Alexis Hiniker)
An honorable mention, which is only given to the top 5% of all papers accepted, was awarded to the following:
Code Code Evolution: Understanding How People Change Data Science Notebooks Over Time (Authors: Deepthi Raghunandan, Aayushi Roy, Shenzhi Shi, Niklas Elmqvist, Leilani Battle)
Toucha11y: Making Inaccessible Public Touchscreens Accessible (Authors: Jiasheng Li, Zeyu Yan, Arush Shah, Jonathan Lazar, Huaishu Peng)
Understanding Personal Data Tracking and Sensemaking Practices for Self-Directed Learning in Non-classroom and Non-computer-based Contexts (Authors: Ethan Rong, Morgana Mo Zhu, Ge Gao, Zhicong Lu)
Additional topics to be covered in these sessions hosted by members of the HCIL will include research on structural oppression and power in HCI and design, accessible data representation with natural sound, and supporting novices author audio descriptions via automatic feedback.
"It's always rewarding to see months or years of hard work by HCIL faculty and students lead to publications at major conferences like CHI," said HCI Director Jessica Vitak. "This year, I'm especially proud that lab members are being recognized for their hard work with numerous paper awards. These are an important recognition of the contributions HCIL members make to the field."
Below is the full list of accepted contributions featuring HCIL members:
Papers
A Method to the Madness: Applying an Intersectional Analysis of Structural Oppression and Power in HCI and Design (Authors: Sheena Erete, Yolanda Rankin, Jakita Thomas)
Accessible Data Representation with Natural Sound (Authors: Md Naimul Hoque, Md Ehtesham Ul Hoque, Niklas Elmqvist, Syed Billah)
Through Their Eyes and In Their Shoes: Providing Group Awareness During Collaboration Across Virtual Reality and Desktop Platforms (Authors: David Saffo, Andrea Batch, Cody Dunne, Niklas Elmqvist)
Perceptual Pat: A Virtual Human Visual System for Iterative Visualization Design (Authors: Sungbok Shin, Sanghyun Hong, Niklas Elmqvist)
Augmenting Scientific Creativity with an Analogical Search Engine (Authors: Hyeonsu B. Kang and Xin Qian and Tom Hope and Dafna Shahaf and Joel Chan and Aniket Kittur)
[Honorable Mention]Code Code Evolution: Understanding How People Change Data Science Notebooks Over Time (Authors: Deepthi Raghunandan, Aayushi Roy, Shenzhi Shi, Niklas Elmqvist, Leilani Battle)
[Best Paper] Understanding Context to Capture when Reconstructing Meaningful Spaces for Remote Instruction and Connecting in XR (Authors: Hanuma Teja Maddali and Amanda Lazar)
Studying the Effect of AI Code Generators on Supporting Learners in Introductory Programming ( (Authors: Kazemitabaar, M., Chow, J., Ka To Ma, C., Ericson, B., Weintrop, D. & Grossman, T.)
Responsible & Inclusive Cards: An Online Card Tool to Promote Critical Reflection in Technology Industry Work Practices (Authors: Salma Elsayed-Ali, Sara Berger, Vagner Figueredo de Santana, ‪Juana Catalina Becerra Sandoval)
[Honorable Mention]Toucha11y: Making Inaccessible Public Touchscreens Accessible (Authors: Jiasheng Li, Zeyu Yan, Arush Shah, Jonathan Lazar, Huaishu Peng)
Decorative, Evocative, and Uncanny: Reactions on Ambient-to-Disruptive Health Notifications via Plant-Mimicking Shape-Changing Interfaces (Authors: Jarrett Lee, Bongshin Lee, Eun Kyoung Choe)
Studying Exploration & Long-Term Use of Voice Assistants by Older Adults (Authors: Pooja Upadhyay, Sharon Heung, Shiri Azenkot, Robin Brewer)
Haptic-Captioning: Using Audio-Haptic Interfaces to Enhance Speaker Indication in Real-Time Captions for Deaf and Hard-of-Hearing Viewers (Authors: Yiwen Wang, Ziming Li, Pratheep Kumar Chelladurai, Wendy Dannels, Tae Oh, and Roshan Peiris)
Contributing to Accessibility Datasets: Reflections on Sharing Study Data by Blind People (Authors: Rie Kamikubo, Kyungjun Lee, Hernisa Kacorri)
Supporting Novices Author Audio Descriptions via Automatic Feedback (Authors: Rosiana Natalie, Joshua Tseng, Hernisa Kacorri, Kotaro Hara)
[Best Paper] Deceptive Design Patterns in Safety Technologies: A Case Study of the Citizen App (Authors: Ishita Chordia, Lena-Phuong Tran, Tala Tayebi, Emily Parrish, Sheena Erete, Jason Yip, Alexis Hiniker)
[Honorable Mention]Understanding Personal Data Tracking and Sensemaking Practices for Self-Directed Learning in Non-classroom and Non-computer-based Contexts (Authors: Ethan Rong, Morgana Mo Zhu, Ge Gao, Zhicong Lu)
Understanding the Perception of Human Augmentation: A Mixed-Method Study (Authors: Steeven Villa, Jonathan Lazar, Jasmin Niess, Albrecht Schmidt, Takuro Nakao, Tonja Machulla)
Workshops
Special Interest Groups (SIGs)
Developing Participatory Methods to Consider the Ethics of Emerging Technologies for Children (organizing team includes Tammy Clegg and Beth Bonsignore)
Human-centered responsible artificial intelligence: Current & future trends (organizing team includes Jessica Vitak)