A profile of InfoSci alumna Char Adagala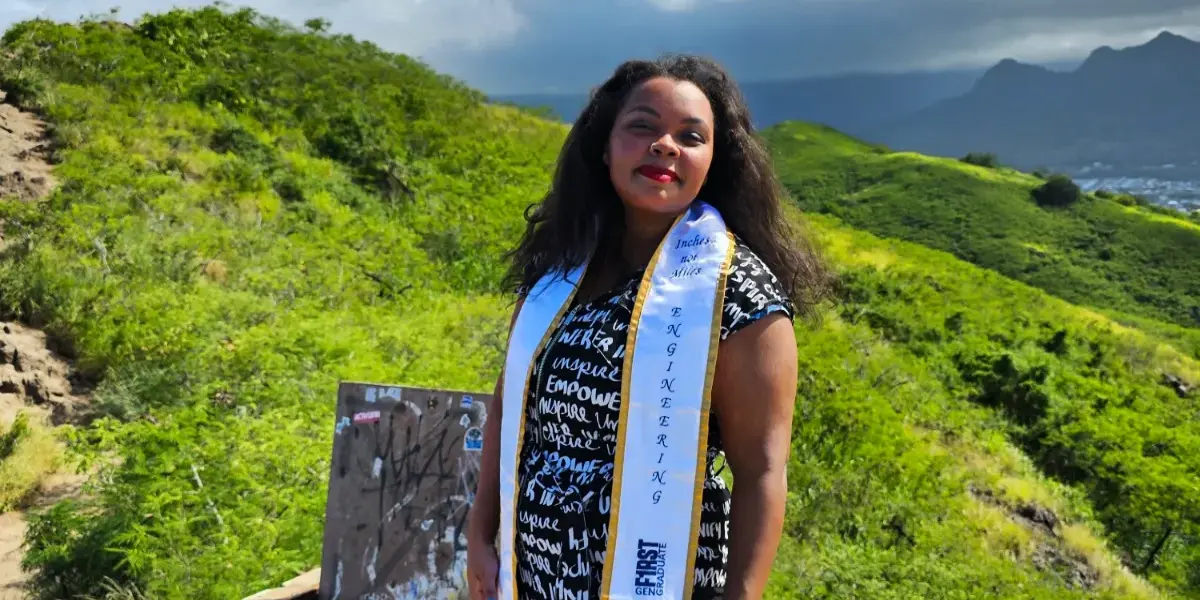 the_post_thumbnail_caption(); ?>
As a middle schooler, Char Adagala had a geometry teacher take her under his wing. She was struggling with home life and acting out and needed some direction. He recommended she join a Math, Engineering, and Science Achievement club as a way to refocus her energy. They built bridges from toothpicks, soldered and cut pipes to build remote control submarines, and competed in professional speaking presentations. He would take her to and from competitions. "It changed my whole life," she says. 
Through the club, she cultivated an interest in public speaking, building things, and problem-solving. She wanted to go to an engineering high school but ended up at a tech high school that focused on teaching students how to code. She was a coding whiz. She won the National Aspirations in Computing award and interned for Bank of America's cybersecurity department while still in high school. 
When she started her undergraduate studies at the University of Maryland, she had a vision for herself and enrolled in computer science. It wasn't a good fit. She ended up switching majors to the newly established information science program at the College of Information Studies (INFO). She was drawn by the program's focus on psychology. "There's a lot of really smart people out there, but it doesn't matter if you don't know how to talk to people or understand how people think," Adagala says. "There needs to be a human perspective on things."
In addition to exploring the human side of technology, she also learned technical skills. For her capstone project, she worked for a government agency called Delta. The agency's website was difficult to find using search engines because Delta Airlines would always come up. In addition, the website was not accessible for people with disabilities. Adagala and her team redesigned it, incorporating text-to-speech and other accessibility tools, and made it come up more prominently in searches.
Adagala relished her time at INFO. She felt like professors cared. She would visit them during office hours and have intellectual exchange and debate. When she graduated, she received a card from a professor that thanked her for being a student who asked questions "We weren't just numbers in a chair; they made us feel like people. I appreciated that," she says. 
After graduating, she landed a job with Accenture Federal Services. Her first assignment was with the Department of Education where she was in charge of their marketing platform system. 
"Every push notification, text message, and email comes from a system I built from scratch," Adagala says. When the federal government paused student loan payments, those messages went out on that same system. "It's amazing to say I developed something that impacts millions of people."
Her next assignment was with the FBI. She wasn't able to use her technical skills as much as she wanted to, so she continued to learn and acquire certifications, including AWS Developer Associate, AWS Certified Solutions Architect, and Azure Administrator Associate. Learning at your own pace and in your own way was something encouraged at INFO; she took that to heart and didn't feel daunted by what she didn't know. Eventually, she was offered a job with Booz Allen and brought onto a project with the Department of Defense (DoD) in a role that allowed her to use her technical skills. 
Her degree trained her to be a generalist. Adagala took classes as far afield as The Statistics Behind Decision Making and user-centered design. She's able to meet the needs of her clients because her skills are so varied. She can step in when they need help with the network or a risk evaluation. When she started at the DoD, she worked as an infrastructure architect, building out software from scratch. After four months, she moved to the site reliability engineering team, which involved working with the software built by infrastructure architects and increasing its efficiency and fixing bugs. She eventually became deputy of the team and was in that role for 10 months before taking a different opportunity. 
She is currently living in Oahu, Hawaii and working with a team that uses proprietary software to make government laptops secure so that the military can run training exercises on them. She starts her workday at 4 am and ends it around noon. She spends the rest of day hiking through verdant mountain slopes; going to white-sand beaches to kayak, paddle board, or free dive; and hanging out with friends. 
She just finished a Master's of Engineering degree in cloud computing management from George Washington University.  "Going back to school for a graduate degree was super easy because I had already developed an understanding of how I learn," she says. "Even in my hardest class, I just took a deep breath and asked the professor for some time to work through the content on my own. Being able to learn on your own is an invaluable skill."