Events
Terps Makeathon 2021
Event Start Date: Friday, April 2, 2021 - 12:00 am
Event End Date: Saturday, April 3, 2021 - 11:59 pm
Location: Virtual
---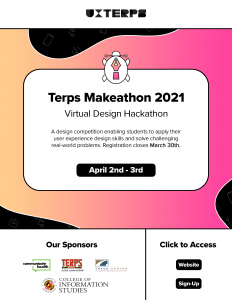 Date: Friday, April 2 Saturday, April 3
Location: All Virtual
Registration link: https://forms.gle/mtwnNmge175x9Z7i6
Last date to register: Mar 30, 2021
Registration is free and no prior skills necessary!
*Team formation can take place before the event. If you would like us to help with that, a Discord channel will be created closer to the date to facilitate the process.
As a participant at Makeathon 2021, you can expect,
To meet like-minded folks to create innovative prototypes for a better tomorrow.
Networking opportunities and the chance to share your design ideas with our sponsors.
A great portfolio piece to share with potential employers.
Great cash prizes for winners.
And most importantly, a design challenge that you will never forget!
Last date to register: March 30, 2021
For more information, please contact uxterps@gmail.com.