Events
MLA Conversations, May 14 on Regional Libraries and May 21 with Cyndee Landrum of IMLS
Event Start Date: Friday, May 14, 2021 - 3:00 pm
Event End Date: Friday, May 14, 2021 - 4:00 pm
Location: Virtual
---
Friday, May 14, 2021 from 3:00 – 4:00 p.m. Eastern (Episode 49)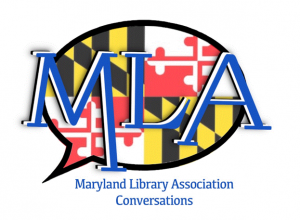 Join us for a conversation about Maryland's Regional Libraries. We'll hear about the special role that they play in supporting the public libraries in the western, southern, and eastern parts of the state. Register for free at https://forms.gle/d2zAoetHLKZxLnXLA
Guests:
Elizabeth Hulett, Director, Western Maryland Regional Library (WMRL)
Ashley Teagle, CEO, Southern Maryland Regional Library Association (SMRLA)
John Venditta, Administrator, Eastern Shore Regional Library (ESRL)
Friday, May 21, 2021 from 3:00 – 4:00 p.m. Eastern (Episode 50)
Join us for a conversation with Cyndee Landrum, Deputy Director, Office of Library Services, Institute of Museum and Library Services. Cyndee was appointed to this position in June 2019. We will learn about her work at IMLS, including overseeing the agency's largest program, Grants to States, which is the primary source of federal funding for library services in the United States. Register for free at https://forms.gle/Dk9BzwEuvPRvDvHH6
Find archived recordings of past MLA Conversations at https://www.mdlib.org/content.asp?contentid=350. Make sure that you're subscribed to the Marylib email listserv https://www.mdlib.org/content.asp?contentid=153 to receive information each week on upcoming MLA Conversations!