Events
Coded Bias, There is no algorithm for truth. Virtual Film & Panel Discussion
Event Start Date: Friday, March 26, 2021 - 4:00 pm
Event End Date: Friday, March 26, 2021 - 6:00 pm
Location: Virtual
---
MOVIE VIEWING:
Wednesday, 3/24 – Monday, 3/29
VIRTUAL PANEL DISCUSSION:
Friday, 3/26 at 4 p.m.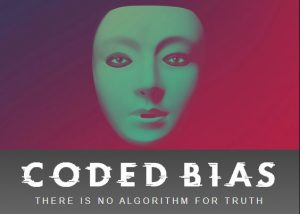 ABOUT THE FILM:
When MIT Media Lab researcher Joy Buolamwini discovers that most facial-recognition software misidentifies women and darker-skinned faces, she is compelled to investigate further. It turns out that artificial intelligence, which was defined by a homogeneous group of men, is not neutral. What Buolamwini learns about widespread bias in algorithms drives her to push the U.S. government to create the first-ever legislation to counter the far-reaching dangers of bias in a technology that is steadily encroaching on our lives.
Centering on the voices of women leading the charge to ensure our civil rights are protected, Coded Bias asks two key questions: what is the impact of Artificial Intelligence's increasing role in governing our liberties? And what are the consequences for people stuck in the crosshairs due to their race, color, and gender?
Register for this Event
ABOUT THE PANEL DISCUSSION:

Moderator:
Hal Daumé, Pier Giorgio Perotto Endowed Professor in Computer Science and Language Science
Panelists:
Margrét Bjarnadóttir, UMD Associate Professor of Decision, Operations and Information Technologies in the Smith School of Business
Nicol Turner Lee, UMD Sociology Lecturer and Brookings Senior Fellow in Governance Studies and Director of the Center for Technology Innovation
Deborah Raji, Fellow at Mozilla and Featured in the Film
Adam Wenchel (B.S. '99, Computer Science), Co-Founder and CEO of Arthur AI
If you have a question about this event, please contact Kate Atchison at katea@umd.edu.
Community Events Student Competitions/Showcases Research Talks/Events