Events
CAFe & MICA talk with Ashley Minner
Event Start Date: Wednesday, November 3, 2021 - 6:00 pm
Event End Date: Wednesday, November 3, 2021 - 7:00 pm
Location: Colony Ballroom & Live Streaming
---

CAFe is partnering with MICA (Multicultural Involvement & Community Advocacy Office) to host a kickoff keynote for Native American Heritage Month programming.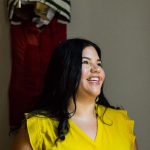 Ashley Minner (Lumbee) will share about her practice as a community-based visual artist and scholar working in collaboration with the American Indian community of East Baltimore to honor their past, present, and future.
Bio: Ashley Minner is a community-based visual artist from Baltimore and an enrolled member of the Lumbee Tribe of North Carolina. She received her MFA ('11) and MA ('07) in Community Arts from Maryland Institute College of Art, and her Ph.D. ('20) in American Studies from the University of Maryland College Park. Ashley currently works as an assistant curator for the Smithsonian National Museum of the American Indian.