INFO plays a key role in a decade-long collaborative project creating a public access portal to Asheville's Southside Urban Renewal archives.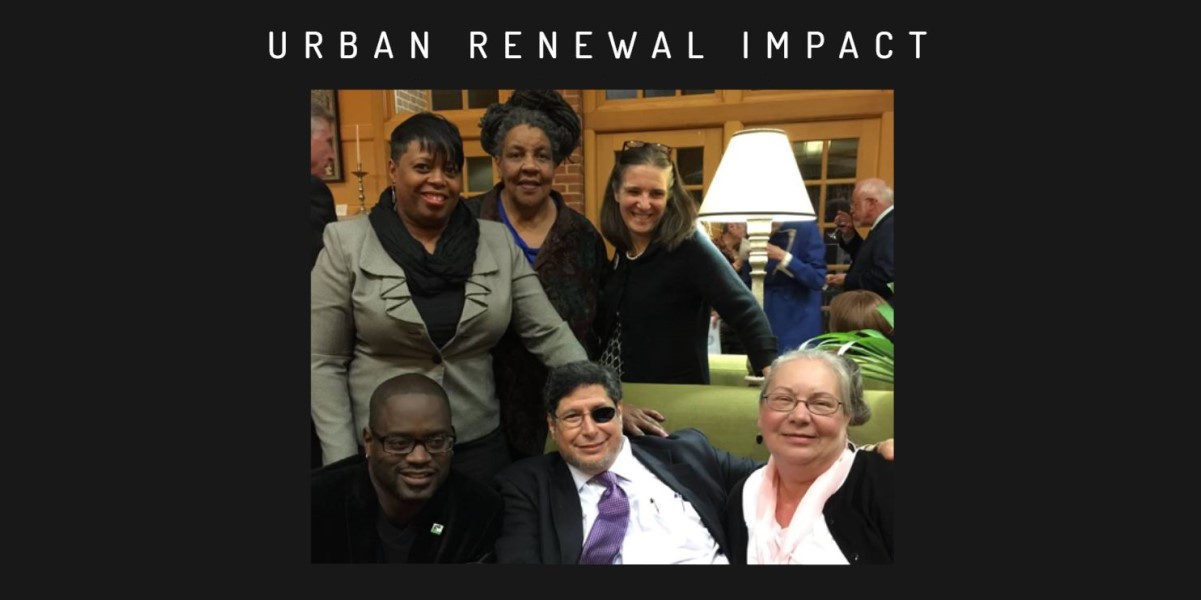 From the Urban Renewal Impact website: Asheville community members accepting the Harlin J. Gradin Humanities Award. Standing (L-R): Priscilla Ndiaye, Andrea Clarke, Deborah Miles. Seated: Dwayne Barton, Dr. Harlin J. Gradin, and Karen Loughmiller. (Photo by Urban News)
the_post_thumbnail_caption(); ?>
"Measuring the Impact of Urban Renewal" is a decade-long collaboration with community members, civil rights lawyers, digital archives researchers, faculty and students to create a public access portal to the Urban Renewal archives of the Southside neighborhood of Asheville, North Carolina. The portal documents and measures issues of loss of intergenerational wealth and conjoins data, equity, and social justice by providing interactive maps, search capabilities, and analytics for close to 1,000 properties that were "acquired" by the City of Asheville. See the DATA tab here.
As documented in the Summer-Fall 2010 North Carolina Humanities Council Crossroads publication, Twilight of a Neighborhood, the Southside neighborhood is very significant as it was home to 3,902 residents living in 1,179 households, which accounted for about 50% of Asheville's black population and 7% of its total population at the time. In addition, the Southside was Asheville's premier black business district, surrounded by a large residential neighborhood. Moreover, the Southside Urban Renewal project was the largest in the southeastern United States (and the largest in Asheville) and the scale of devastation that resulted was unmatched.
On March 20, 2023, Richard Marciano (Professor at UMD's INFO college), Priscilla Robinson (Asheville resident and community leader), and Myeong Lee (Professor at GMU) testified to the 25-member Asheville Racial Reparations Commission. Collaborators include Ray McCoy (civil rights attorney in St. Paul, MN), Mark Conrad (digital archivist), and UMD INFO MLIS students from the Spring 2022 graduate class INST747 "Research in Advanced Digital Curation": Rosie Grant, Alexis Hill, Phillip Nicholas, Noah Scheer, and Alan Wierdak.
The reparations commission was formed a year ago and is composed of members of the Black community in Asheville appointed by the Asheville City Council and the Buncombe County Board of Commissioners. The Commission is empowered to make recommendations that will make significant progress toward repairing the damage caused by public and private systemic racism. Also in attendance were the Mayor and City Manager. Project collaborators developed algorithmic and computational treatments of historical records that help visualize and reveal the mechanisms of harm that unfolded during Urban Renewal. This evidence was shared with the Commission.