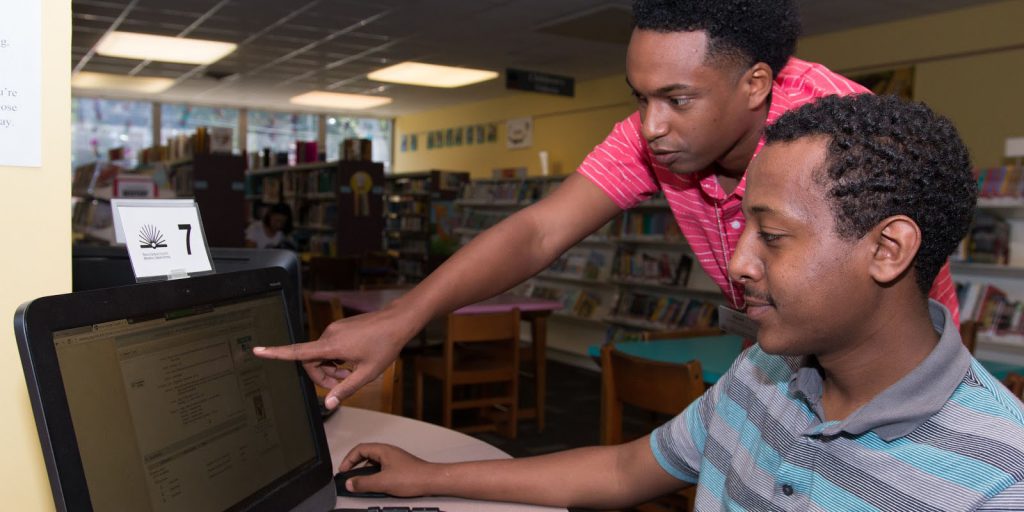 the_post_thumbnail_caption(); ?>
Personal data, like social security numbers, medical histories, and financial status, say a lot about who we are and affect how we accomplish necessary tasks, such as obtaining an apartment lease, pursuing higher education, applying for federal aid benefits, health insurance, and jobs, or even obtaining citizenship. But for some vulnerable and marginalized groups, particularly in low-income communities, this personal information can be susceptible to malicious behavior without the adequate skills needed to navigate these tasks. UMD researchers set out to understand data-privacy hurdles faced by low-income families and to develop public-library programs to help change this dynamic.
Funded by the Institute of Museum and Library Services (IMLS), researchers from the College of Information Studies at the University of Maryland, College Park are working with library staff and families of low-socioeconomic backgrounds to develop privacy and security resources as the goal of the Safe Data | Safe Families project. The team began by interviewing 52 families from high-poverty communities to understand the real, perceived, and unknown risks they face as they navigate online transactions with limited technical skills, as well as the strategies they use to minimize these risks.
From these interviews, the team found various themes emerging related to these privacy challenges, including families facing multi-channel threats like phone and email scams – typically involving enticing monetary rewards – computer viruses, and online stalking. Many participants claimed to struggle to protect themselves from or respond to security threats, so they resort to adverse practices like deleting junk mail every day as opposed to adjusting the email account settings (e.g changing account password) or putting themselves in situations where they're more susceptible to fraudulent activity, such as using prepaid cards that typically lack security protections compared to a card from legitimate banks.
Many participants described their friends and family as having similar technical skills as them, suggesting they may not be sources of help for certain digital tasks, so they turn to libraries as knowledge sources that they believe are well-versed and trustworthy – using library computers and asking librarians for assistance with specific websites or online tools. In some cases, the families create relationships with the library staff over time, further solidifying their trust in the library.
Libraries have remained an integral asset for these underrepresented families to get things done, but for library staff assisting these families, there can be a lot of tension when dealing with this sensitive information. Older family members are often unsure of how to practice sufficient confidentiality and privacy behaviors, most notably when navigating technology to complete a task, and in many cases will leave critical information out in the open that a passerby could easily steal.
"There's this sense that anything they do on the public computers, the librarian will know and protect the – like if people are trying to scam them, the librarian will protect them. But, that's a misconception because librarians don't look at what you do on public computers due to intellectual freedom values," said Dr. Mega Subramaniam, Associate Professor at UMD and a Co-Principal Investigator for the Safe Data | Safe Families project. "That's the part that we are really diving into right now and seeing what resources emerge that can be developed for families."
The roles of libraries have shifted dramatically over the last few decades going beyond the curation and borrowing of literature. In many low-income and impoverished communities, libraries are used as a hub for technology access, educational programming outside of schools, job interview preparation, and completing essential tasks and transactions that cannot be completed at home due to a lack of technology or skill. Libraries have also developed a reputation for acting as safe spaces to confide personal experiences that a person might not be comfortable sharing with their family members.
"[Families] come to the library and they know that the librarian is a trusted source of information," said Subramaniam. "Kids are also learning a lot of things from school, which is great, and they pass it back to their families. So we're trying to see how this knowledge and skills are shared within the family, how can we leverage all this to facilitate good privacy practices within the family."
The Safe Data | Safe Families project aims to develop a suite of resources to be used by librarians to inform their practices in helping families in sensitive online transactions and by libraries to facilitate digital privacy and security skills education for these families. To learn more about the project, visit safedata.umd.edu.