Watch the workshops and find out who won!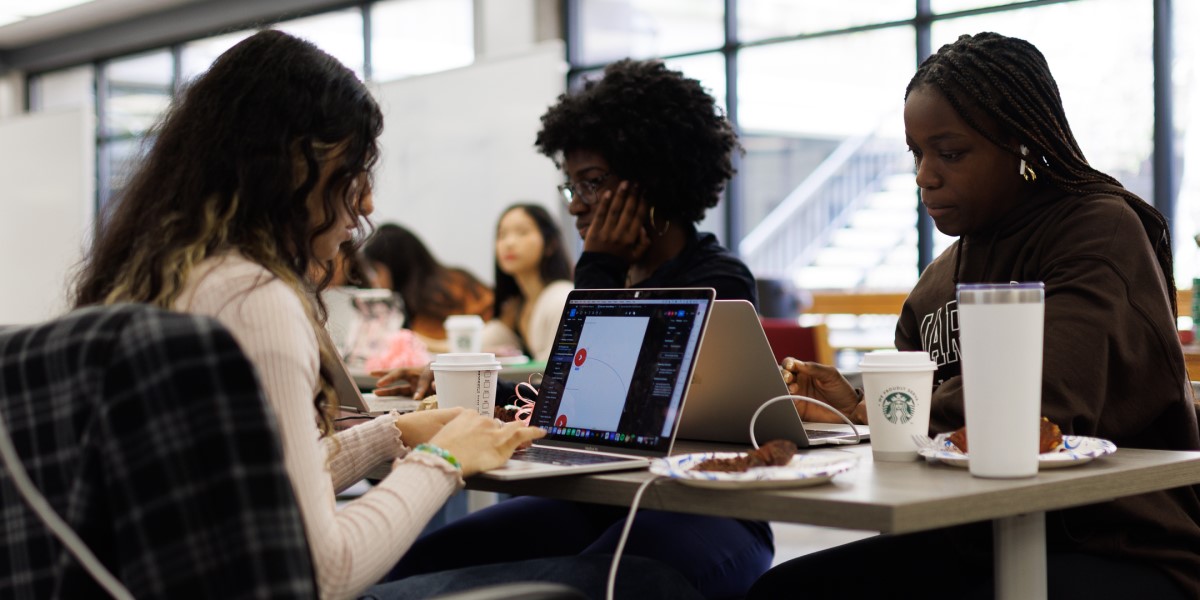 Students competing in the 2023 Makeathon (Photo by Evan Kim Photography)
the_post_thumbnail_caption(); ?>
The 5th annual Terps Makeathon took place March 31 – April 1, 2023 in UMD's Hornbake Library. The 24-hour design hackathon was hosted by UXTerps with sponsorships from the UMD College of Information Studies (INFO), CommunicateHealth, Pepsi Fund, Iribe Initiative for Diversity and Inclusion in Computing, and SEE (Student Entertainment Events).
The Makeathon allowed students to compete in 3 challenge tracks, each focused on a different real-world problem:
Using AI to Promote Health Literacy
Support Financial Literacy for Students
Improving Access to iSchool Career Resources
Student teams of 2-4 were encouraged to conduct user research, design a novel solution, and present their work as a prototype. 65 students competed in 16 teams, with winning teams awarded with cash and tech prizes!
The event was also packed with career- and skill-related workshops (recordings here), including Alt Text Basics (CommunicateHealth), Boosting Web Content w/ SEO (CommunicateHealth), Advanced Motion Design (Sushanth Hegde '23, Sparsh Paliwal '23), How to Find UX Roles (Julie Romanosky '18), UX Strategy and Consulting (Sanchita Chugh '23), Ethics in Design (Jim Kozlowski, IBM Senior Designer), and Underrepresentation in UX Panel (Tulika Mohanti '23, Crystal Marte '23, Matthew Alexander '22, and Aravind Rajkumar '20).
Winning Teams:
CommunicateHealth Financial Literacy Challenge!
⭐ First Place – Team BlankGehry (Utkarsh Chhadva, Sanjana Danait, Anshika Srivastava)
⭐ Second Place – Team RMF (Fiona Torok, Mia Hofman, Ria Rawool)
⭐ Third Place – Team Xadia (Danyi Zeng, Qingyang Teng)
CommunicateHealth AI Challenge!
⭐ First Place – Team Marathon Fries (Naman Phadnis, Bhagyashree Phadnis)
⭐ Second Place – Team Best Team (Amit Gaikwad, Manit Rana, Pooja Pandey, Jayasankar Jayachandran)
⭐ Third Place – Team SADS (Dharini Chandrashekar, Aaditya Shete, Shaunak Bhanarkar, Shu-Ping Chan)
INFO College Challenge
⭐ First Place – Team Orange JuiCC (Omena Aboagye, Claudia Aguilar Llazaka, Jimmy Nguyen)
⭐ Second Place – Team Star (Joshlyn Celestine, Trinity Newsome, Dialo Diop)