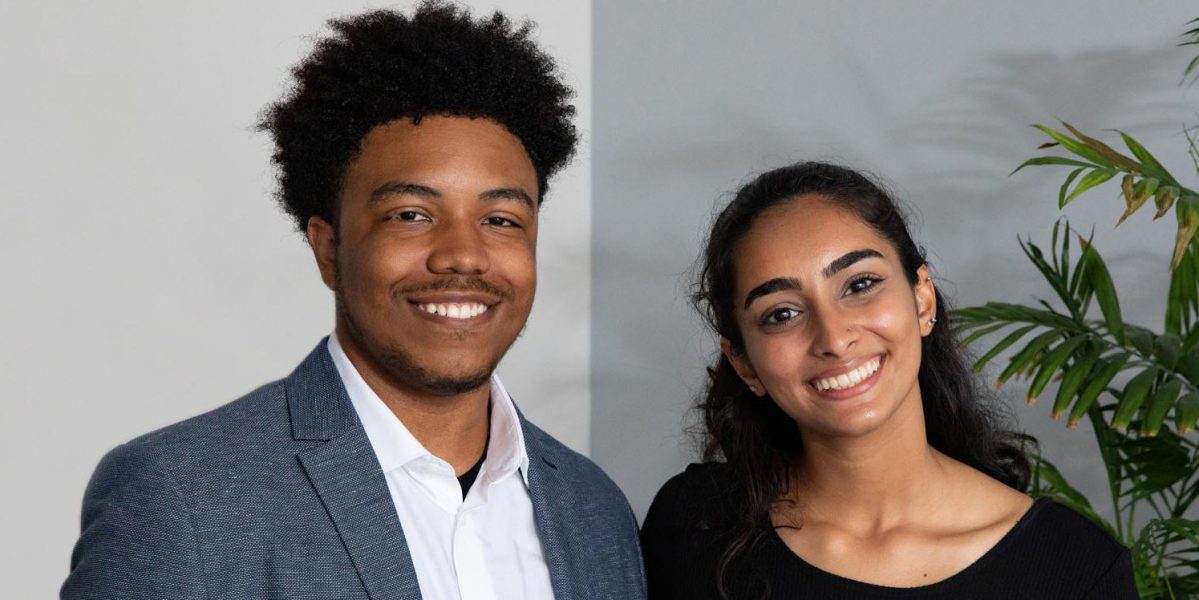 Nicholas Stewart and Shruti Kumar (Image by Craig Taylor / UMD)
the_post_thumbnail_caption(); ?>
The University of Maryland College of Information Studies (iSchool) sponsored two of its undergraduate students – junior Shruti Kumar and senior Nicholas Stewart – to attend the 10th University Scholars Leadership Symposium (USLS) in Kuala Lumpur, Malaysia this past August.
The USLS is an annual five-day leadership development program organized by Humanitarian Affairs Asia. Each year, the USLS brings together 1,000 of the world's most promising young leaders from around the globe who are committed to making this world a better place for the human race and combating global humanitarian crises. During the intensive five-day training program, participants learn that have the power to lead projects that bring about positive and sustainable change.
As delegates at this year's USLS, Kumar and Stewart gained invaluable insights from influential social initiative founders, passionate refugees, knowledgeable professors from some of the top universities in the world, and Malaysian government officials, including Dr. Maszlee Malik, Minister of Education and YAB Tun Dr. Mahathir Mohamad, Prime Minister of Malaysia. This thought leadership provided a deeper understanding of humanitarian areas of interest, including current challenges facing the United Nations, social entrepreneurship, and the extraordinary advancements in technology that are shaping how we live, work and communicate.
"From young entrepreneurs to intelligent innovators and motivational speakers, this immersive and hands-on experience empowered me to do more to face challenges head-on and bring together the perfect team to do so," said Kumar. "The conference also exposed me to numerous motivated people from all around the world, allowing me to make incredible global connections while learning about many cultures."
Delegates also had the opportunity to put what they learned during the symposium into practice through a variety of humanitarian service projects. Delegates had the chance to engage with local communities in Kuala Lumpur and experience, firsthand, the harsh disparities millions of people face due to poverty, age, refugee status, and so forth.
"Restoring the infrastructure of an Orang Asli elementary school alongside fellow delegates served as a particularly humbling and eye-opening experience," said Stewart. "With a variety of activities involving service-learning, networking, and interactive speakers, the 10th USLS reinforced my knowledge and awareness of a multitude of global issues."
Since the inception of the 1st USLS in 2010, more than 7,000 emerging young leaders from around the globe have undergone this life-changing experience. Upon completion of this program, many delegates have gone back to their countries with new vision and passion to effect changes and to transform lives in their communities.
Travel scholarships that make transformative experiences possible for our students are funded by the generosity of our alumni and donors. If you would like to contribute to a student travel fund, please visit: https://ischool.umd.edu/give/