In The Promise of Access, Dr. Daniel Greene shares a radical perspective on why tech solutions aren't solving complex social problems such as STEM education and the digital divide. Join the conversation 4/30 or request a talk.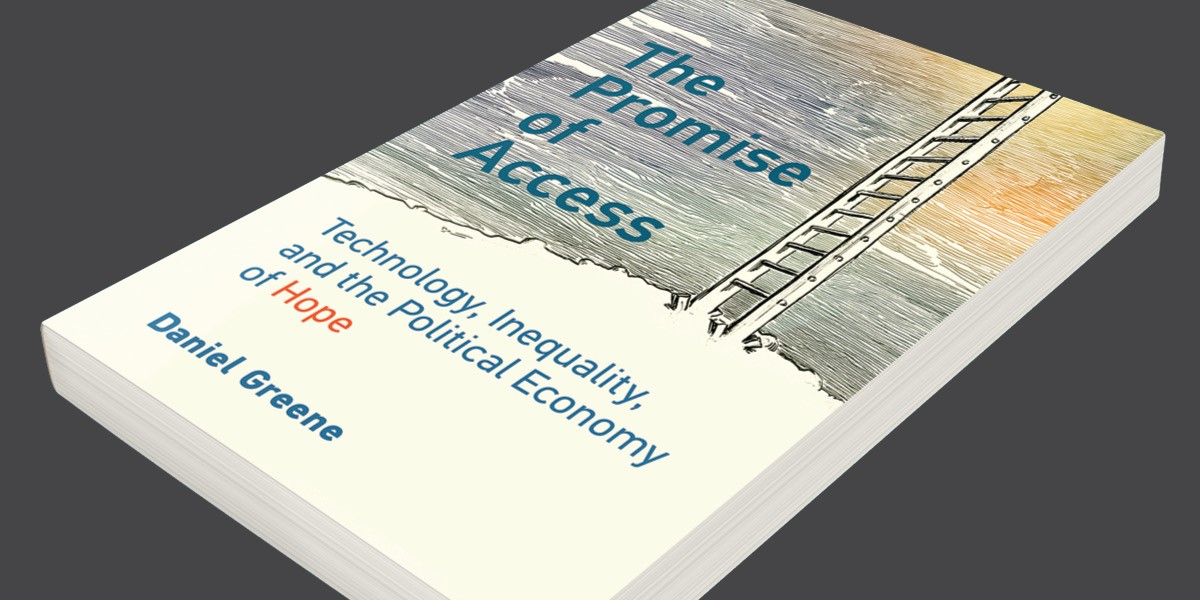 the_post_thumbnail_caption(); ?>
Join the conversation—attend or request an upcoming talk.
Why do we keep trying to solve poverty with technology? What makes us feel that we need to learn to code–or else? In The Promise of Access, Dr. Daniel Greene, Assistant Professor at the University of Maryland College of Information Studies (UMD iSchool) shows how the digital divide emerged as a policy problem and why simple technological solutions to complex social issues continue to appeal to politicians and professionals who should (and often do) know better.
Through a combination of real-life stories and critical policy analysis, Dr. Greene reveals why it is so hard to get rid of the idea that the problem of poverty can be solved with the right tools and the right skills. Places that fight poverty, like schools and libraries, pursue this goal–and end up looking more like tech startups in the process.
"The Promise of Access is one of the most important books written on social institutions and the lived experiences of techno-solutionism in the United States. Dan Greene systematically dismantles the cultural history of technology's antipoverty promises." ~ Dr. Tressie McMillan Cottom, University of North Carolina at Chapel Hill
Drawing on years of fieldwork and interviews, Dr. Greene explores how this plays out in the real world, examining organizational change in technology startups, public libraries, and a charter school in Washington, DC. He finds that as these organizations pursue technological solutions, they win praise and funding but also marginalize and alienate the populations they serve. Greene calls for new political alliances that can change the terms on which we understand technology and fight poverty.
Join the Conversation
A native iSchooler, Dr. Greene presents this theory as a launchpad for discussion and calls on iSchools, libraries, organizations fighting poverty, and other institutions to join him in exploring the problem and building new political and organizational solutions. Join us for an upcoming talk or invite Dr. Greene to speak at your organization. Invitations for university discussions or lectures are welcome as well.
Book Information
"Poverty is social. For decades we knew this, but we forgot, believing in computer code instead. Greene brilliantly explodes this myth, shows the damage it does, and imagines a way forward together." ~ Nick Couldry, Coauthor of The Costs of Connection: How Data Is Colonizing Human Life and Appropriating It for Capitalism
"Told with sympathy and humor, The Promise of Access is nonetheless a slow-motion tragedy, with often well-meaning characters set in a shiny world of upbeat adages, high-tech funding, and strategic metrics." ~ Allison J. Pugh, University of Virginia; author of The Tumbleweed Society: Working and Caring in an Age of Insecurity
The Promise of Access: Technology, Inequality, and the Political Economy of Hope, by Daniel Greene
Published by Penguin & MIT Press
Available on Amazon and where books are sold; #1 (of 95) New Book in LIS on Amazon, April 2021