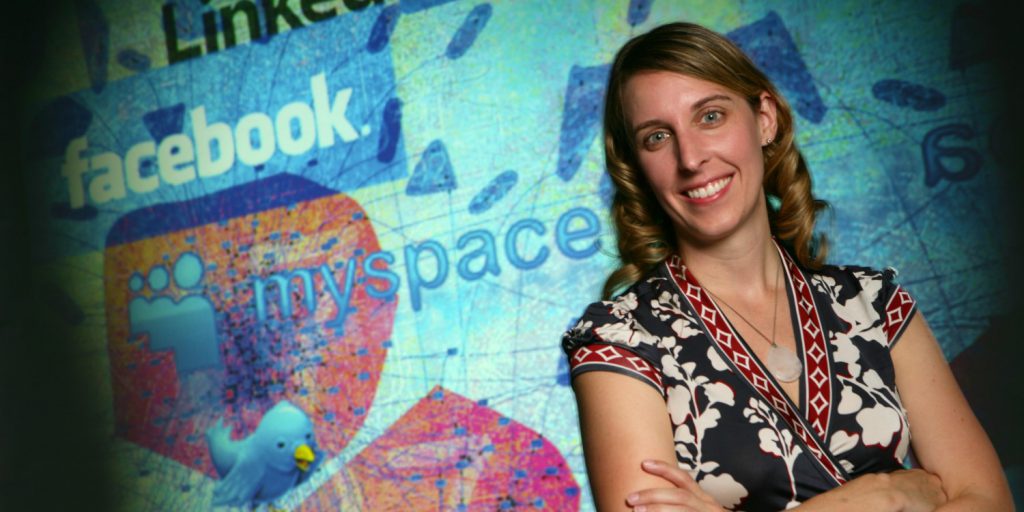 Dr. Jen Golbeck (Image Courtesy of HCIL)
the_post_thumbnail_caption(); ?>
As countries and communities shut down with shelter-at-home orders in reaction to the COVID-19 pandemic, communication of important news through social media becomes ever more significant. However, with so much information circulating on social media about COVID-19, it can be challenging to determine what news is the most relevant or, perhaps more importantly, what news is trustworthy. This is not an impossible task, though, said Dr. Jen Golbeck, professor at the University of Maryland College of Information Studies (UMD iSchool) and director of the UMD Social Intelligence Lab.
Fake news on social media can range from well-meaning people sharing misinformation, such as DIY cures or misinterpretations of statistical information, to deliberate disinformation, such as conspiracy theories and scams for profit. "Because the situation is moving so quickly, it is hard to know what to trust. And in times of fear, we are psychologically less capable of sorting good and bad information," said Dr. Golbeck. "That makes social media a place where we can be at real risk." Dr. Golbeck suggests five tips for minimizing this risk and distinguishing the most relevant and trustworthy news:
Check the sources of scientific or medical claims before believing what you read. There are people overreaching their abilities, trying to interpret complex scientific and statistical information without understanding how it really works. For instance, medical information should come from official medical professionals and organizations – not your sister's neighbor whose cousin is a nurse.
Read the comments. There is a lot of fact checking going on. If you question a post, look in the comments for confirmation or debunking by reliable sources.
Question the motivations of the person sharing. What motivation would they have to overestimate or underestimate a threat? Is there money involved? If an influencer posts a story, are they committed to vetting it or are they just sharing it for reactions and likes? Be appropriately skeptical.
Curate a news feed tailored to your interests. If you want hyper local news, updates on family, national news, and updates from the CDC, you can easily build a list of that in your feed. If you want information about your park closures, fundraisers for hospitals, and news on civil liberties and immigration courts, you can build that too. The opportunity to curate your own information feed that addresses your particular interests is really valuable here, and because that information is social, others are likely to inject additional stories of interest that you may not be able to discover on your own.
​
Build your news feed with credible sources. Looking at every source can get overwhelming. Reduce this need by building your news feed with credible sources from the outset. Dr. Golbeck suggests starting with:

Johns Hopkins' COVID-19 tracking.
Big, mainstream media outlets, such as the Washington Post, the New York Times, NPR, and CNN, are deeply fact-checked and generally will bring you the most reliable, in-depth information.
Daniel Dale, CNN fact-checking journalist on Twitter (a personal favorite of Dr. Golbeck).
If you're just looking at numbers, Weather Underground, on a location's daily forecast, provides a COVID-19 box with very up to date numbers of cases and deaths in that area.
At the UMD iSchool, Dr. Golbeck, along with other researchers, look at misinformation, disinformation, and trustworthiness of online information in many contexts. "We have expertise built up from analyzing past disasters and terrorist attacks to understand how people share and react to information in crisis," said Dr. Golbeck. "We're all working hard to deploy those lessons on the COVID-19 data to help people get what they need." Visit the UMD iSchool website to learn more about current research.