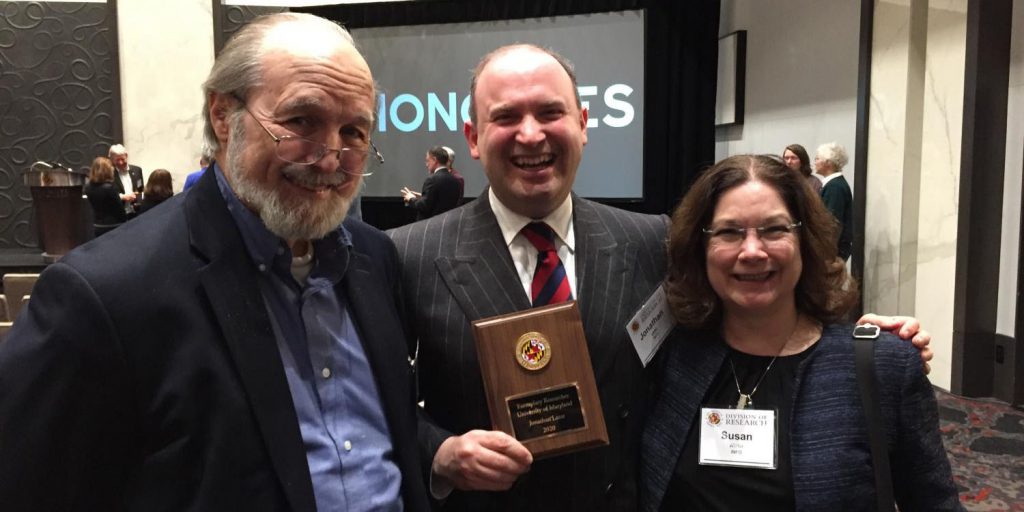 Dr. Gregg Vanderheiden, Dr. Jonathan Lazar, and Dr. Susan Winter (left to right) at the 2020 UMD Research Excellence Celebration
the_post_thumbnail_caption(); ?>
Dr. Jonathan Lazar, Professor at the University of Maryland (UMD) College of Information Studies (iSchool), was honored Wednesday, February 26, 2020 at the annual UMD Research Excellence Celebration – receiving the Exemplary Researcher award for his significant contributions to making technology and digital content more accessible for people with disabilities.
The UMD Research Excellence Celebration recognizes high-impact accomplishments of the campus' scholarship and research community. Each year, the prestigious Exemplary Researcher award is bestowed upon one faculty member from each of UMD's colleges who has elevated the visibility and reputation of UMD through transformative findings, achievements with evident societal impact, recognition by national or international groups, and high-impact publications.
Dr. Lazar's work in the accessibility of information and communications technology (ICT), through research, practice, education, and policy, as well as leadership in moving accessibility innovations from research to practice, has been transformative for the information and technology experience of users with disabilities.
Dr. Lazar has authored or edited 12 books, including the seminal textbook "Research Methods in Human-Computer Interaction," published over 140 articles in computing journals, information science journals, law journals, conference proceedings, and edited book chapters, and has been granted two US patents for his work on accessible web-based security features for blind users. He frequently serves as an adviser to government agencies, regularly provides testimony at federal and state levels, and multiple US federal regulations cite his research publications.
Dr. Lazar makes connections between different disciplines and presents at a wide range of venues. For instance, in 2019, he taught classes at UMD on design, human-computer interaction, and library science, and gave conference presentations at venues in engineering, law, computer science, library science, and disability studies, as well as government agencies including the U.S. Access Board, the Food and Drug Administration, and the National Institutes on Disability, Independent Living, and Rehabilitation Research (NIDILRR).
Dr. Lazar joined the UMD College of Information Studies (iSchool) as a professor in 2019, after 19 years as a professor at Towson University where he served as director of their information systems program for 14 years. Dr. Lazar is now the Associate Director of the UMD Trace Center, the nation's oldest research center on technology and disability, and he is a core faculty member in the UMD Human-Computer Interaction Lab.
Dr. Lazar's work has been recognized nationally and internationally for being on the forefront of innovation and leadership in ICT accessibility for people with disabilities. Most recently, in 2019, the National Federation of the Blind of Maryland named Dr. Lazar the recipient of their inaugural Rachel Olivero Accessibility Innovation Award. In addition, in January 2020, Dr. Lazar was accepted as a member of the Disability Rights Bar Association (DRBA). Although members are generally required to be either practicing lawyers or law school professors, Dr. Lazar's work in the area of disability rights is so significant that he was admitted as a full professional member to the DRBA.
To learn more about Dr. Lazar's work, please visit https://ischool.umd.edu/directory/jonathan-lazar.