Events
MLA Conversations: MLA/DLA Conference Preview with Sean Hogan (ACRL-MD) and Tracy Miller (FoLIG)
Event Start Date: Friday, April 9, 2021 - 3:00 pm
Event End Date: Friday, April 9, 2021 - 4:00 pm
Location: Virtual
---
You can now register for the next of Maryland Library Association's MLA Conversations, this Friday, April 9, 2021 from 3:00 – 4:00 p.m. Eastern.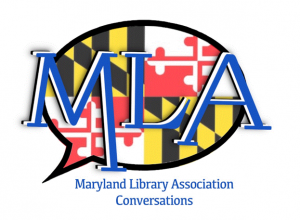 Join guest host Naomi Keppler for a preview of the upcoming 2021 MLA/DLA Joint Library Virtual Conference with two of MLA's member leaders:
Sean Hogan, Association of College and Research Libraries, MLA Chapter (ACRL-MD)
Tracy Miller, Future of Libraries Interest Group
Register for free at https://docs.google.com/forms/d/e/1FAIpQLSd0iSIL1n4L8w3r3YKBR9froj84mCo67o428sGtIwxCk66M8g/viewform?usp=sf_link. You will be sent the login information from nkeppler@bcpl.net. Registration will close 15 minutes prior to the start of the event. We will be using Zoom. Thanks for being a part of the conversation!
Did you miss our last MLA/DLA Conference Preview on Friday, March 26 with Kim Day, Amy Jenkins, & Andrea Berstler? Watch the recording at https://marylandlibraries.zoom.us/rec/share/-g-0BeYqDBjSeREEFiTh1y971UEEH6rkMycgWVWAkqKBB2qVt42fZ8MpiUJTU_fI.R_wuHQ8iAZTBuaqT
Find archived recordings of past MLA Conversations at https://www.mdlib.org/content.asp?contentid=350. Make sure that you're subscribed to the Marylib email listserv https://www.mdlib.org/content.asp?contentid=153 to receive information each week on upcoming MLA Conversations!