Events
Center for Archival Futures (CAFe) Talk: Umi Hsu
Event Start Date: Wednesday, March 3, 2021 - 4:00 pm
Event End Date: Wednesday, March 3, 2021 - 5:00 pm
Location: Virtual
---
Join Us for First Wednesdays at the CAFe as we welcome Umi Hsu and her talk on What To Do with All This Stuff: Archive-Based Content Strategy in the Attention Economy.
Date: Wed Mar 3 & every first Wed of the month during the Spring semester
Time: 4pm – 5pm EST — 45 minute presentation + 15 minute Q&A
For Zoom Info – REGISTER HERE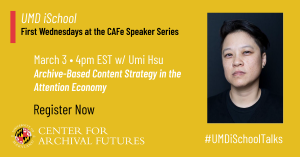 The Center for Archival Futures (CAFe) at the iSchool is pleased to invite you to a series focused on developing and disseminating human-centered and automated approaches for the care and use of digital objects and data over time. Our series, First Wednesdays at the Cafe, will host speakers to share their insights on the challenges and opportunities for advances in this critical area.
Talk Abstract:
Human attention is treated like a currency with a financial value in the contemporary information economy. User attention is parsed out, configured, and metricalized into small bits of digital engagements. Content ubiquity through searchable online archives and collections doesn't render depth in humanistic considerations, especially in the public realm. What is the role of content work in the public humanities profession? What could be meaningful expressions of humanist knowledge production within a rapidly shifting information ecosystem? How do we create contexts to help users make sense of our historic moment, given what's accessible in archival collections? Working as a content strategist at a nonprofit with a mission to share and preserve LGBTQ history, Umi Hsu will talk about how they bridge the gap between long form expressions of humanist inquiries and an urgency of short form, socially relevant content production. They will draw from their experiences of leading digital and content strategy at ONE Archives Foundation and previously at the City of Los Angeles Department of Cultural Affairs.
Speaker Bio:
Umi Hsu is a public humanist and strategic designer with research and organizing agendas for equity in arts, technology, and civic life. They are currently the Director of Content Strategy at ONE Archives Foundation. Previously, Hsu led digital and data initiatives at the City of Los Angeles Department of Cultural Affairs. They teach as adjunct faculty at ArtCenter College of Design and USC Marshall School of Business and have published extensively on digital media, data, and Internet culture. As a sound ethnographer and artist, Hsu has received fellowships and awards from the National Endowment for the Arts, American Council for Learned Society, Shuttleworth Foundation, and LA Metro and has works presented by the Rubin Museum, Japanese American National Museum, and CTM Festival in Berlin.
—
The Center for Archival Futures (CAFe)
Developing and disseminating human-centered and automated approaches for the care and use of digital objects and data over time
cafe.umd.edu