Twitter's new rival surges despite snags - a UMD social media expert explains why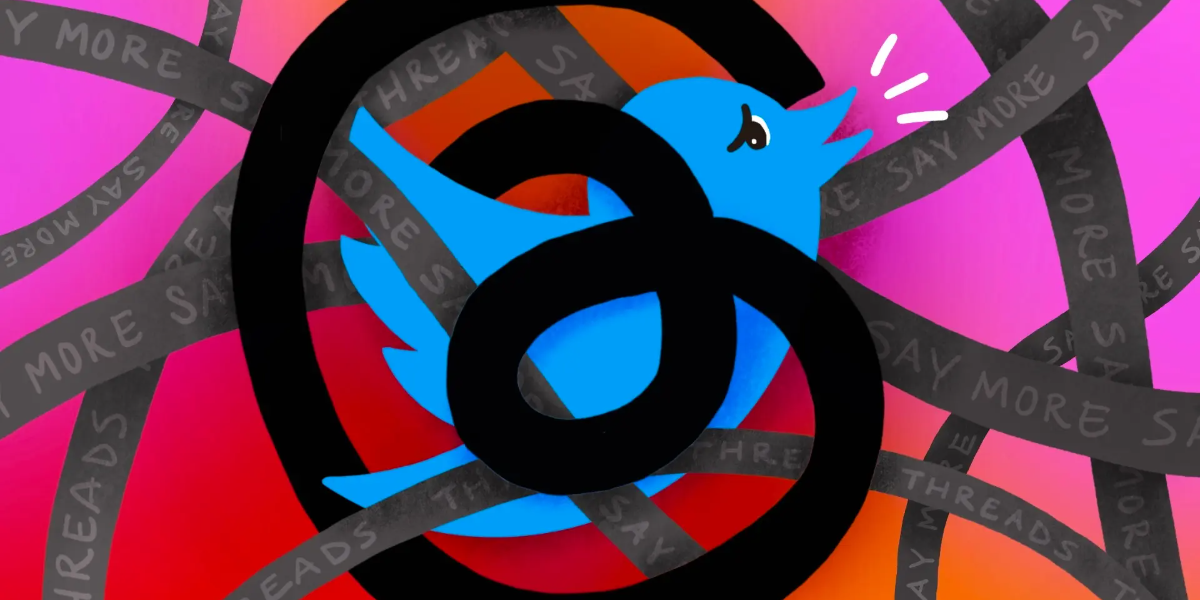 Illustration by Valerie Morgan
the_post_thumbnail_caption(); ?>
Twitter users have been seething for months about its collapsing infrastructure, multiplying usability hurdles and owner Elon Musk's fringe rhetoric, but until last week, they didn't have an obvious alternative.
That may have changed with the launch of Threads, which has gained 100 million users in its first five days and raised new questions about whether Twitter, like MySpace or Parler, will end up chirping sadly into the ether.
The new social media platform offers many of the same functions as Twitter and is easy to sign up for, especially if the user is among the 2 billion Instagram account holders. Critically, it employs robust moderation—something Twitter has steadily weakened of late, resulting in a massive increase in hate speech and violent content—based on Meta's experience with Facebook and Instagram.
Meta has its own issues, said social media expert Jen Golbeck, a professor at the University of Maryland's College of Information Studies, who has been an outspoken critic of its large-scale surveillance and data collection practices. But she notes that owner Mark Zuckerberg takes a professional approach to his products, and avoids using them for personal retaliation, as Musk is wont to do.
[
Is Twitter Doomed? UMD Social Media Expert Predicts Costly Consequences of Gutting Content Moderation
]
In a chat Monday with Maryland Today, she offered reasons for Threads' promising debut, her take on its user experience and a glimpse into its potential transformative features that could change how we use social media.
Why has Threads been so successful, at least initially, after platforms like Mastodon and Bluesky stalled?
Meta made exactly the right decision. It's so easy to join if you have an Instagram account. You can sign right in to Threads, and if you let it, it can automatically follow for you everyone that you were following on Instagram. The people I'm interested in are there.
Mastodon was too techy for some people and had kind of a crappy interface. Bluesky, you have to have an invitation to get in. Why would you sign up if people aren't there already?
What has been your experience so far?
Threads sucks right now. I signed up right away and have been using it, but there are a lot of problems that are typical of a platform that has just launched.
It feels a lot like Twitter: You can post threads, reply, repost, quote post. The core content creation options are the same. It has a slightly longer character limit, at 500. You can attach photos and videos. But the notifications section is pretty wonky; I can only see one screen of replies. The mentions don't seem to work; they disappear quickly. The news feed is very much algorithmically driven like Instagram, which is annoying because that's not how you use Twitter. If you refresh, you can't find the post you were looking at. But I suspect this will all get fixed—Meta is a known quantity, and they put out better products than this.
Why are people leaving Twitter?
Elon Musk seems to have no problem making choices that degrade the quality of content on Twitter. The reliability of the service has come way down. It's a combination of factors: firing a big percentage of engineers, and hubris about what systems were important. They're making decisions without understanding the complexity of the code. It's hard to post, and other things don't work, so a lot of people are frustrated.
You used to be verified if you were notable or official, but now, the blue checkmarks are going to people who pay $8 a month. Twitter is giving priority to them. When you go to somebody's tweet, the first replies you see are these blue checkmarks, which mostly don't create interesting content.
What about Threads excites you?
I've heard that Threads is going to become integrated into the federated space. You could be on a Mastodon server and follow and interact with a Threads account.
It's a little hard for people to wrap their minds around, but the easiest way is to think of it like email. I might have a Gmail account and you have a UMD account, but we can email each other just fine. So if you didn't like Meta's privacy policy, you could set up on another server but like or share content from Threads accounts. That would be a fundamental change to the way we use social media.
Why do we need to replace Twitter?
We need something that's this quick, text-based app that's easy to share. It's important for the current information sphere. Twitter was a great space for official communications from police departments or weather agencies, but also for very local information that you can't get anywhere else, such as during major wildfires that require evacuation. But Musk's personal whims are marching it down a worse and worse path.
The article written by Karen Shih was originally published by Maryland Today, July 11, 2023.