70+ UMD faculty, staff, and students converged at this hybrid event to celebrate a commitment to improving diversity and inclusion in computing.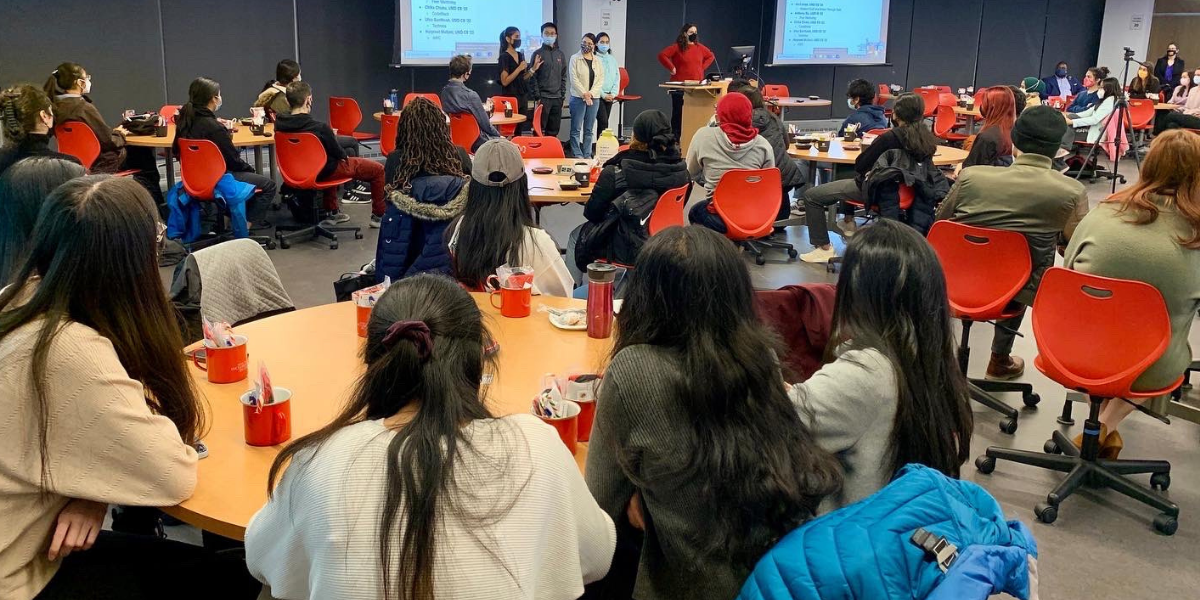 the_post_thumbnail_caption(); ?>
On Friday, December 3, the Iribe Initiative for Inclusion and Diversity in Computing (I4C) and Break Through Tech DC hosted their Fall 2021 Diversity in Tech Celebration. The event brought together about 70 University of Maryland (UMD) faculty, staff, and students, both in-person and virtually, who had participated in various programs offered through I4C and Break Through Tech DC during the Fall 2021 semester.
The celebration event, held at the Iribe Center for Computer Science and Engineering, included remarks from Keith Marzullo, Dean of the College of Information Studies, Amitabh Varshney, Dean of the College of Computer, Mathematical, and Natural Sciences, and Donna White, Director of Break Through Tech DC. Darryl Peek, Head of Federal Strategic Partnerships at Google Cloud, was the featured keynote speaker.
Earlier this year, UMD announced a partnership with Break Through Tech with a goal of increasing the number of female-identifying and nonbinary students graduating UMD with a tech degree by at least 12% by 2026. Break Through Tech, an initiative launched by Cornell Tech, empowers women in tech – especially Black, Latina, and Indigenous women, trans, and non-binary people – through curriculum innovation, career access, and community-building during their college years.
"We're delighted to be a part of the Break Through Tech initiative to address the issues of how we can make computing more accessible to all, as part of the [iSchool]'s DNA," said Dr. Marzullo during his welcome address to event attendees.
One of Break Through Tech's signature programs is Sprinternship, a paid, three-week micro-internship for undergraduate students to help them gain professional experience and land their first internship. In January 2022, a cohort of 59 UMD students will work with 14 host organizations to tackle real business challenges, gain resume credentials, and strengthen their professional network and connections within the tech community.
Anthony Ma, an undergraduate information science major, was selected to participate as a Sprintern with Two Six Technologies in January. Ma participated in I4C's mentoring program as a mentee this semester as well as other career-building workshops hosted by Break Through Tech; he also participated in Break Through Tech's Summer Guild program in August.
"We had a workplace preparedness workshop not too long ago, which was helpful to learn about how to act and the questions to ask for an upcoming internship," Ma said during the event. "I've also really enjoyed some of the social events that [Break Through Tech] does where students come in and relax, talk about how we felt about classes, how we're handling our work and ways to focus on mental health."
Additional programs and opportunities currently offered by I4C and Break Through Tech DC at UMD include:
I4C Peer & Alumni Mentoring Program — Gain peer-to-peer support and engage with students and alumni who have similar interests and career goals. Students also have access to professional development, academic and social events, and networking opportunities with I4C Corporate Partners. Applications for the mentor program are open now for the Spring 2022 semester.
Summer Guild with Break Through Tech DC at UMD — First- and second-year students from any major spend five days working on a problem important to the local community and brainstorming a solution using technology and creativity. Students also have a chance to network and learn from professionals working in the tech field. There is no cost to participate in the program and participants receive a $150 stipend. Applications will open late Spring 2022. 
Intro to computing courses — Undergraduate students can still register via Testudo for two Spring 2022 intro to computing courses – CMSC125: Introduction to Computing and CMSC100/INST101: Bits and Bytes of Computer and Information Sciences.
The UMD iSchool is one of Break Through Tech at UMD's core partners aiming to raise the graduation rate for women across its information science and information and technology design majors. The iConsultancyprogram housed within the iSchool has also joined this charge by providing students real-world experience working with the iConsultancy's various industry partners.
To learn more about how you can get involved with Break Through Tech DC at UMD, follow them on Twitterand Instagram (@BrkThroughUMD) or reach out via email at breakthroughtech@umd.edu.