From Award-Winning Faculty to Industry Partners, Our Program Sets Our Students Up for Success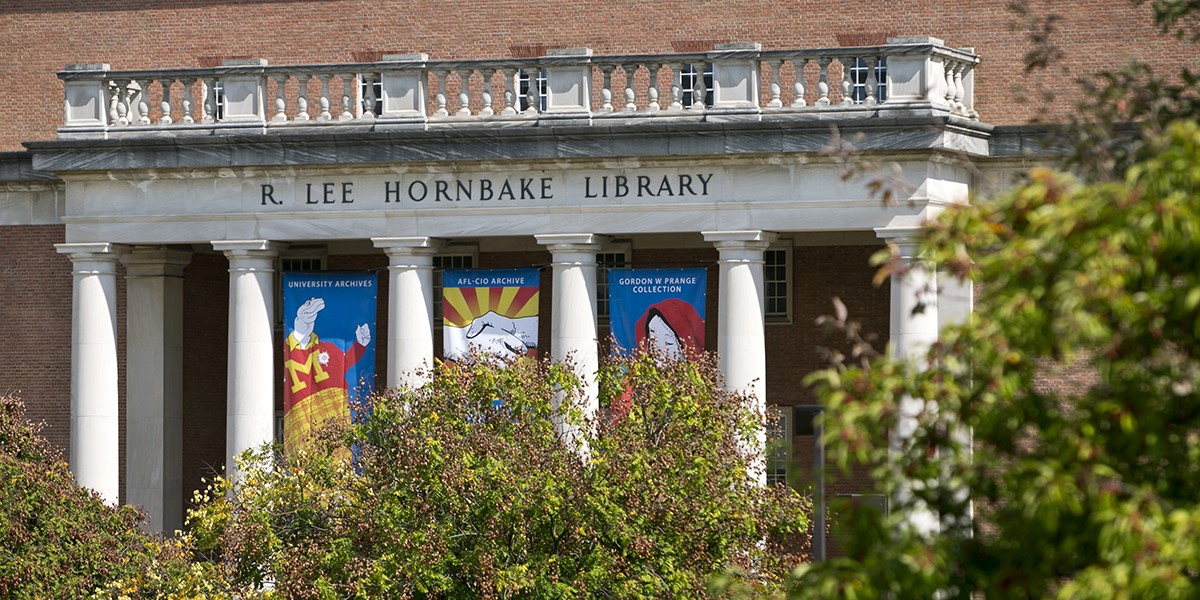 the_post_thumbnail_caption(); ?>
The University of Maryland College of Information Studies (INFO) Master of Library and Information Science (MLIS) program attracts a variety of students with its range of diverse experts, rigorous coursework, and commitment to creating a supportive environment, according to current MLIS students describing the program.
MLIS boasts seven specializations and a dual degree opportunity with the University of Maryland's (UMD) Department of History. Students can also receive a certificate in Museum Scholarship and Material Culture — a collaborative effort between Library Science, American Studies, Anthropology, and History that prepares students for a career in academia pursuing research.
Employment opportunities with an MLIS degree include academic libraries, local or federal government libraries, archives, and special collections or museums. Graduates have also found opportunities in corporate organizations, government intelligence- and law libraries, and legal offices.
The MLIS faculty are leading experts in the field of archives and curation. Our distinguished faculty hold advanced degrees in history, anthropology, education, law, and library science. Faculty members have also served in prominent roles at institutions such as the Library of Congress and the National Archives and Records Administration.
The UMD INFO College firmly embraces experiential learning as a critical method for acquiring knowledge. In addition to instruction from our esteemed faculty, our students actively engage in practical experiences, collaborating closely with industry experts. They participate in dynamic projects alongside our extensive network of more than 400 industry partners and actively contribute to our research centers and cutting-edge laboratories.
Karen Helena Adjei
"One thing I love about the MLIS program at UMD is that professors are dedicated to fostering a supportive environment for students, especially online classes. Even though I study remotely, I feel that my professors take the time to get to know their students and to support their educational needs and goals holistically."
"Another thing I love about the MLIS program at UMD is that there are so many professional development opportunities. Since we are so close to the D.C. metropolitan area, I have many options to expand my skills and experience, and the program is always sharing opportunities to help students make the most out of their time here. UMD also has wonderful in-person and remote opportunities, which shows just how cutting-edge the school is and that it's a true leader in the information fields."
Amy Guerrero
"I enjoy the program because I genuinely think it's one of the best in the country. There's a lot of field study opportunities and internship opportunities, and I think that the professors are actively searching for ways to improve their classes and respond to changes in the field."
Eden Hansen
"The coursework in the MLIS program has given me a solid base for understanding both the history of archival science and today's best practices. I feel ready to take what I have learned into the job market."
Allison Ingalls
"As a current MLIS graduate student with a B.S., M.P.H., and more than a decade spent in academic research at a large private institution, I have many years of experience in higher education to compare to UMD's INFO College. I have never seen a group of faculty and staff more committed to their students and the program's mission."
"In my two semesters here, everyone at the INFO College has seen and supported me. Professors and lecturers are incredibly well-connected, provide relevant practical experience through coursework, and are always available to meet with students. The same goes for academic advising. This is the secret sauce to preparing new information professionals for success in their chosen career paths. I am beyond happy to be a graduate student here."
Susan Martin Akpinar
"Top-notch experts in the field teach the MLIS program. Rigorous coursework focusing on job-desired skills makes this an increasingly important degree in the ever-expanding world of information science going into research, policy, or library services. I highly recommend this program and wish to take all the courses!"
Elizabeth Pineo
"I took Introduction to Archives and Digital Curation with Professor Jason R. Baron and Arrangement, Description, and Access for Archives with Professor Eric Hing-Tao Hung. I can't say enough good things about both experiences! Both professors were incredibly open and supportive, and their instruction is clear by their extensive first-hand experience in the archival world. They also did a fantastic job of balancing theory with hands-on application. I've been lucky enough to continue working with them after taking their courses, and I'm incredibly grateful for their continued mentorship—as well as that of Professor Diana E. Marsh, who served as my thesis advisor and is also in the Archives and Digital Curation focus area. I simply couldn't ask for better faculty members, courses, or mentorship opportunities in this focus area!"
Ana Rosa
"I am hoping to focus on Archives and Digital curation. I like the program because every professor and vital team member I have talked to has been supportive and encouraging in everything I've wanted to do."
Sarah Tedla
"I like my program because I love the professors and how willing they are to work with students."
Melody Wang
"The UMD INFO College introduced me to the world of digital information science. I've taken digital preservation and metadata classes that helped me understand the emerging field in the information age.
Steven Michael Whelan
"The INFO College staff are very responsive and thoughtful, particularly regarding professional growth. Our MLIS advisor, Neil Dhingra, is especially dedicated to ensuring every student finds their place after graduation."
"Professors in the INFO College demonstrate a clear passion to elevate curricula [with what is topical today] and give students the tools and opportunities to develop their own perspectives."
Jocelyn Write
"I think the thing that stood out to me the most when I was looking at schools to apply to was all the professors here are so helpful and dedicated to ensuring each of us succeeds. It's a very big school; however, the professors are taking the time to ask what we need from them, what we want, and what they can do to help us succeed as librarians. They are also helping us find jobs on and off campus, which is amazing."
Daria Yocco
"I'm an MLIS Grad student and a research and teaching fellow with University Libraries. One thing I like about the program is that I'm pleased that there's a program and a fellowship in the field I'm involved with. It has helped me demonstrate that I've done some of the work before. I'm just glad that that particular aspect of the program is here."