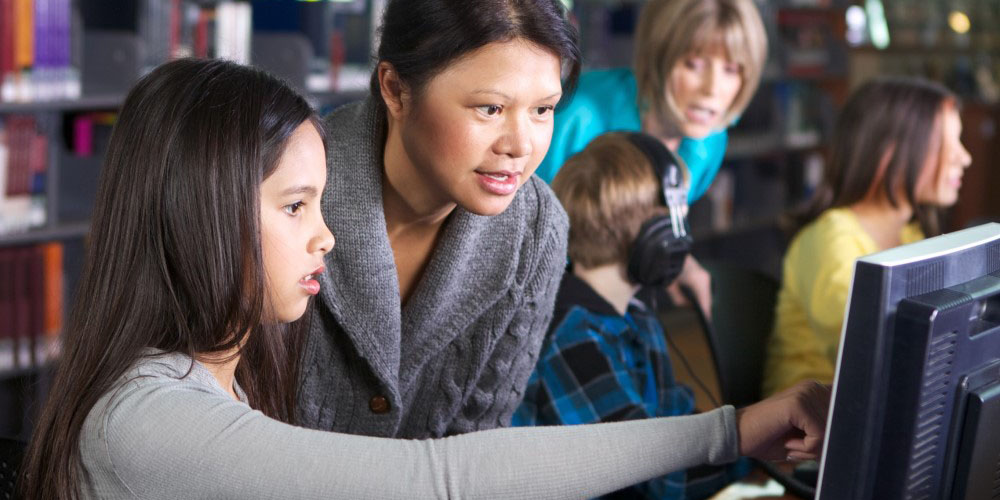 the_post_thumbnail_caption(); ?>
The University of Maryland College of Information Studies (UMD iSchool) is helping Kyrgyzstan find solutions to these access-to-education challenges by leveraging a perhaps unlikely resource – the country's public libraries.
Dr. Mega Subramaniam, a Fulbright Specialist from the UMD iSchool and internationally renowned youth library programming expert, visited Kyrgyzstan this past spring to provide support to the National Children's Library of Kyrgyzstan in leveraging local public libraries to help address educational disparities among Kyrgyz youth, particularly in impoverished and remote communities.
Kyrgyz libraries are working hard to develop programs for early-childhood education, education for youth with disabilities and their caregivers, family learning, youth digital skills development, and much more. While they are making great strides, they have run into barriers with inadequate space, funds, and training for staff.
Dr. Subramaniam, with expertise in developing youth programming in the United States (US) for libraries and communities faced with similar challenges, introduced concepts of design thinking and connected learning that require minimal resources while also building capacity. For instance, leveraging youth peer mentors, implementing digital literacy and STEM learning tools that require little funding, space, or staff supervision, and leveraging partnerships with local communities and industries to help engage youth in the library programs.
Dr. Subramaniam illustrated implementation of these concepts through examples of her work with US libraries to support marginalized youth. For instance, a partnership between the Providence Public Library and Nordstrom to teach youth about merchandising and marketing – and a Washington DC Public Library computational thinking program for children and their families that does not require using any technology tools.
She was also interested to learn about some of the extremely innovative ways that Kyrgyz libraries are already leveraging resources, such as a partnership with a brewery that helps fund the rental of athletic fields throughout one city. She found that youth in the impacted communities are so inspired by the role libraries are playing, or are beginning to play, that there is a surge of interest in librarianship careers.
Dr. Subramaniam is currently developing a study abroad program so that UMD students can visit Kyrgyzstan and experience first-hand how these libraries are doing a lot with so little, and also provide assistance to the libraries in designing, implementing, and evaluating youth programs.