The HCIL KidsTeam, a leader in youth technology design, creates a gamified digital platform.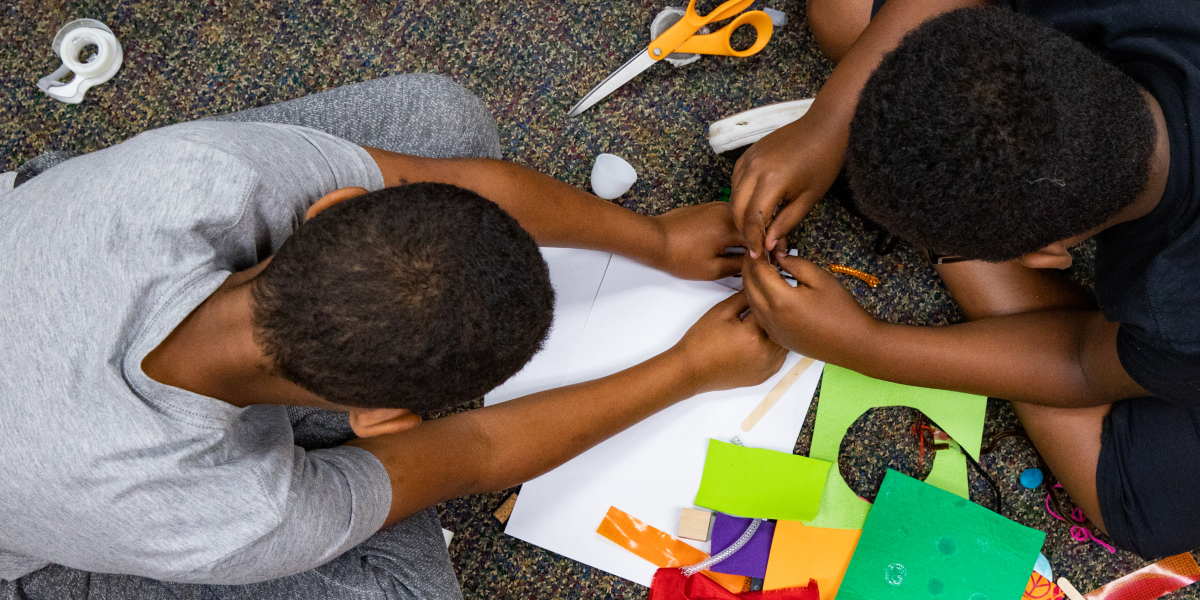 the_post_thumbnail_caption(); ?>
Whether it's watching the latest TikTok challenge or doomscrolling on Twitter, there are endless ways to pass the time on your phone. Unfortunately, that can put a strain on relationships, especially between parents and their young children. College of Information Studies (INFO) PhD students Elana Blinder and Nitzan Koren asked seven children ages 7 to 11 how they felt about their parents being tied to their devices and what strategies they thought could help them connect with each other. Many children talked about wanting to play games with their parents. Koren and Blinder used this information to conceptualize a family-oriented app called BeeHive.
Koren and Blinder did their work through an interdisciplinary research group called KidsTeam. KidsTeam, a part of the UMD Human-Computer Interaction Lab (HCIL), was founded by INFO professor Allison Druin in 1998. KidsTeam brings together children ages 7 to 11, researchers, and technologists to co-design technologies that support children's learning and play. Before KidsTeam, most researchers thought of children as testers. Druin changed that. "You can learn more about how to create engaging, child-friendly technologies by including children in the design process. How do you help children have a voice?" says Beth Bonsignore, current director of KidsTeam, on the philosophy behind the research group. "You can also learn about how children learn."
In talking to KidsTeam participants, Koren and Blinder learned that one eight-year-old wanted to sleep with his parents over Zoom when they were away. This got the researchers thinking about how to include remote family members in their app. An 11-year-old talked about wanting to build a dream vacation home with her mother, which gave the researchers the idea of creating a family hive where one could document activities while working toward a shared goal.
Using Technology as a Tool, Not a Distraction
BeeHive gamifies everyday activities and responsibilities. Each participating family team works together to construct their beehive by enrolling in challenges. For example, a family might set a goal of spending more time together outdoors over the course of a month. Contributions to this challenge might include activities like siblings playing together on the playground, a family picnic or camping trip, or a child working on a gardening project with a parent and/or grandparent.
"We didn't want something solely digital. We wanted to bridge the online experience with BeeHive with everyday activities both online and out in the world. The idea is thinking of devices not as distractions but as tools to help bring us together," says Blinder.
The BeeHive interface allows hive members to capture meaningful family moments. Each time family members complete challenge-related tasks, they can fill in a segment of their hive honeycomb. The honeycomb functions as a digital scrapbook, containing uploaded photos, gifs, memes, audio/video clips, illustrations, and/or text-based descriptions, enabling families to visually track their evolving family experiences and progress toward their collective goals over time. Family beehives need not be constrained to family members currently living together—they could also include extended family and family members living apart through collaborative art-based activities, interactive storybooks and videos, and recipe sharing and cooking activities.
"Part of the reason why people are so distracted by their phones is because they're doing individual stuff. There's a lot of wasted time," says Koren. "When you have to accomplish things as a family and the game is the main thing you do, it creates a more collaborative way to use your phone."
Although Koren and Blinder haven't been able to prototype their design yet, they were finalists in the OpenIDEO Challenge series, which provides opportunities for designers all over the world to share ideas and gain resources to support a variety of design projects.
Since Druin founded KidsTeam, the research paradigm has gained popularity, now becoming a standard approach for involving youth in the design of new technologies. Druin's co-design approach has been used increasingly at various academic institutions and companies, including Google and Nickelodeon. These design partnerships with youth demonstrate that children can be more than testers. They can be active participants in the life cycle of technology development.
---
Additional HCIL Projects in Support of Children
The HCIL has a rich history of transforming the experience people have with new technologies. From understanding user needs to developing and evaluating those technologies, the lab's faculty, staff, and students have been leading the way in HCI research and teaching. Here a few projects from the HCIL that focus on children:
Informal STEM Learning Through Alternate Reality Games (ARGs)
Principal investigator (PI) Kari Kraus (INFO & English)
This project is an effort to bring underrepresented populations into STEM fields by engaging 13-17 year olds in the uniquely immersive gameplay of ARGs. Our ARGs inspire players to take on the roles of real life scientists, programmers, engineers, technicians, artists, writers, and explorers as they solve challenges and immerse themselves in the storyworld.
International Children's Digital Library
Founded in part by Allison Druin, professor emerita (INFO), Ann Carlson Weeks, professor emerita (INFO), and Ben Bederson, professor emeritus (Computer Science)
A library that provides free access to children's books from around the world. By ensuring access to books from many cultures and in diverse languages, we foster a love of reading, a readiness to learn, and a response to the challenges of world illiteracy.
Science Everywhere
PIs June Ahn (University of California Irvine) and Tamara Clegg (INFO)
Project team (INFO & College of Education)
Science Everywhere is an NSF-funded research study aimed at understanding how technology can engage entire communities in science learning. Researchers utilize a design-based research approach in which they co-design innovative science learning technology with families, teachers, and leaders in a community, implement that technology in the community, and then redesign that technology in an iterative design process.
Understanding the Design of Introductory Programming Environments
PI David Weintrop (INFO)
Project team (INFO, Computer Science & College of Education)
Blocks-based programming environments are growing in popularity and are increasingly being used in formal introductory programming contexts. To date, much of the work evaluating such tools has focused on their effectiveness in out-of-school contexts and emphasized engagement and attitudinal measures over content mastery. Given their growing presence in classrooms, it is important to understand the benefits and drawbacks to the use of the blocks-based programming approach in formal learning contexts. This project seeks to understand the affordances and drawbacks of block-based programming relative to conventional text-based languages.
Learn more about HCIL research.