MLIS student Angela Pfeiffer discusses her responsibilities as a Children's Library Associate II and how her role has changed during COVID-19.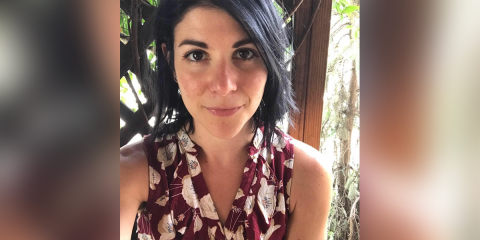 the_post_thumbnail_caption(); ?>
Angela Pfeiffer is a current MLIS grad student and Children's Library Associate II at the Abingdon branch of Harford County Public Library.
What does your job entail?: 
At its core, my job entails essential librarian duties, such as reference desk hours, performing reader's advisory, and computer help, and also maintaining several collections. My favorite part of being a children's library associate is developing and presenting lots of awesome programs, including several storytimes per week, special programs (one or two a month), and performing outreach to the local schools. I am the school liaison for my branch, which means I'm the lead contact for all our local schools. I'm responsible for coordinating and scheduling book talks, back to school night events, library card drives, and other special outreaches. I really love getting involved with students and connecting the library to the community.
I work in a very large branch that's lucky enough to have a makerspace, The Innovation Lab, and a Sensory Room, made especially for children who have sensory processing disorders but is available and useful to all children and their families. These spaces allow me to learn lots of new technologies (3D printers, green screen tech, and even a Cricut) and learn how to provide children with autism and other disabilities the best programming and services. I get to work closely with the special needs children's librarian and have learned so much!
How has it changed since COVID-19?: 
Librarian staff at my system performed a lot of circulation work when we first reopened (for limited grab-and-go service), which was a weird shift from doing reference work. Things have slowed down enough for librarians to begin inventing cool new ways of being a staple in the community in an increasingly virtual world. I've had ample time to present virtual story times, create Take & Make crafts, submitted proposals for new virtual programs and services and even created a podcast with a coworker in an effort to connect the library with millennials (an often underrepresented age group at the public library). Posting to social media is another responsibility I've taken over for our branch. I am currently working on new ways to connect the library to students in our community who will be distance learning the first half of the school year, virtually.
What do you enjoy most about your job:  
I genuinely love everything about my job! It's really where I'm meant to be, and I feel like I'm thriving. I get to use my creativity here in a way that I could not in any other job I've ever held. I have a lot of energy and enthusiasm, which is perfect for working with kids and parents. I get to do so many different things; I'm never bored!
What challenges are there?: 
The COVID-19 pandemic has created so many challenges. A public library's main asset is its space – which we can no longer offer the community. The challenge has been, how do we, as librarians, meet the community's needs during the pandemic? It's been an exciting and difficult challenge to take on.
Before our closure to the public, however, I think the main challenge is creating engaging programs that bring people into the library. Reaching out to those people to advertise the programs is a part of the difficulty. This challenge has followed us into the post-pandemic world. All programming must be virtual, which brings on a host of challenges. Not all programs previously held in person translate well to a virtual platform.
Any advice for other students considering a career in Children's and Youth Services?: 
Get involved. Do not be afraid to take on responsibilities and projects. Go for it! Sign up for a committee you don't know much about, take on a program you're unfamiliar with. Put yourself out there and learn from your experiences! Don't be afraid because of your lack of experience or newness. This is a great way to get your name out there, build a resume, and network with coworkers and the community.