Information, Tech and Community Unite in College's New Hornbake Space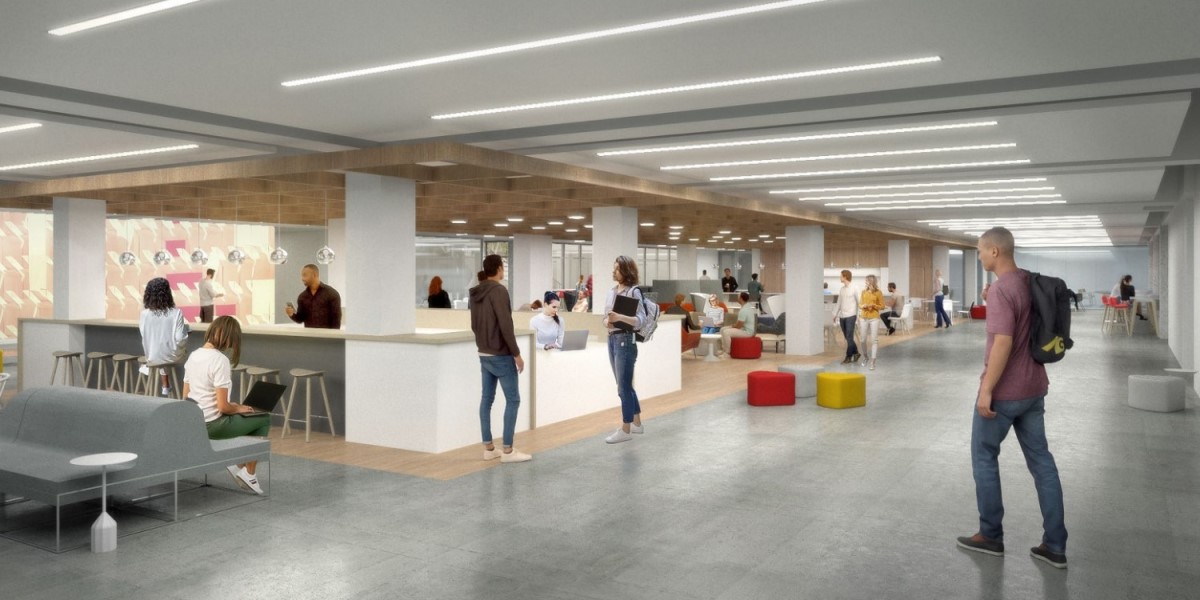 INFO Commons, a dynamic new student space planned for Hornbake, will offer flexible spaces, labs, and other amenities dedicated to exploring information technology. (Rendering courtesy of Ayers Saint Gross)
the_post_thumbnail_caption(); ?>
Just below Hornbake Library's historic and hushed stacks, the next chapter for University of Maryland's College of Information Studies is underway: an engaging new space for students to hatch big ideas, tinker with the Internet of Things, devise new tech for smarter cities or explore how humans make choices through the pixelated world of Mario Bros.
INFO Commons, which broke ground this month, will be the college's first bricks-and-mortar entry into the hands-on, creative world of information technology. The high-tech playground with places to study, collaborate or chill on the ground floor of Hornbake Library will offer a long-awaited community home for the college, with a welcome mat for students across UMD.
"It's about having a place in between home and school where students don't have prescribed roles," said Katherine Izsak, associate dean for academic affairs. "They get their hands dirty and make those connections to what they're learning in class. It's dynamic and innovative, yes, but it's also fun."
The existing labyrinth-like footprint, which includes two terrariums and direct access to Hornbake Plaza, was frequently used for college events and has been a popular study spot for students, but wasn't living up to its potential for a school bursting at the seams, said Dean Keith Marzullo. The college's B.S. program in information science, launched in 2016, is UMD's fastest-growing—and third-largest—undergraduate major, now counting nearly 1,600 students.
"This fills an important gap for us, but it's a place for campus, not just the college," said Marzullo.
While renovations on the 25,000 square feet of labs, amenities and flexible space have already begun, major construction will rev up later this year. The college hopes to have INFO Commons open to the university community in 2024.
On any given day, the Commons might host a human-computer interaction class or a course on social media influencers; students may be snapping together a desktop model of the internet or receiving tutoring support in the computation center; a group could be sketching product ideas on a whiteboard in the design lab, while a sea of beanbag chairs and advanced displays beckon others to experiment with gaming design. Floor-to-ceiling glass will put the INFO Commons action and energy on display, and hopefully will encourage others to join in.
"This space is not going to be neat, empty or quiet, and that's a good thing," said Professor Wayne Lutters, associate dean for strategic initiatives. "It's a place for our students to come and feel like they belong, and a place they can call their own."
Here's a peek of what's in store for UMD's INFO Commons:
Internet of Things (iOT) Lab: From the racks of blinking hardware to the portable lending kits of switches, routers and cables, everything in this lab is an invitation to touch and manipulate the connected "things" embedded with circuits and software known as iOT, and a tangible way to connect students with concepts they're learning in class. Mentorship opportunities, cyber competitions and local community workshops on smart technology and home networks are also on the horizon.
Design Studio and Prototyping Lab: With a configurable make-and-take workshop, communal worktables for prototyping, floor-to-ceiling whiteboards and comfy couches, this lab will provide the energy and environment to bring student passion projects to life.
Gaming AR/VR Lab: While many students play video games to socialize, de-stress and have fun, for researchers it's serious business: Games can influence learning outcomes, mental health and even how people adapt to new environments. This lab will offer the best of both worlds, where students will explore immersive game design and human-tech interactions to build accessible, ethical and user-friendly games and apps.
C3 Campus Computing Center (C3): The center will be a universitywide resource for students within different disciplines to gain support and proficiency in the in-demand worlds of coding and computing. At C3, students can engage in workshops, drop-ins and design activities at shared desks and huddle spaces, fostering a peer-supported, collaborative learning culture.
Community Engagement Lab: In this lab, long-term, community-university partnerships will drive transformative, sustainable solutions, from tech that leverages data for safer streets to educational opportunities that build interest in STEAM.
---
What's in store for INFO Commons? Take a virtual tour and learn more about the labs, student spaces and opportunities coming to the Hornbake Library space in 2024.