Creating opportunities for students to learn inside and outside of the classroom alongside school librarians.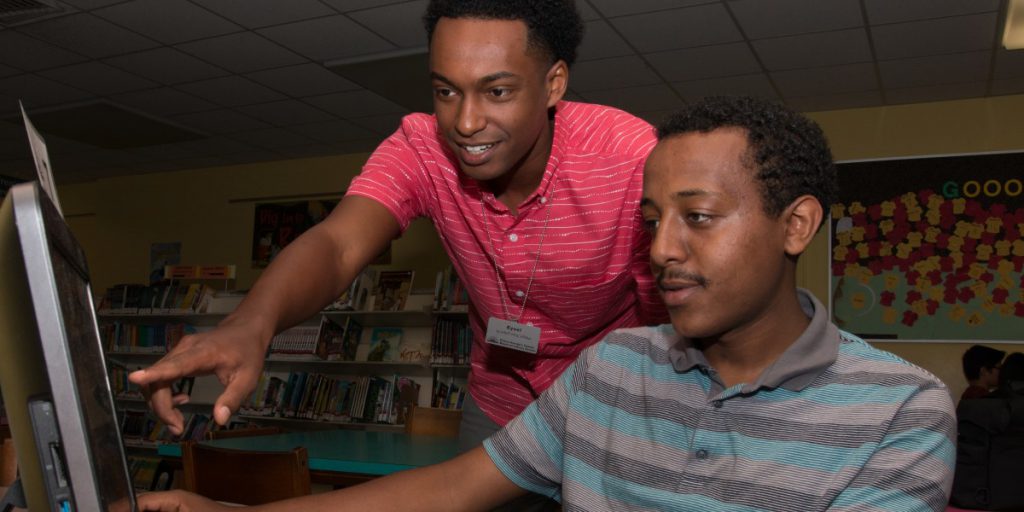 the_post_thumbnail_caption(); ?>
The University of Maryland College of Information Studies (UMD iSchool) believes that one of the best ways for students to learn – is to do. The college's Master of Library and Information Science (MLIS) program, already renowned for its partnerships with information institutions to provide experiential learning opportunities for students – such as the Library of Congress, National Archives, Smithsonian, Maryland State Archives, NASA Goddard Archives, and the Department of Justice – is applying this same methodology to its School Library Specialization. Through a combination of cutting edge curriculum, hands-on learning opportunities at schools in Maryland, DC, and Virginia, and mentorship from adjunct faculty who are in the field revolutionizing the role of the school librarian, the MLIS program is producing change-making school librarians in Maryland, as is seen in the program's award winning alumni.
Recently joining the UMD iSchool as School Library Program Experiential Learning Coordinator, Bridgette Comanda works with local school districts to arrange internship opportunities for MLIS School Library Specialization students and leads seminars for students currently pursuing internships to help guide their professional growth. Additionally, she focuses her academic and professional research efforts on increasing equity in the profession, critical pedagogy and librarianship, and cultivating meaningful partnerships between teachers and librarians to ultimately alleviate gaps in public education and provide better access to information.
The UMD iSchool also seeks to bring real-world lessons into the classroom through classes delivered by lecturers who are experienced practitioners. Jen Sturge, adjunct professor at the iSchool, was recently elected president of the Maryland Association of School Librarians (MASL) which serves over 400 school librarians in Maryland and surrounding states. She is also the Teacher Specialist for School Libraries for Calvert County Public Schools where she works with professionals who serve as leaders in literacy and inquiry in Calvert County schools. She has been an educator for over 26 years and has been involved with libraries since 2006 on a professional level. Sturge is a firm believer that school libraries are the place where every student and school community member can find their home and can make a true difference preparing students for life after their K-12 education.
Just one of many MLIS alumni who benefited from this experiential learning approach, Donna Mignardi, class of 1999, spent the last 21 years as a high school librarian, most currently at Calvert High School in Maryland. Mignardi was named the 2020 Maryland School Librarian of the Year, honoring her exemplary service and outstanding achievements in the field of school library media. She continuously advocates for information literacy and is passionate about developing ethical researchers and savvy consumers of information. Mignardi writes monthly blogs for the American Library Association's Programming Librarian website and holds both the title of Communications Chair and Secretary for the Maryland Association of School Librarians (MASL).
Another iSchool alumna, Tracy Jeffcott, was also previously honored with the prestigious Maryland School Librarian of the Year Award (2018) for her achievements in the field of school library media. After Jeffcott received her MLIS degree in 2012, she began working as a Library Media Specialist for Montgomery County Public Schools in Maryland where she works closely with classroom teachers to support integration of information literacy skills into their daily instruction and facilitates professional development sessions for employees. She recently founded a dynamic MakerSpace where students can engage in independent studies of science, technology, engineering, arts, and mathematics. Jeffcott has hosted media specialists from around the country as part of the School Library Journal Leadership Summit tour.
Learn more about the UMD iSchool MLIS program and School Librarian Specialization by clicking the link here.